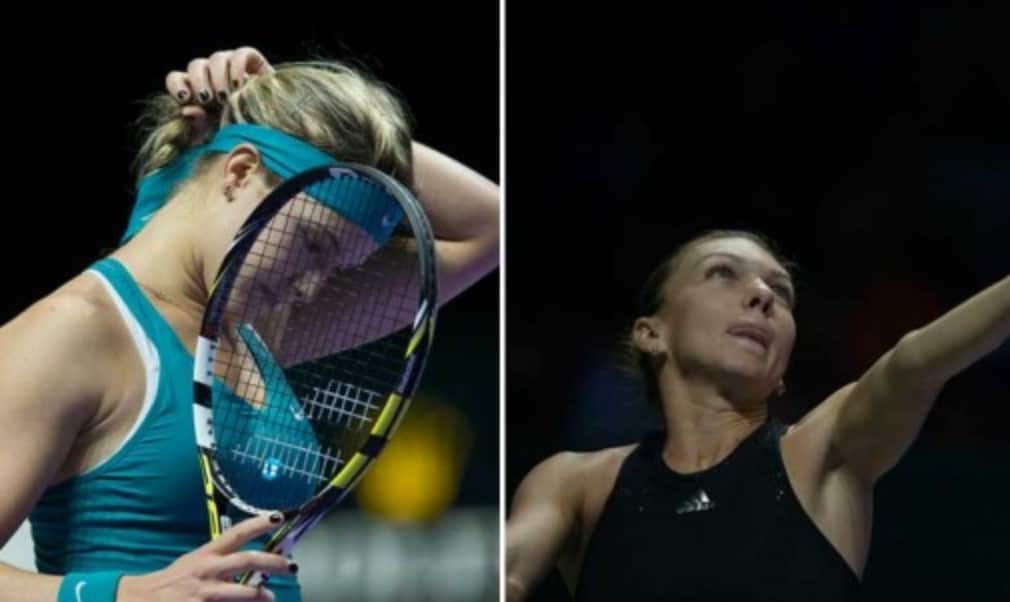 Halep & Bouchard: The tale of two debutants
Originally published on 23/10/14
Bouchard is the first player to head home after Serena Williams condemned the Canadian to a third straight defeat at the Singapore Sports Hub. The Wimbledon runner-up failed to win a set in her three round-robin matches.
By contrast, Bouchard's 6-1 6-1 defeat to Williams sealed Halep's place in the semi-finals with a match to spare ahead of her Red Group clash against Ana Ivanovic on Friday. The Romanian subjected Williams to her heaviest defeat in 16 years on Wednesday and the top seed's fate now lies in Halep's hands.
Still smarting from her 6-0 6-2 defeat to Halep, Williams did everything in her power to keep her hopes of defending her title alive with a straight sets victory. She fired 16 winners in a clinical performance against Bouchard to keep her in the hunt for a fifth WTA Finals title, but needs Halep to beat Ivanovic (or at least take her to three sets) in order to guarantee her place in the last four.
"Yesterday was tough for me but I had to put it behind me," said Williams. "My coach really helped me out and to focus on today, telling me that I'm still in the tournament, even though I felt like I was out of it after such a tough loss."
Meanwhile, in the White Group, Maria Sharapova's hopes of reaching the semi-finals, and finishing the year as world No.1, are hanging by a thread after she lost 6-3 6-2 to Petra Kvitova. Caroline Wozniacki sits top of the group following her 7-5 6-3 win over Agnieszka Radwanska.
The Dane put one foot in the last four to continue her impressive form during the second half of 2014, and victory over Kvitova on Friday would guarantee her place in the semi-finals, although she could lose and still progress depending on the result of Radwanska's final round-robin match against Sharapova.
The Russian is bottom of the White Group following consecutive defeats against Wozniacki and Kvitova and now needs to win the title and hope Williams does not reach the final in order to regain the world No.1 ranking. She beat Kvitova in the China Open final three weeks ago, but the Czech avenged that defeat in emphatic fashion to claim her first win against Sharapova since 2011.
"After the first loss here [to Radwanska], I didn't really feel well and I'm just glad to win my second match and still have a chance of being in the semi-finals," said Kvitova. "I think when we played the final in Beijing I found the confidence to play against her again. Unfortunately I lost over there but I knew that I had the game to beat her and today was the time to do that."
2014 BNP Paribas WTA Finals Singapore presented by SC Global

Red Group

Seed
Red Group
SW
SH
EB
AI
Record
Set
W-L
Games
W-L
1
Serena Williams
–
L
W
W
2-1
4-2
26-22
4
Simona Halep
W
–
W
2-0
4-0
24-7
5
Eugenie Bouchard
L
L
–
L
0-3
0-6
11-36
7
Ana Ivanovic
L
W
–
1-1
2-2
20-16
White Group

Seed
White Group
MS
PK
AR
CW
Record
Set
W-L
Games
W-L
2
Maria Sharapova
–
L
L
0-2
1-4
20-31
3
Petra Kvitova
W
–
L
1-1
2-2
17-17
6
Agnieszka Radwanska
W
–
L
1-1
2-2
20-18
8
Caroline Wozniacki
W
W
–
2-0
4-1
32-23