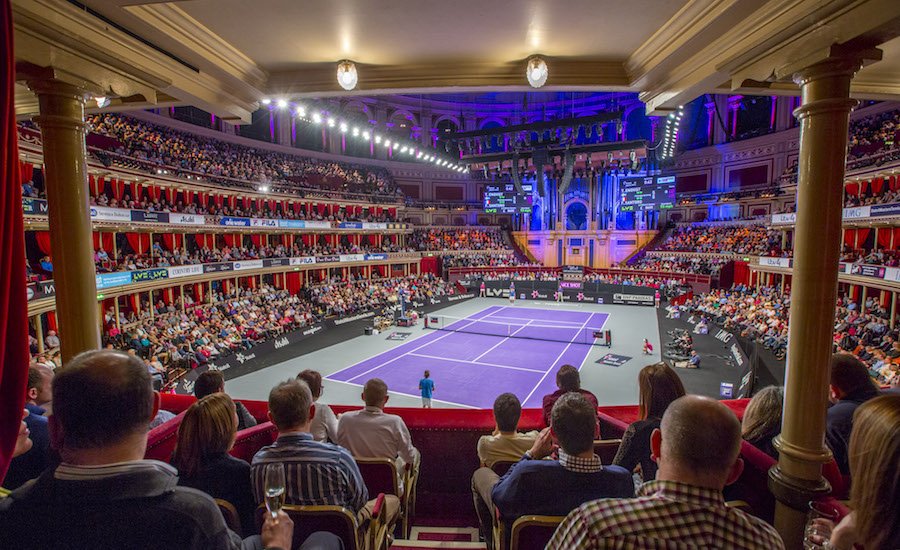 Greats of the game prepare to battle it out for the Champions Tennis trophy
Newly retired Marcos Baghdatis will join Spanish legends Juan Carlos Ferrero and David Ferrer to compete in the new Champions Tennis format at London's iconic Royal Albert Hall
The 2019 Champions Tennis trophy will be the most competitive yet thanks to the appearance of two of tennis's most loved players joining this year's action as part of a newly created team format.
Three teams will be led by Greg Rusedski, Tim Henman and Goran Ivanisevic, who will each be joined by two other legends. The team with the most wins will then be crowned champions following the ATP Champions Tour Final on the Sunday night. Each day will be comprised of an afternoon and an evening session – with four matches per session; two competitive singles matches, one competitive doubles match and an entertaining exhibition doubles match.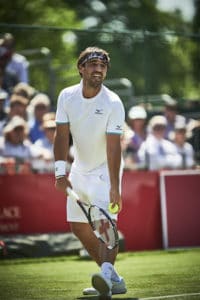 Cypriot legend Marcos Baghdatis took his final bow from the ATP Tour after an emotional loss in the second round at this years Wimbledon to Italy's young star Matteo Berrettini.
The first stepping stone in Baghdatis' career came in 2003 which he was crowned Junior World No.1. He became a household name over the next 16 years. His career high came between 2005 – 2016 when he retained 12 consecutive seasons in the top 100. During this time he secured 4 ATP singles titles and 1 doubles title, reaching the Australian Open final at 20 years old while ranked 54th he came face to face with World No.1 Roger Federer narrowly being defeated in a tense 4 set match.
At the young age of 14, Baghdatis made his David Cup debut. He went on to become one of the most successful Davis Cup players of the 21st Century, leading Cyprus to victory with an uninterrupted winning streak of 36 singles matches.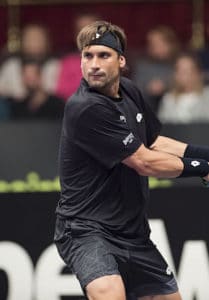 David Ferrer retired from the game at his home tournament in Madrid earlier in 2019. One of the most succesful players to have ever stepped onto the court, Ferrer played an incredible 734 singles matches on the ATP Tour.
Known for his humility both on and off the court, Ferrer has shown himself to be a true athlete within the tennis world. Turning pro in 2000, his career has seen him follow in the footsteps of fellow Spaniards Manuel Orantes and Rafael Nadal. Reaching 17 Grand Slam quarter finals over the last 19 years, respectively reaching 6 at both the Australian Open and Roland Garros. Holding on to 292 consecutive weeks in the Top 10 between 2010 and 2016.
Starting out his career being known as the clay-court specialist, but proved himself as a strong all-rounder with almost as many titles on hard court as he holds on clay. Considered one of the fittest and most agile players, he is respected for his unrivalled determination. Securing 734 match wins throughout his career, this culminated in 27 singles titles and 2 doubles titles however he never managed to secure a Grand Slam.
Win tickets to the Champions Tennis by clicking here
How to visit the Champions Tennis trophy
The event runs from Thursday November 28th until Sunday December 1st with each day comprising an afternoon and an evening session.
You can book tickets by visiting ChampionsTennis.co.uk/tickets
What is the 2019 order of play:
Thursday 28th November
At 1.30pm Team Tim v Team Greg
Ferrer v Baghdatis
Henman/Philippoussis v Haas/Rusedski
Philippoussis v Haas
Followed by
Exhibition Doubles Bahrami/Ivanisevic v Enqvist/Malisse
At 7:30pm Team Tim v Team Goran
Philippoussis v Ferrero
Henman/Ferrer v Malisse/Ivanisevic
Ferrer v Ivanisevic
Followed by
Exhibition Doubles Enqvist/Baghdatis v Rusedski/Haas
Friday 29th November
At 1:30pm Team Goran v Team Greg
Ivanisevic v Haas
Malisse/Ferrero v Haas/Rusedski
Ferrero v Baghdatis
Followed by
Exhibition Doubles Enqvist/Hingis v Henman/TBC
At 7:30pm Team Greg v Team Tim
Haas v Ferrer
Baghdatis/Rusedski v Henman/Ferrer
Baghdatis v Philippoussis
Followed by
Exhibition Doubles Bahrami/TBC v Hingis/Ferrero
Saturday 30th November
At 1:00pm Team Goran v Team Tim
Ferrero v Ferrer
Malisse/Ivanisevic v Henman/Philippoussis
Ivanisevic v Philippoussis
Followed by
Exhibition Doubles Bahrami/Hingis v Enqvist/TBC
At 6:00pm Team Greg v Team Goran
Baghdatis v Ivanisevic
Rusedski/Baghdatis v Malisse/Ferrero
Haas v Ferrero
Followed by
Exhibition Doubles Ferrer/Hingis v Philippoussis/TBC
Sunday 1st December
At 12:00pm Exhibition Singles (TBC)
Followed by
Exhibition Doubles Bahrami/Enqvist v Rusedski/Malisse
At 5:00pm Champions Tennis Final
Singles – match 1
Doubles – match 2
Singles – match 3
Doubles – match 4
If you want to attend the Champions Tennis we've arranged a 20% discount for all tennishead readers. Just follow this link and use the promo code 'TENNISHEAD' at checkout.
For more information visit ChampionsTennis.co.uk
To read every issue ever published of the world's best tennis magazine, tennishead, visit our 'Magazine Archive'.To win incredible tennis prizes for free, enter our latest 'Competitions'. For all the breaking tennis news and exclusive player interviews, visit our 'News' section. For the latest racket, ball, shoe and clothing buyers guides plus video play tests, visit our 'Gear' section