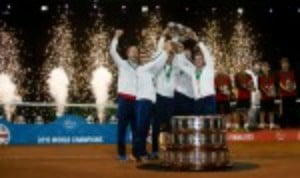 Great Britain crowned Davis Cup champions
Originally published on 29/11/15 00:00
Andy Murray, who ended a 77-year drought for a men's singles champion at Wimbledon in 2013, beat Belgian No.1 David Goffin in straight sets to secure a first Davis Cup crown since 1936.
It follows a remarkable rise for Leon Smith's team, who have climbed from No.45 in the world rankings and on the brink of relegation to the fourth tier of the competition just five years ago.
"Obviously at that point there was a long way to go," said Smith, speaking of his first match in charge of the British team in a World Group II relegation clash against Turkey in July 2010. "But we set about getting a really good team of people around that really cared about everybody in the team and wanted what's best for them. Even lower divisions, might not have been the most glamorous of ties, but it was very important to start winning.
"You went match by match, tie by tie, and tried for the whole team to get better at what we do together. Momentum built and it came to some important ties. Obviously when we started to move towards World Group territory, it's important to have the highest quality. Andy, when he comes into that, brings us that quality that suddenly becomes a reality."
Murray is the first man to win eight live singles rubbers en route to a Davis Cup title. He is also the first player since Pete Sampras in 1995 to win three live rubbers in a Davis Cup final.
The 28-year-old, who won a total of 11 rubbers this season after partnering brother Jamie in the doubles for three of the four ties, keeping his composure to win 6-3 7-5 6-3.
"It's obviously an amazing feeling," said Murray. "I imagine it will take a few days before it really sinks in. I probably haven't been as emotional as that after a match I've won. It's incredible that we managed to win this competition. I didn't know that would ever be possible."
In a pulsating atmosphere in Ghent's Flanders Expo, Murray was forced to deal with early distractions, with horns and whistles putting the Scot off his serve, but with his groundstrokes firing off both wings, a crushing backhand return off Goffin's second serve saw the Scot break to love for a 4-2 lead.
With Murray making serious inroads off Goffin's second serve – the Belgian saved three set points serving to stay in the set at 5-2, but Murray wrapped up the opening set in 48 minutes.
While the Scot dropped only eight points on serve in second set, he struggled to make a breakthrough on Goffin's serve. But despite his visible frustration as they moved into the later stages of the set, his patience paid off as he broke for a 6-5 lead before serving out to move within six games of victory.
Murray has not lost a match after winning the first set this year, and had never dropped a set against Goffin in two previous matches, but with nearly 12,000 Belgian fans roaring him on, the 5'11" right-hander refused to let Murray have things all his own way.
Much to the delight of the home fans, Goffin broke for a 2-0 lead in the opening set, but Murray broke straight back, and after saving break point in the sixth game broke Goffin to love to take a stranglehold on the match.
With Goffin serving to stay in the contest, Murray saw one match point pass him by, but a stunning topspin lob after some tenacious defence from the two-time Grand Slam champion saw him sink to the clay in disbelief before being mobbed by his team-mates.
He is only the fourth man in the Open era to win both the Davis Cup and Olympic singles gold medal – following in the footsteps of Andre Agassi, Yevgeny Kafelnikov and Rafael Nadal.