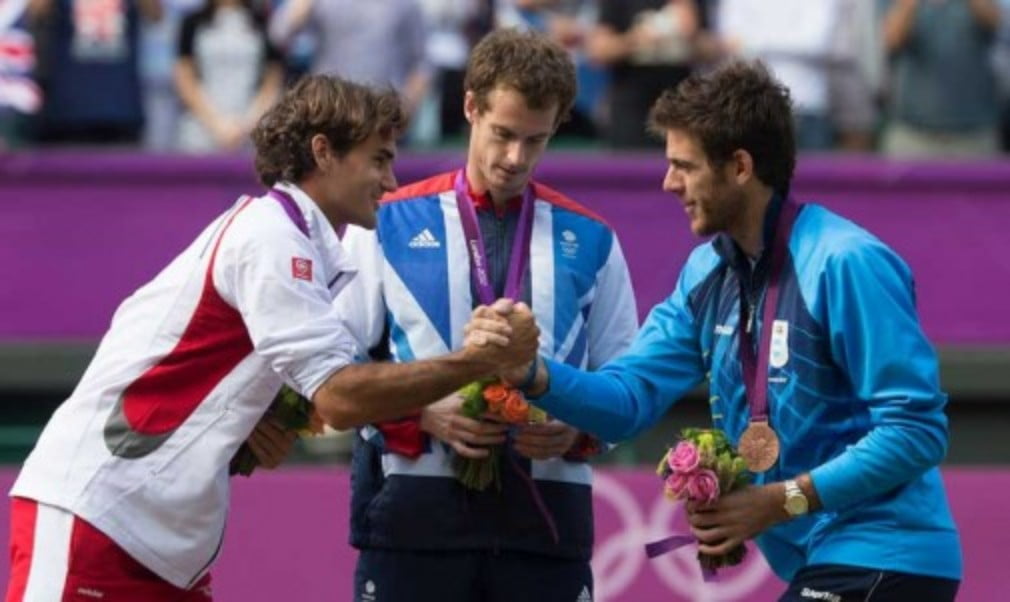 Going for bronze
Originally published on 13/08/16 00:00
The Olympic bronze medal is a totally unique concept. The feeling of receiving any kind of tangible trophy or recognition for finishing third is one not usually experienced by a tennis player – it's pretty much impossible to 'finish third' in the game.
But all of these people above are part of an exclusive club. They are all winners of tennis's rarest of matches – the third place play-off at the Olympic Games.
Tennis was only introduced back into the Games at Seoul in 1988, after a hiatus of over sixty years. But back then, there was no bronze medal match, meaning the first third place of the Open Era was shared by semi-finalists Stefan Edberg and Brad Gilbert, effectively the same result as any other tournament on the Tour.
India's Paes was the first to win the consolation match since tennis went professional at the Atlanta Olympics in 1996. The wildcard lost to eventual gold medallist Andre Agassi in the last four, but defeated Brazilian alternate Fernando Meligeni 3-6 6-2 6-4 to leave North America with a medal for his country.
The nature of the match is also noteworthy, as while the Olympic format follows the old Masters Series principle of playing the final over best of five sets, the bronze medal match is still played out as a best of three set contest.
Four years after Paes and unheralded Frenchman Arnaud di Pasquale was next to claim bronze. The then 21-year-old upset the form book in Sydney, beating ninth seed Nicolas Kiefer, third seed Magnus Norman and eighth seed Juan Carlos Ferrero en route to the final four, where he was stopped by eventual champion Yevgeny Kafelnikov.
Looking on 16 years later the match for bronze in 2000 could not have been more one sided on paper. Di Pasquale only won one Tour title in his career, whereas the man he beat Down Under to reach the bottom step of the podium would go onto win 17 Grand Slam titles.
But back in 2000, Roger Federer was still an unknown quantity and froze under the pressure of playing for his country with a medal on the line, and Di Pasquale triumphed 7-6(5) 6-7(7) 6-3.
Some question the point of the consolation match, with Tour professionals usually viewing their tournament as over following a last four defeat.
Furthermore, with no financial gain or ranking points on offer as incentives for finishing third many argued players even saw winning a medal for their nation as inconsequential or worthless.
That theory was laid to rest in 2004, as American Taylor Dent and Fernando Gonzalez played out the most dramatic of three set deciders in the history of the fight for Olympic tennis bronze – the Chilean eventually triumphing 6-4 2-6 16-14.
Beiing four years later saw Djokovic collect his bronze medal, as he defeated Federer's quarter-final conqueror James Blake. Coincidentally, Blake had lost his semi-final 11-9 in the third as Fernando Gonzalez claimed another epic Olympic Games singles victory. He would go on to lose to Rafael Nadal in the gold medal match.
If there was ever anyone more deserving of a reprieve following a semi-final loss at the Olympics it was Juan Martin del Potro in 2012. Two days before stepping onto the podium the Argentine had been on the wrong side of the scoreline in the longest ever three set contest in Open Era history, when he lost his semi-final to Federer 3-6 7-6(5) 19-17.
Clearly distraught, the man mountain from Tandil picked himself and bounced back superbly to defeat Djokovic in straight sets to claim bronze.
There will always be a question mark over the bronze medal in match, principally the idea that a 'loser' from a previous round should have the chance of picking up a medal.
But then others will argue in a hierarchy such as the Olympics it does seem strange to have two athletes 'sharing' a medal – though this has not been a totally unheard phenomenon in other sports in recent Games.
Whatever the players themselves may prefer seems largely irrelevant, as the format does not look like changing for future Olympics.
All we do know is this: Ahead of this weekend there were four men left in the singles draw – Andy Murray, Kei Nishikori, Rafael Nadal and Juan Martin del Potro – and one of them will leave Rio empty handed.