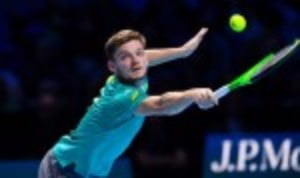 Goffin: the biggest win of my career
Originally published on 18/11/17 00:00
The 26-year-old is just the sixth player to defeat Rafael Nadal and Roger Federer at the same tournament – and yet sandwiched in the middle of his two greatest triumphs is a humiliating loss to Grigor Dimitrov.
The Belgian has taken full advantage of the unique format at the season-finale – where a group-stage defeat is not fatal – and he is now just 24 hours away from contesting the biggest match of his life.
To say his win over Federer at the semi-final stage was unexpected would be an understatement. He had lost his six previous duels with the Swiss and picked up just three games in their last meeting in Basel last month.
"The key was not to play in his forehand, it was just to play fast, to go from one side to the other one after my serve and after my return," explained the overjoyed Belgian as he offered an insight into his tactics against the Swiss maestro.
"I wanted to change something because I was nervous. I started to feel the ball better at the end of the first set, so I wanted to be more aggressive. It paid off. I started to serve well. My forehand was much better and I was really aggressive."
Reflecting on his unique achievement of beating both Federer and Nadal at the same tournament, the 26-year-old added: "Both are really special. It was my first time against Rafa. Then to beat Roger for the first time here in such a big event, big tournament, it was the perfect moment.
"It's the best win of my career, for sure."