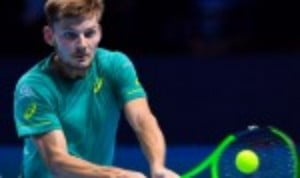 Goffin stuns Federer in London
Originally published on 18/11/17 00:00
The Belgian, who had lost all six previous meeting with the Swiss, vowed to tweak his tactics in an effort to upset his illustrious opponent at the last four stage of the Nitto ATP Finals – and he produced the performance of his career to do just that.
Goffin caused a major shock as he recovered from a set down to defeat Federer 2-6 6-3 6-4 and reach the championship match of the season-finale. He will challege either Grigor Dimitrov or Jack Sock on Sunday evening.
So what did the Belgian do differently to end his barren run?
"He played better," quipped Federer, in his post-match press conference.
Few could have foreseen what would happen after such a one-sided first set. Federer was on autopilot and his rival looked resigned to his fate after conceding serve in the first game of the match.
The pro-Federer crowd resorted to cheering on the Belgian in an effort to encourage him in the second set. The 26-year-old responded by raising his level and taking greater risks, and it paid immediate dividends.
The Belgian's backhand – and forehand – down the line wreaked havoc and the Swiss failed to stay with his younger opponent. Goffin was buoyant while Federer was distinctly below par.
The Swiss had one opportunity to get back on serve in the second set, but he lashed a forehand beyond the baseline to allow his opponent to escape unharmed.
For the first time in two years, Goffin had snatched a set from his rival. It was assumed normal service would be resumed in the decider, however the Swiss continued to toil.
A miscued backhand from Federer cost him his serve in the third game, and matters were fast becoming serious for the six-time champion and his legions of fans.
Goffin held the advantage, and although most neutral observers were waiting for him to stumble, he continued to handle matters on serve without too much trouble.
When it came to serving out the match, the Belgian fired down a pair of aces before his opponent netted a forehand return to bring the match to an unexpected conclusion.
Federer bemoaned the second game of the second set, as he reflected on his loss. "It was a tough game to get broken at 1-0, I think it was, for him in the second," remarked the 36-year-old, who is keen to embark on a two-week holiday with his family.
"I had multiple chances to get out of the game and get to one-all and keep the pressure up.
"I think I didn't serve as accurate as I should have. In that very moment, he connected well on a few returns to keep him in the game. I think in hindsight that was maybe a bit of a key moment in the match.
"I think things really turned around for him at that moment. He started to feel better from the return, from the baseline. He wasn't missing as much any more. He was returning also much better off the second serve after that.
"I just think he raised his game. I couldn't follow any more. Maybe my game dropped naturally a little bit because he was playing better. I maybe never really reached my best level because the first set was all right.
"It's pretty disappointing. At the end he did play extremely well, and he was the better player on the court. I feel like it's okay like this, you know, for him to win."