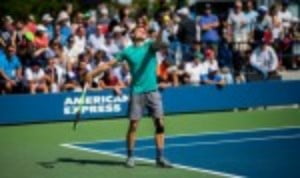 Goffin fights on
Originally published on 31/08/17 00:00
His subsequent withdrawal from Wimbledon did little to allay the fears of his supporters. Fast forward to the second round of the 2017 US Open though, and Goffin managed to go the distance with his Argentinian opponent Guido Pella.
When the Belgian received treatment on his knee and hip after the first set against Pella, one could have been forgiven for thinking that this was the end of the road for the 26-year-old.
But Goffin played through the pain-barrier and after 4 hours and 19 minutes, he booked his place in the third round of the final major of the year.
Before sustaining the ankle injury in Paris, Goffin had climbed his way to a career-high ranking of No.10. At Monte Carlo, he managed to notch an impressive victory against then world No.2, Novak Djokovic.
While recovering from the injury, the Monaco resident spent some time at Patrick Mouratoglou's Academy in France. Having suffered early losses in Montreal and Cincinnati recently, Goffin will be satisfied with his showing at Flushing Meadows
His next opponent in New York is Gael Monfils, who has not been without his own injury concerns of late. Whatever the outcome of that match, Goffin is back in business and it's unlikely to be long before he is on an upward trajectory once again.
This story is brought to you by Asics