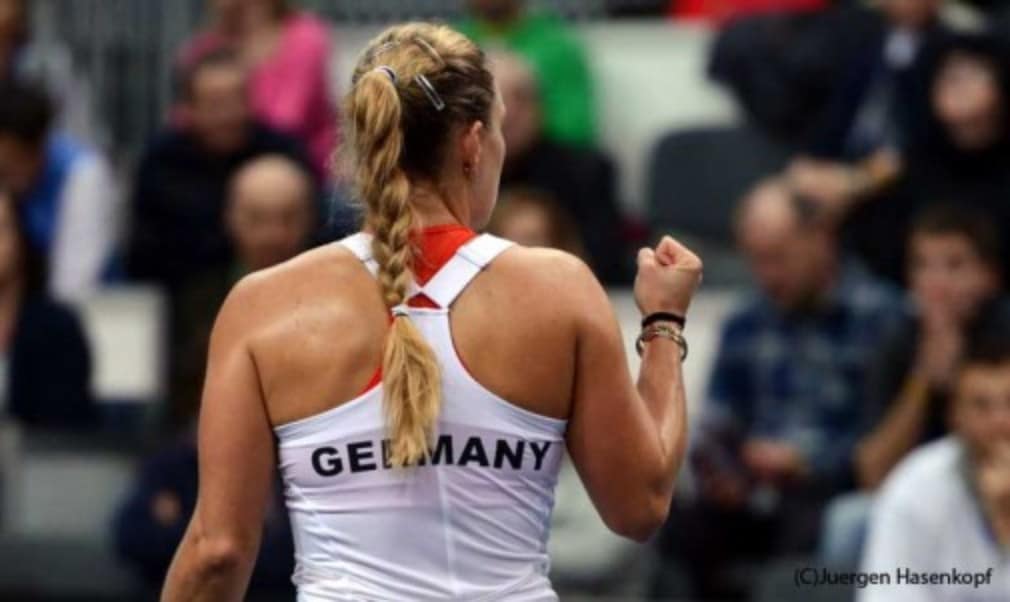 Germany eye first Fed Cup title in 22 years
Originally published on 07/11/14
The hosts are bidding to win a third title in four years in front of their home fans, while the German team is playing in its first final in 22 years. The last time Germany won the tournament back in 1992, current Fed Cup captain Barbara Rittner played doubles as the German team, led by Steffi Graf, beat Spain 2-1 in Frankfurt.
While the German team have the weight of history on their shoulders, the Czechs are bidding to regain the title they won in 2011 and 2012. World No.10 Kerber is not the highest-ranked player in Prague's O2 Arena this weekend, but her Fed Cup record this year has been flawless, winning all four of her singles rubbers in ties against Slovakia and Australia, including victories against Dominika Cibulkova and Sam Stosur.
"I have a lot of confidence from the last two Fed Cup matches but of course every single match starts from zero. But I think I am feeling good, I am healthy and I have practised good the last few weeks so right now I am looking forward and I am ready to go out there and play tennis," said Kerber, who has not played in more than a month but travelled to Singapore for the WTA Finals as first alternate.
"Of course the pressure is there but I think for the Czechs also. They are playing at home and the crowd is of course cheering more the Czech team. But I think a lot of fans are coming from Germany to support us and that means a lot to all of us, but of course we will try to give our best and try to win and take the trophy with us to Germany."
Kvitova meanwhile, has won three of the four singles rubbers in Fed Cup Finals, helping the Czech lift the title against Russia in 2011 and against Serbia in 2012. "We have these experiences from the past years," said the two-time Wimbledon champion. "We all know how it is, we've already played at home in the final so we know what it's like – the pressure is always there of course but the home crowd is always amazing. We are looking forward to it."
A week ago German No.2 Andrea Petkovic was the lowest-ranked of the four players nominated for Saturday's singles rubbers, but the 27-year-old, a semi-finalist at the French Open in June, was victorious at last week's the WTA Tournament of Champions in Sofia last week to climb to No.14 ahead of Lucie Safarova in the rankings.
"I had a couple of tough weeks and I was very down," admitted Petkovic. "Coming in with a win [in Sofia] is just so reassuring for me and I feel much more confident in myself. I am a little tired but I think once I go out there I won't feel anything anymore. Having this confidence is really gold."
"I think we are all very tired. It's been a long season. We obviously had to fly in the middle of the season to Australia for Fed Cup but being here makes up for it. There were some times where I was really tired but being here in the Fed Cup Final is just so special and just so meaningful. It's very emotional and it's very nice to share this very special moment with the girls that I grew up with."
CZECH REPUBLIC
Team captain: Petr Pala
GERMANY
Team captain: Barbara Rittner

Petra Kvitova
Age: 24
WTA singles ranking: 4
Doubles ranking: 1250

Angelique Kerber
Age: 26
WTA singles ranking: 10
Doubles ranking:
Lucie Safarova
Age: 27
WTA singles ranking: 17
Doubles ranking: 29
Andrea Petkovic
Age: 27
WTA singles ranking: 14
Doubles ranking: 49
Andrea Hlavackova
Age: 28
WTA singles ranking: 169
Doubles ranking: 15
Sabine Lisicki
Age: 25
WTA singles ranking: 27
Doubles ranking: 72
Lucie Hradecka
Age: 29
WTA singles ranking: 157
Doubles ranking: 22
Julia Goerges
Age: 26
WTA singles ranking: 75
Doubles ranking: 40