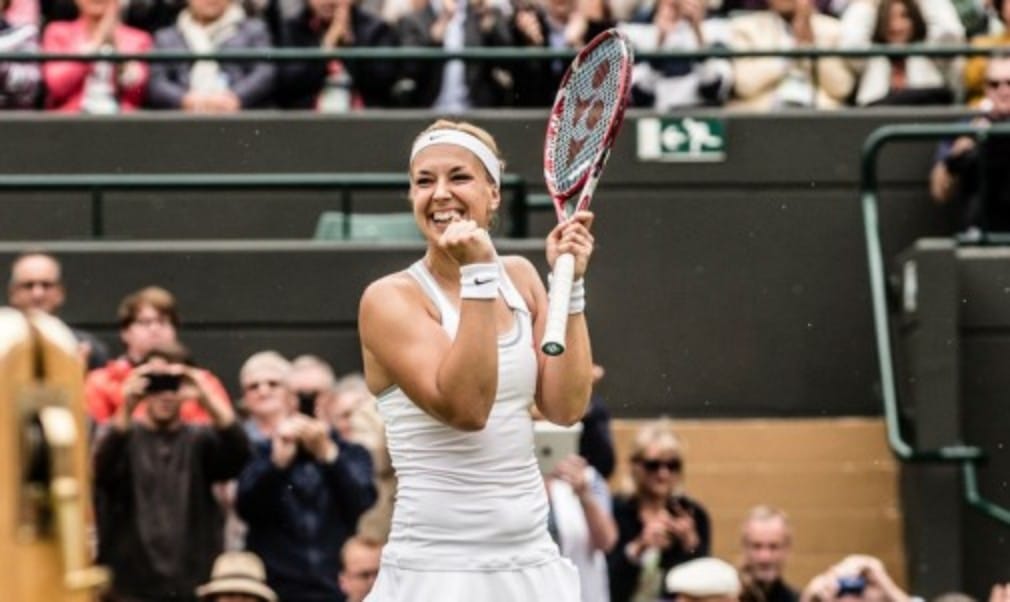 From the mouth of…
Originally published on 24/06/14
Sabine Lisicki who played in the slot normally reserved for the defending Ladies Champion. The 2013 champion Marion Bartoli was on court for the coin toss
"I think it was a very nice gesture that Marion came out with the little child in memory of Elena Baltacha. I think that was a very nice thing to do. I think that moment made it even more special. And on playing on the grass I don't know what it is, but I guess because it's such a special place to me, it always has been. Since I was growing up, it just always gets every inch out of me, every energy; it just gets the best out of me. I think it does something magical to me when I come back here."
Roger Federer on his children:
"They (his twin girls) know I play a lot of tennis. I don't know if they understand it's like a job. I don't see it as a job. If they understand all of that. They understand the difference between a match and a practice now because they've been to both. They know I kind of play for like a trophy and all that stuff."
Andrea Petkovic who admits grass is not her favourite surface, but had a good showing this year at Roland Garros "Maybe the first two days those are weird on grass. I just sailed through them on the French Open ship."
Caroline Wozniacki on being told by a journalist that Feliciano Lopez likes and admires her and knows her dad
"He's already making his way in through my dad?"
Jerzy Janowicz on Lleyton Hewitt who he faces in the next round
"He has a really nasty serve. Maybe not that powerful, but it's really accurate."
Jo Wilfried Tsonga who resumed his first round match that had been suspended over night
"I played a good four points and finally I won.
Kei Nishikori on compatriot Yuichi Sugita
"[I'm] really happy to see he's in the main draw. Yeah, we have known each other for long time. I know how tough it is to play to qualify 18 times, and finally he got into the main draw. (Ed's Footnote, Sugita was defeated on court 12, 67 (8) 67 (8) 67 (9) by Feliciano Lopez)
Lleyton Hewitt on playing in SW19
"This is what I still play for. You do all the hard work to come back and play in places like this. You don't get sick of coming out here and playing at Wimbledon."
Maria Sharapova on her use of public transport, she was spotted on the London Underground but has never used the subway to get to the US Open
"I haven't done that. Yeah, that would be a new experience. But maybe when I'm a tourist and not a player.
Heather Watson on her disturbed sleep patterns before matches, she woke up at 4am today ready to go.
"My fitness coach asked me how I slept. I told her, and she said, Yeah, I'd actually be worried if you said you slept good. I'd be like, what's wrong?"