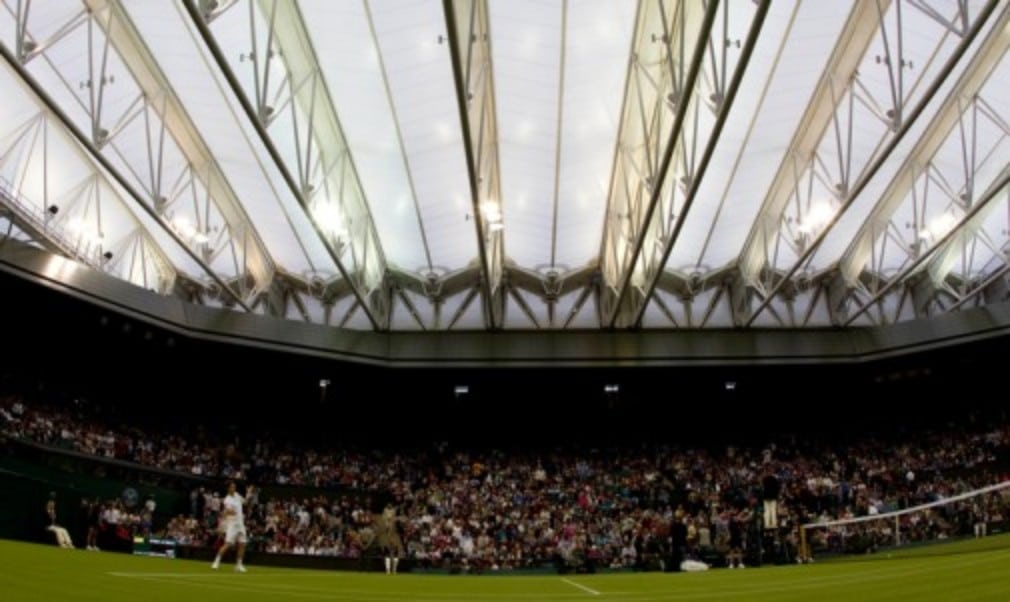 From the mouth of… Day 7 at Wimbledon
Originally published on 30/06/14
Eugenie Bouchard who defeated Alize Cornet 7-6 7-5 under the roof on Centre Court" "I'm happy I got the experience of playing under the famous roof. I follow the roof on Twitter, and he's kind of funny. I hope he's proud of how I played today. He was looking down. Hopefully he enjoyed the match."
Grigor Dimitrov who defeated Leonardo Mayer 6-4 7-6 6-2 on his quarter final opponent, Andy Murray "I think we get along pretty good. I think my team and his team are on pretty good terms. We always have a lot of jokes for us."
Andy Murray on the logistics of talking to his female coach during the rain delay. I've been asked that question quite a lot about the locker room. On the women's tour, there's literally no female coaches, so they have to deal with those things every single day. I went in, I showered, I got changed. Then went outside the locker room and chatted with Danny and Amélie five steps from the door to the locker room. That was it.
Caroline Wozniacki after her 6-2 7-5 win over Barbora Zahlavova Strycova
"I'm definitely motivated and excited for the rest of the year. You know, there's still a lot to be played. A lot of things can happen."
Barbora Zahlavova Strycova on her second successive scalp – after beating Li Na in the third round
"I put a lot of work into it, and I knew always that I can play good on grass. Now the results shows off and I am glad about it."
Madison Keys on her withdrawal from the tournament – handing Yaroslava Shvedova a place in the fourth round I have a muscle strain in my adductor. It's not terrible, not really long recovery time. But they were warning me it could get worse, make recovery time even less longer And on what she's going to do when she gets home I think I'm going to have to stop by McDonald's and get a large sweet tea. I think it is the biggest thing I miss when I'm here.
Stan Wawrinka who defeated Denis Istomin 6-3 6-3 6-4 and was off court in an hour and 27 minutes, on his disappointment that his match was postponed on Saturday
"For sure disappointed. First, play [best of] fiveŠ—•set match, it's never easy. But if you look for this week, me or Lopez, Isner have to play three matches in three days, [best of] fiveŠ—•set match. It's terrible for the body."
Kei Nishikori who defeated Simone Bolelli 3-6 6-3 4-6 7-6 6-4 after the match was resumed from Saturday, on his coach Michael Chang
"Yeah, he's also, you know, teaching me mentally, too, mentally strong. Like you said, he's very positive always. Yeah, I love how he thinks."
Petra Kvitova on her relaxed approach when she defeated Peng Shuai 6-3 6-2
"After my match against Venus I thought it's going to be very difficult emotionally and physically, but I had two days off, which was definitely nice. I can relax a little bit and focus on this match, and I think that I did it well."
Feliciano Lopez who defeated John Isner 6-7 7-6 7-6 7-5. Isner served 86 aces. "I knew it's going to be like this. I knew we going to play a lot of tiebreaks, so this is the match I was excepting to play. Luckily I made it. I'm very happy to go through. It was a very difficult one for me today."
Marin Cilic who was the first man today to make it through to the quarter- finals, defeating Jeremy Chardy, on his coach Goran Ivanisevic
"Goran is different when he plays and when he's off the court. When he's coaching he's very calm character and very positive."