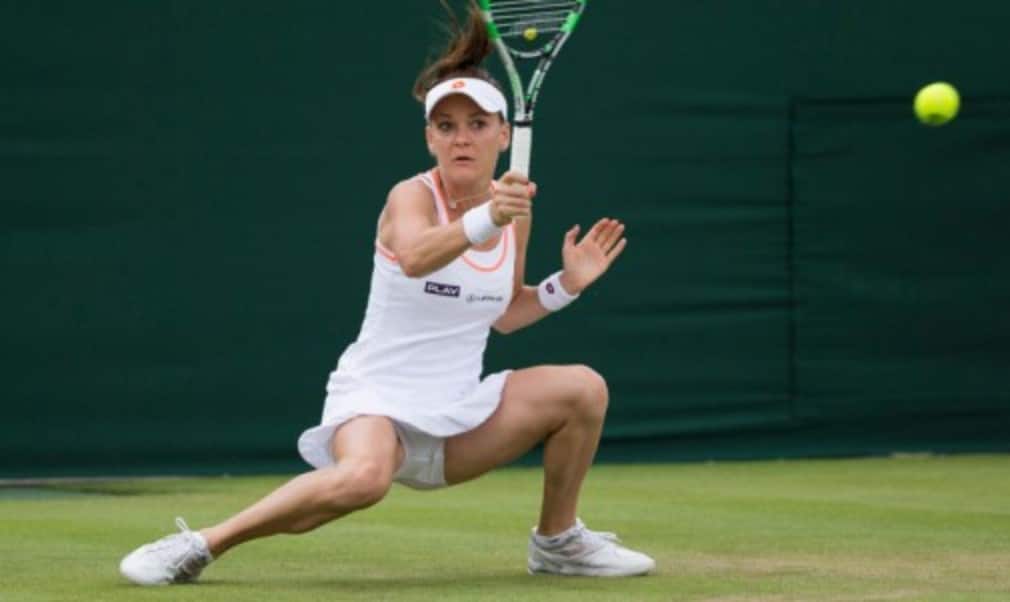 From the mouth of…Day 3 at Wimbledon
Originally published on 25/06/14
Caroline Wozniacki on the need for bathroom breaks.
"I guess when you want to pee, you use a bathroom break."
British player Tara Moore on Elena Baltacha. Moore, who was raising money for Rally for Bally with £3 donated by her sponsor for every fist pump, was defeated by Vera Zvonareva 6-4 7-6 9-7
"She was probably one of the best British players out there, and she fought every single match. She fought off the court and on the court. I mean, that's what I aspire to be. I want to fight in every single point and every single match. I hope I did today.
Grigor Dimitrov who defeated Luke Saville 6-3 6-2 6-4
"I just want to say how honored I was to play on the Centre Court. I think it's every kid's dream."
And on his work ethic compared to Maria Sharapova's
"All I can say is that I think Maria's one of the best workers that can be out there, one of the best students of the game. In the end of the day, you know, she's just the best at what she does. I'm just different towards my preparation and how I like things to be done. I mean, I'm also a workaholic. It's sort of a fair deal."
Andy Murray who brushed aside Slovenian Blaz Rola 6-1 6-1 6-0, when asked about Uruguyan footballer Luis Suarez's bite of Italy's Giorgi Chiellini
"It's just wrong. I just think it looks really weird seeing a person bite someone else. I just don't see how that would come into your thinking. Well, obviously he's not thinking clearly at the time. There was obviously something not quite right there."
Petra Kvitova, who defeated Mona Barthel 6-2 6-0, on her nickname P3tra because of the number of three-set matches she plays
It's funny. I prefer just to have a two over there, but still.
Agnieszka Radwanska who defeated Casey Dellacqua 6-4 6-0 on having the crowd behind her
"You know, comments like I made tennis entertaining and they really love watching me; it's the best I could hear.
Question and answer to Li Na, who defeated Yvonne Meusberger 6-2 6-2 and has a degree in journalism
Q: Do you ever sit up there and think about if you were sitting here you'd ask better questions?
LI NA: You know, for my dream after retire, I want be housewife. So I don't think I have chance to ask the question, you know, for other athlete.
David Ferrer asked how he feels after his second round defeat by Andrey Kuznetsov 6-7 6-0 6-3 6-2
"Well, now, of course I am sad. It is a disappointment for me. What can I do? I tried to do my best. I lost. This is a game. It's not the end of the world."