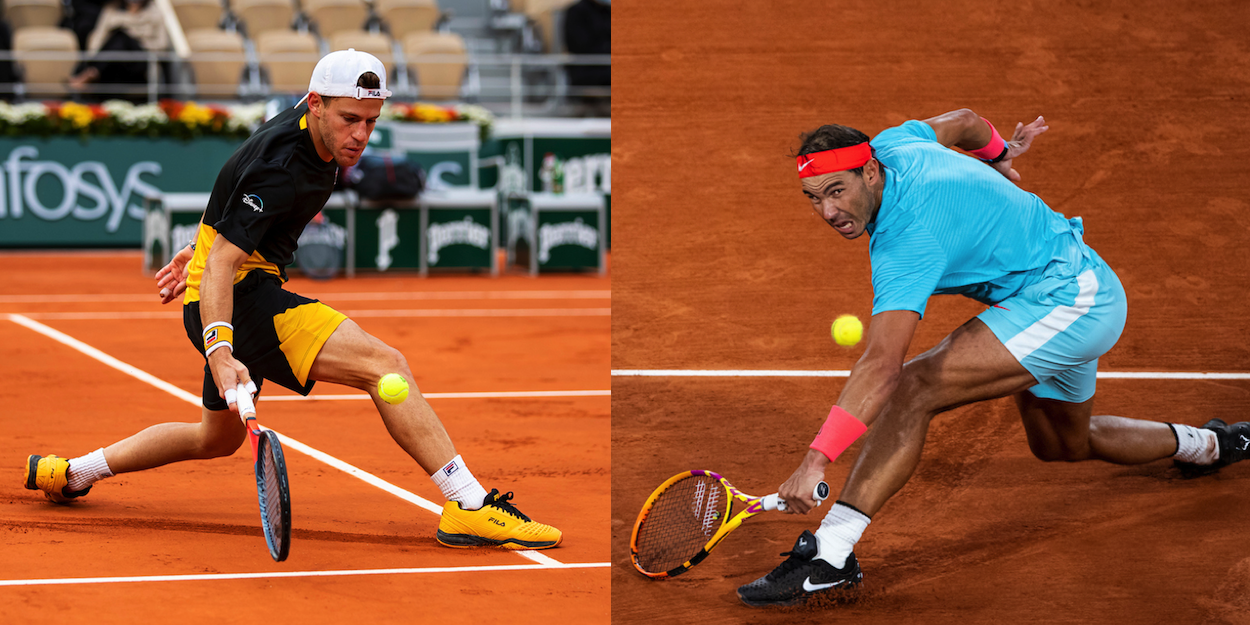 French Open 2020 semi-final preview: Schwartzman v Nadal
The French Open semi-finals are set and in the bottom half of the draw, Diego Schwartzman takes on Rafael Nadal.
Schwartzman, after his performance in Rome, proved that he would be a threat for any opponent, and Dominic Thiem learnt that hard way, falling in five sets in the quarter-finals. Thiem, having reached the final in Paris for the past two years, was many people's pick for the title this fortnight, but the Austrian will have to wait another year (well, 7 months… ) to fulfil his destiny as Nadal's heir-apparent.
Speaking of Nadal, was there really any doubt that he would reach this stage? Seeking an unfathomable thirteenth French Open title, the second seed has an incredible knack of finding his form in the French capital, regardless of his form elsewhere. He would have likely expected to face Thiem for a fourth consecutive year and whilst Schwartzman may seem to be a relative gift from the tennis gods on paper, that may well not be the case on court.
Diego Schwartzman (12) v Rafael Nadal (2)
***
Diego Schwartzman's route to the French Open semi-finals:
R128: d. Kecmanovic, 6-0 6-1 6-3
R64: d. Giustino, 6-1 7-5 6-0
R32: d. Gombos, 7-6(3) 6-3 6-3
R16: d. Sonego, 6-1 6-3 6-4
QF: d. Thiem (3), 7-6(1) 5-7 6-7(6) 7-6(5) 6-2
Diego Schwartzman has reached his first Grand Slam semi-final, courtesy of a 5h 8m win over his good friend and the No 3 seed, Dominic Thiem, on Tuesday. Thiem, who won his maiden Grand Slam at last month's US Open was one of the favourites for the title but, after being taken to five sets by France's Hugo Gaston in the previous round, the Austrian's energy levels were not where they needed to be to overcome the battling Schwartzman.
Even though Thiem, looking for a fifth consecutive French Open semi-final appearance, was the favourite heading into their quarter-final match-up, Schwartzman was always going to be capable of producing the upset. The Argentine had beaten Rafael Nadal in the quarter-finals of the Italian Open just two weeks ago on his way to the final, and he won his first four matches in Paris without dropping a set.
***
Rafael Nadal's route to the French Open semi-finals:
R128: d. Gerasimov, 6-4 6-4 6-2
R64: d. McDonald, 6-1 6-0 6-3
R32: d. Travaglia, 6-1 6-4 6-0
R16: d. Korda, 6-1 6-1 6-2
QF: d. Sinner, 7-6(4) 6-4 6-1
Nadal has reached the semi-finals without dropping a set, but he is also yet to face a seeded opponent. The first four rounds provided no trouble whatsoever for the 12-time champion but in the quarter-finals, Jannik Sinner did put up far more of a fight than those who preceded him.
The Italian 19-year-old, who won last year's Next Gen Finals, had the chance to serve for the opening set at 6-5 and he went an early break up in the second. Nadal, as ever, was able to turn things back around in his favour, but it certainly was not plain sailing. Due to some long matches earlier in the day, Nadal and Sinner did not make it out on court until after 10:30pm, so the late hour could be at least partially responsible for the Spaniard's sluggish start, but either way, he will likely need to find a higher gear when he steps out on court on Friday.
***
Schwartzman and Nadal have faced each other ten times before and Nadal leads by a hefty margin, 9-1. Notably, however, Schwartzman's lone victory came in their most recent encounter, three weeks ago in Rome. He won handily, too, beating Nadal 6-2 7-5. Further to this, they have played once before at Roland-Garros, in the 2018 quarter-finals, and the Argentinian managed to take the opening set and appeared to have his storied rival on the ropes before a rain delay took away his momentum. Nadal eventually won 4-6 6-3 6-2 6-2 but Schwartzman at least proved that he can trouble Nadal on the Spaniard's favourite court.
Whilst Schwartzman may be able to trouble Nadal in Paris, whether he can beat him is another question. On the previous twelve occasion that Rafa reached this stage of the tournament he has gone on to win the title. Schwartzman, meanwhile, is playing in his first ever major semi-final. Even if he was not at his sparkling best against Sinner, Nadal has to be the favourite. Schwartzman, having beaten Thiem and having beaten Nadal in Rome on the way to his first Masters 1000 final, will be full of confidence, and rightly so, but he will do well to take more than a set from the clay court GOAT now that he has had time to acclimatise.
Expect the 12th seed to put up a gutsy fight, but expect the 12-time champ to have too much variety, too much experience, and too much class.
Prediction: Nadal in 4