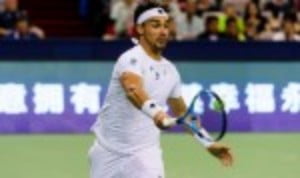 Fognini punished for behaviour
Originally published on 11/10/17 00:00
The Italian No.1 will be forced to sit out two majors, one of which must be the US Open, if he commits another significant offence at a Grand Slam before the end of 2019.
The Italian, who made disparaging comments towards a female umpire at the US Open in September, was found guilty of Major Offence of Aggravated Behaviour (Article IV.A) and Conduct Contrary to the Integrity of the Game (Article IV.B).
He has been fined $96,000 (in addition to the $24,000 penalty already paid for on-site offences) which will be reduced to $48,000 if no further Grand Slam Major Offence conviction occurs before the end of 2019.
Fognini has accepted the decision and will not launch an appeal. He has also expressed remorse for his admitted misconduct.
The 28-year-old is currently competing at the Rolex Shanghai Masters and he will take on Rafael Nadal in the third round on Thursday.