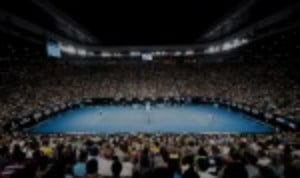 Five men to watch
Originally published on 14/01/18 00:00
David Goffin (BEL)
Ranking: 7
Best Australian Open result: Quarter-finals (2017)
First round opponent: Matthias Bachinger
The understated 27-year-old finished last season impressively. He reached the final of the ATP Finals – defeating Rafael Nadal and Roger Federer en route – and almost fired Belgium to a first ever Davis Cup success.
Goffin made it to the last eight of the Australian Open last year before being comprehensively outplayed by Grigor Dimitrov. He has undoubtedly improved since then, but maintaining his rich vein of form for an extended period will be challenging.
The next step for Goffin is to contend for a major title. He should not fear any opponent and will revel in the relatively quick conditions in Australia.
Juan Martin del Potro (ARG)
Ranking: 12
Best Australian Open result: Quarter-finals (2009, 2012)
First round opponent: Frances Tiafoe
The Argentine is involved at the opening Grand Slam of the season for the first time in four years. He has not recorded his best results in Melbourne, however he has rarely made the jaunt Down Under at optimum fitness.
A fine end to a fairly low-key 2017 season for del Potro included a semi-final appearance at the US Open in September. He made a late bid to qualify for the ATP Finals London, but was unable to punch his ticket to London.
The 29-year-old, ranked No.12 in the world, embarked on an arduous pre-season training programme in an effort to be primed for the challenges ahead – and his hard work helped him reach the final of last week's Auckland Classic.
Roberto Bautista Agut denied del Potro in New Zealand, but the former US Open champion has the attributes to floruish in the next few weeks.
Nick Kyrgios (AUS)
Ranking: 17
Best Australian Open result: Quarter-finals (2015)
First round opponent: Rogério Dutra da Silva
Will the temperamental Australian fulfil his enormous potential in 2018?
He has certainly made a promising start.
The 22-year-old claimed his first title on home soil at the Brisbane International after dismissing Ryan Harrison in a one-sided final.
Kyrgios has already carved out a lucrative career for himself but he has the ability to achieve so much more. His results at Grand Slam level in 2017, which he readily admits, were not befitting a player of his calibre.
He suffered a shock defeat to Andreas Seppi in the second round of his home major 12 months ago and will expect to perform considerably better this time.
The Australian No.1 has been placed in a good section of the draw and could encounter Grigor Dimitrov – who he defeated in Brisbane earlier this month – at the fourth round stage.
Milos Raonic (CAN)
Ranking: 23
Best Australian Open result: Semi-finals (2016)
First round opponent: Lukáš Lacko
The Canadian's 2017 season was wrecked by injuries and he has slipped down the pecking order as a consequence.
The world No.23 tends to perform well in Australia, although his season started on a sour note after losing to Alex de Minaur in the last sixteen of Brisbane.
Whether the 27-year-old will be able to cope with the rigorous demands of a two-week Grand Slam remains to be seen, but if he holds up physically, he has the firepower to contend.
Raonic came agonisingly close to reaching the final of the Australian Open in 2016 and he remains fiercely ambitious. His thirst for major silverware is unlikely to be quenched in Melbourne, but he will hope to be competitive in the second week and lay down a maker for the remainder of the campaign.
Andrey Rublev (RUS)
Ranking: 32
Best Australian Open result: Second round (2017)
First round opponent: David Ferrer
The exciting Russian is firmly on the road to fulfilling his sizeable potential. In 2017, he claimed the first title of his career in Umag and became a surprise quarter-finalist at the US Open.
He is blessed with significant firepower and is always keen to display his shotmaking skills. His eagerness to be assertive can be more of a hindrance than a help at times though, however he is still in the infancy of his career and will become a more rounded performer in the months and years ahead.
It's never dull when Rublev is around, and he recently made it to the final of the Qatar Open.