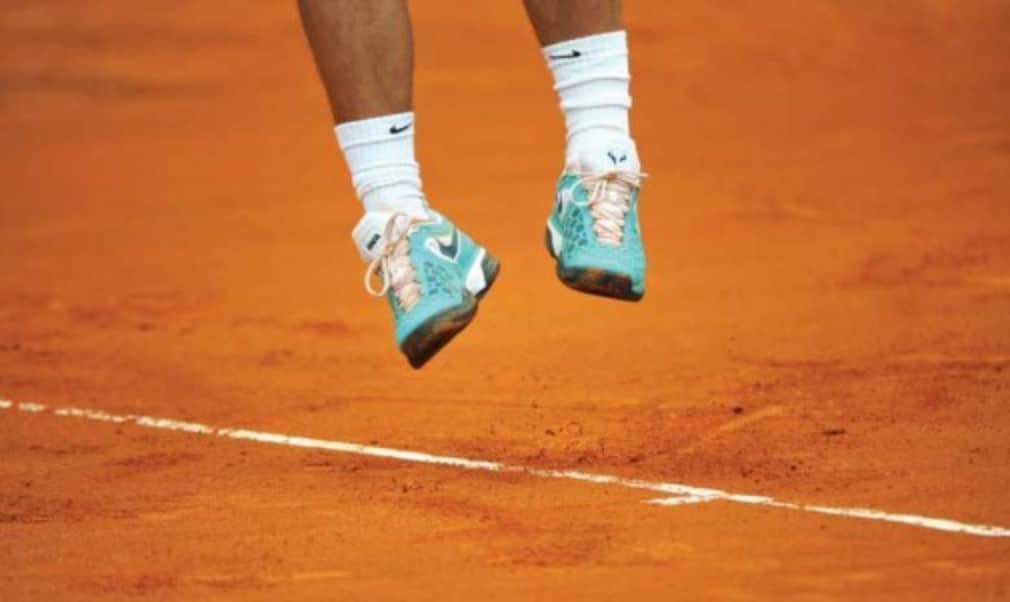 Finding the right tennis shoe
Originally published on 05/11/14
Over the course of a tight three-set match, you can quite easily end up spending over two hours on court. Think about that for a minute: the darts forward to a short ball, the haring from tramline to tramline, the constant changes of direction – sometimes for longer than Mo Farah spent running this year's London Marathon.
Unfortunately, we're not saying you deserve a couple of Olympic medals each time you step on court, but it does highlight the importance of the shoes cushioning those steps. Along with your racket, the right pair of tennis shoes is arguably your most important piece of kit, and deserves just as much thought and attention when it comes to finding the right pair – and beyond that, the right insoles.
"Find the perfect pair of shoes and have orthotics fitted if you can – it did wonders for my knees and ankles," Laura Robson told the Guardian when asked for her top training tip during the French Open. And she's not alone. After winning the 2011 Australian Open title, Novak Djokovic threw his shoes into the crowd, but not before removing his custom-built insoles. Similarly, Andy Murray is said to have ploughed through six pairs of tennis shoes en route to the Wimbledon title in 2013, transferring the same custom insoles between each pair.
"The quick stop-start changes of direction encountered in tennis mean that the foot moves around significantly on the insole of the shoe," says Richard Felton, manager of Profeet in south-west London. "Our speciality is not just providing people with the right footwear, but reducing that movement to improve your game."
Profeet specialises in tailor-made sports performance footwear across a range of disciplines, including running, skiing, hiking and tennis. The inhouse biomechanical analysis lab allows technicians to assess your gait via video feedback, while the mechanics and forces of your foot in action can be analysed using a dynamic foot scan, providing a detailed picture of the areas of your feet that need enhanced cushioning and support before building you a bespoke pair of insoles.
"In a tennis shoe it works incredibly well," Felton adds. "It follows the contours of the foot to offer support and reduce that movement within the shoe. This prevents instability that may impact the ankle, knee and hips, removing stress on all the joints that typically get tired and sore from alignment issues."
The insole does not just prevent injury and increase comfort on court – it can actually improve your game. "A stable sole also gives you a greater surface area to apply force to as you move. As the foot spreads across the insole it creates a platform – the less it moves within the shoe at the moment of impact, the more stable the platform and the more effectively you can transfer power from your feet and legs into your shots."
The other side of the Profeet service is finding the right tennis shoe for you. The gait analysis and foot scan also help to identify the brands and models that are naturally suited to your feet – after that, it's up to you to decide what type of player you are or what you want from your shoe.
Baseliners, for example, require a lot of lateral support from their shoes to handle constant motion from side to side, and a highly durable sole to deal with the constant lateral motion. In contrast, a servevolleyer who slides their back foot along the court during the serve may look for a shoe with a durable toecap and medial support inside the arch of the foot. Sometimes the entire outsole is encaged in rubber for added support and durability.
"Tennis shoes fall into two categories – softer, lowprofile shoes and thicker, stiffer shoes," says Felton. "At a competitive level, a player's style of play may influence the style of shoe they like, but at a recreational level it is more important to find a pair you are comfortable with. If you get the chance, it's worth trying one of each to see which you prefer. If you like one style over the other, stick with it. Don't buy the other type because it is in a sale – you're not going to enjoy it on court."
Word is spreading about the service – former British pro Lee Childs is a Profeet ambassador, Greg Rusedski is a customer and players at the LTA's National Tennis Centre in Roehampton are being advised about the impact insoles can have on their fitness and game. Profeet will even fit shoes bought elsewhere with insoles, whether for sports or everyday use.
"A well-known former player came to us with plantar fasciitis," Felton recalls. "He was in loads of pain. After seeing our resident podiatrist we built some custom insoles for his tennis shoes, as well a three-quarter insole for his everyday non-sport shoes, which he can take out and move between different pairs. That pretty much solved the problem within 10 days."
With services ranging from a free 20-minute assessment when you buy a pair of tennis shoes through to a specialist sports podiatry and biomechanics examination, Profeet offers everything your feet could ask for. "We've made plenty of insoles for top players over the years," Felton added. "Tennis courts, particularly hard courts, are generally tough on feet, joints, and the body in general." Certainly makes sense to deal with the problem from the ground up, don't you think?