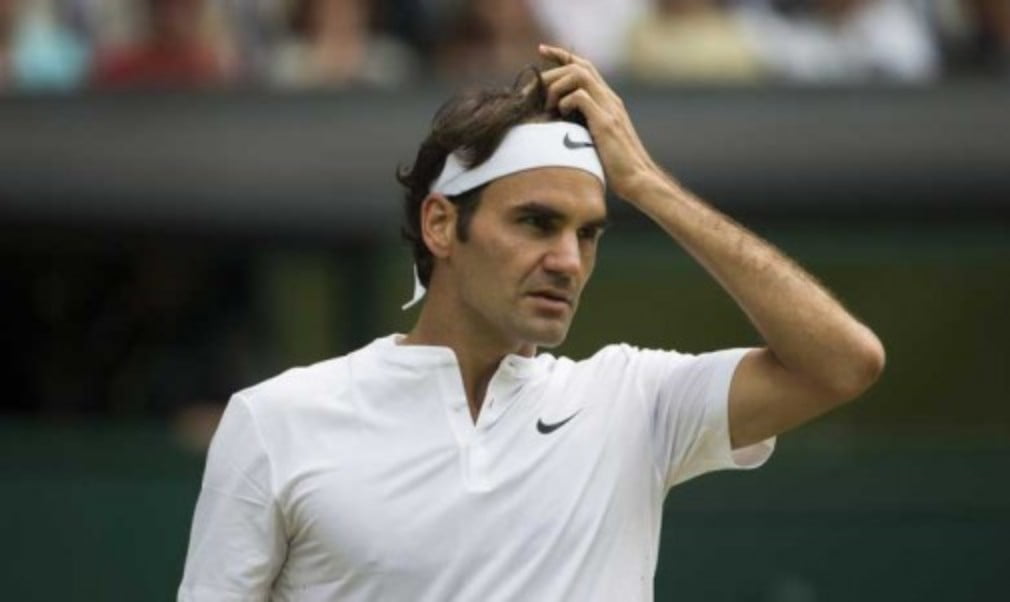 Federer's Wimbledon conquerors
Originally published on 27/06/16 00:00
1. Jiri Novak (CZE)
Year: 1999
Round: R1
Score: 6-3 3-6 4-6 6-3 6-4
Wimbledon result that year: lost in R2 to Todd Martin
Head2Head with Federer: 4-5
The first main draw match Federer, the 1998 boys' champion, faced at Wimbledon came a month after he took a set off Pat Rafter on the clay of Roland Garros. The Czech was unseeded and had only won one match at the All England Club in three previous visits. Federer battled hard and even led after three sets but ultimately fell away. It wouldn't be the last time a Novak would cause him to leave Wimbledon wondering what might have been.
2. Yevgeny Kafelnikov (RUS)
Year: 2000
Round: R1
Score: 7-5 7-5 7-6(5)
Wimbledon result that year: lost in R2 to Thomas Johansson
Head2Head with Federer: 4-2
A tough draw for Federer in only his second Wimbledon, fifth seed Kafelnikov would prove too much to overcome to win his first main draw match at SW19. The experienced Russian, then 26, had already beaten Federer in their previous meeting and would only go on to lose to the Swiss twice in in six career encounters. The defeat was another learning curve for the ever ambitious boy from Basel.
3. Tim Henman (GBR)
Year: 2001
Round: Quarter-Final
Score: 7-5 7-6(6) 2-6 7-6(6)
Wimbledon result that year: lost in SF to Goran Ivanisevic
Head2Head with Federer: 6-7
Given Andy Murray's record against Federer at SW19 it probably comes as a surprise that Henman appears on this list. Even more unexpected was that the defeat came after Federer had made his imprint on the soft centre court grass by beating Pete Sampras the round before. The Swiss dropped the first two sets and after taking the third had a chance to force a decider. He couldn't, and Henman recorded what was his third successive win over Federer in three meetings.
4. Mario Ancic (CRO)
Year: 2002
Round: One
Score: 6-3 7-6(2) 6-3
Wimbledon result that year: lost in R2 to Jan Vacek
Head2Head with Federer: 1-6
Despite losing to Henman after the Sampras victory a year earlier, Federer returned to Centre Court wiser and stronger in 2002. But he was quickly given a dose of reality by Ancic, who left the seventh seed stunned after a straightforward, straight sets win. Not that he knew it then, but it might have been some consolation to Federer to know he would not lose again at Wimbledon for another six years.
5. Rafael Nadal (ESP)
Year: 2008
Round: Final
Score: 6-4 6-4 6-7(4) 6-7(8) 9-7
Wimbledon result that year: Won
Head2Head with Federer: 23-11
It took probably the greatest match ever played to end Federer's five years of dominance at SW19. Played out over nearly five hours and through several rain delays, Nadal dethroned the Swiss on his way to also overhauling him at the top of the world rankings. Federer fought as only a champion would from two sets to love down, saved two match points but surrendered his crown in fading light by netting a forehand.
6. Tomas Berdych (CZE)
Year: 2010
Round: Quarter-Final
Score: 6-4 3-6 6-1 6-4
Wimbledon result that year: lost in final to Rafael Nadal
Head2Head with Federer: 16-6
A first round scare against Alejandro Falla had made Federer appear vulnerable in the first week, though he still advanced to the quarters relatively unscathed. Having been beaten in the last eight at Roland Garros weeks earlier, Federer again suffered an early second week defeat as Berdych powered down 51 winners to steamroll the world no 2 from one set all, on the way to a final defeat against Nadal.
7. Jo-Wilfred Tsonga (FRA)
Year: 2011
Round: Quarter-Final
Score: 3-6 6-7(3) 6-4 6-4 6-4
Wimbledon result that year: lost in semi-final to Novak Djokovic
Head2Head with Federer: 11-6
Federer had never lost in a Grand Slam after winning the first two sets, but that record went out the window as Tsonga pulled off the mother of all comebacks in 2011. The Swiss had been favourite for a seventh Wimbledon crown off the back of a French Open final appearance, but looked forlorn as the versatile Frenchman slowly but surely clawed back the disadvantage. It was a second successive quarter-final loss for Federer following seven consecutive finals.
8. Sergiy Stakhovsky (UKR)
Year: 2013
Round: R2
Score: 6-7(5) 7-6(5) 7-5 7-6(5)
Wimbledon result that year: lost in R3 to Jurgen Melzer
Head2Head with Federer: 1-1
Almost certainly the biggest shock of all those on this list. On a sunny first Wednesday evening Stakhovsky kept the defending champion in the shade with a ferocious serving performance. Federer, historically so good against big hitters, couldn't find a way through and succumbed on the second match point when he screwed a backhand into the tramlines. Roger Federer knocked out in the second round at Wimbledon. Unthinkable. Yet it had happened. To the world no 116.
9. Novak Djokovic (SRB)
Year: 2014
Round: Final
Score: 6-7(7) 6-4 7-6(4) 5-7 6-4
Wimbledon result that year: Won
Head2Head with Federer: 23-22
Year: 2015
Round: Final
Score: 6-7(1) 7-6(10) 6-4 6-3
Wimbledon result that year: Won
Head2Head with Federer: 23-22
The only man to beat Federer more than once at SW19- and both times have come on the grandest stage. Federer looked to be favourite going into 2014, but used up all his energy in forcing a fifth set and wasn't the same player in the decider. A year later, he had to dig deep again, saving seven set points before claiming the second set tie break, only for Djokovic to raise the level one notch too far. Based on the last two years, if Federer is to win Wimbledon again and stand alone with eight titles, somebody must take care of the Serb before the business end of the fortnight.