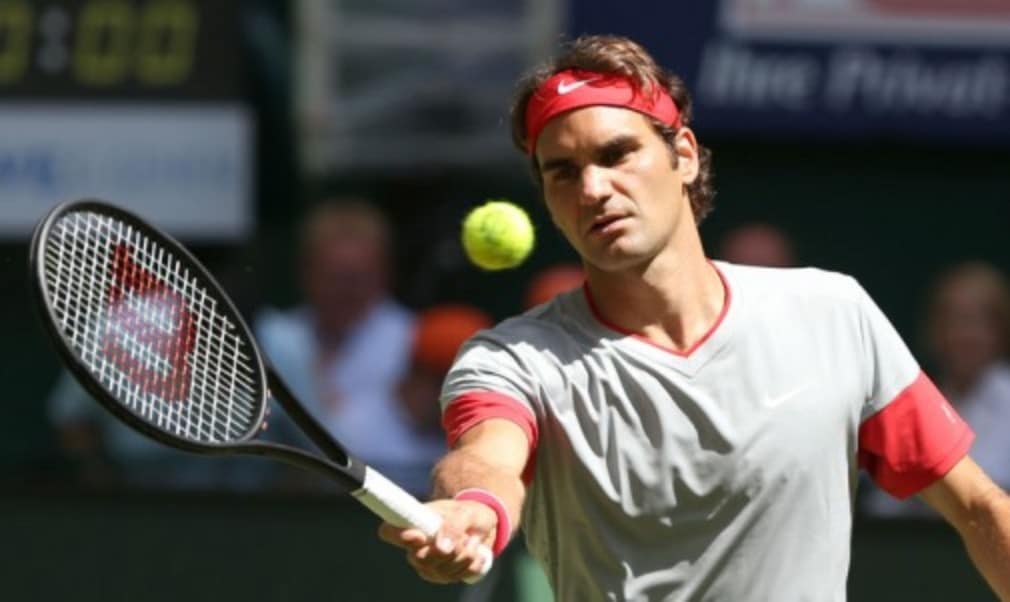 Federer's happy returns in Toronto
Originally published on 09/08/14
Quarter-finals day at the Rogers Cup in Toronto, and for the first time in the Open Era all four went the distance. Need to know more? Read on…
Stronger Tsonga outguns Murray
Fresh from his victory over world No.1 Novak Djokovic, Jo-Wilfried Tsonga proved too sharp for Andy Murray, who rued his luck at a tournament he hoped would offer him plenty of court time. The Scot did spend two hours 18 minutes on court with Tsonga, who recovered from the loss of the second set in time to turn Murray's 3-0 third-set lead on its head to win 7-6(5) 4-6 6-4.
Tsonga gunned down 18 aces and 42 winners against Murray, a fact he attributes to time spent in the gym strengthening his legs. "My technique is not that bad, but I think I had to improve a lot physically just to be better technically," Tsonga explained. "For the serve, for example, it's important to push really hard and to be able to take the ball higher to get the angle. I was able to serve maybe 220kmph all match, and for me it's something great when I'm serving like this – I'm able to play good tennis."
Murray played just two matches in Toronto, having opted out of the doubles before receiving a bye when Rafael Nadal withdrew before receiving a walkover in the third round when Richard Gasquet withdrew. As a result, he is desperate for more court time in Cincinnati.
"I want to try and play matches there," said Murray, who wore kinesio tape on his right knee for the match. "That's really what I need. When you play a lot of matches, closing matches out becomes easier. But I felt like I was hitting the ball well. I served well, especially in the beginning of the match, and I moved well. Some bad decisions at the wrong time cost me today."
Kevin Anderson: anatomy of a choke
Picture the scene: two match points to reach your first Masters 1000 semi-final. On your serve. Against the No.7 seed. Dream scenario, right? Or the makings of a nightmare, as Kevin Anderson found out against Grigor Dimitrov.
The South African, leading 7-5 5-7 5-4, 40-15, missed the tramline with a cross-court forehand by an inch on his first match point. On the second, he careered forward after Dimitrov's desperate chipped return and netted a sitter. Another forehand error, and the game was slipping away. A fourth, and it was gone.
Anderson rallied to force the tiebreak, but was soon walking off in a daze, wondering how he had let that one slip away.
"It's as disappointing and frustrating as a match can possibly get," Anderson said. "I worked really hard. You never want to lose a match after having a couple of match points and balls that were on my racket. I'm sure it will be pretty tough to sleep tonight.
"It's a tough sport, stuff like that happens," he added. "You can choose to get down or take the tougher road and try to look at the improvements and try and make adjustments – I'll use it to try to make me a better player."
Dimitrov admitted he had escaped against Anderson to set up a semi-final showdown with Tsonga – a switch of corners for Roger Rasheed adds to the intrigue there – but said there was more than luck to his victory.
"When it came down to those big points, I think it was a lot about the mental toughness and what situation you want to put yourself in to win the point," he said. "I think in the end I was just a little bit stronger on that side, and I just went for the shots that I know I can win. I knew eventually that he might just crack at some point – I was looking for that little window.
"I got it in the last two games, especially in the tiebreak. I think it was just well played in the end."
Lopez's nine lives see off Raonic
The home boy's gone, and with him go Canada's last hope for a home-grown Rogers Cup champ for another year. Milos Raonic was on a run of seven straight wins since Wimbledon, but ran into Feliciano Lopez in delicious form in a 6-4 6-7 6-3 victory.
The Spaniard had already accounted for No.4 seed Tomas Berdych to reach the last eight, and carried his impressive hard court form into an entertaining encounter with the 23-year-old. The crowd, understandably, were with their man – but Lopez thrived in the Davis Cup-like atmosphere.
"It's good to have played at least few more times in a good atmosphere like this where you feel the pressure and when you know that the crowd is going to be excited, when you know the match is going to be tight," Lopez said. "But in the other way it's fun to play like this. I mean, these matches, you always dream to play them. And, yeah, this was a great match to play, I have to say."
The crowd, and both players, were on tenterhooks during the fifth game of the third set, as Lopez recovered from 0-40 down, only to face another six break points at deuce before finally holding serve.
"Some second serves I hit like 180, 190kmh. They were in, and, you know, [that's] a little bit of luck. To save nine break points in the same game, even though I played great most of them, I have to get a little bit lucky."
With Raonic smarting from his missed opportunity – his only break points of the match came in that game – Lopez stormed clear to set up a quarter-final showdown with Roger Federer and his opponent to lick his wounds.
"It hurts to lose today, but there's a lot of stuff I could do well over the next week in Cincinnati, and possibly after in New York, that could give me a lot of reasons to forget about this quickly," Raonic said.
"I just need to show in a few situations more courage and go for a little bit more. I just felt like I never let it go through or impose myself, and I think that's what cost me over time."
Birthday boy Federer goes the distance
Federer has never lost on his birthday, so you can't blame David Ferrer for trying to take the last of the day's quarter-finals past midnight. The Spaniard fought back from a set down to take the match into a decider and had the chance to break early in the third, but Federer rallied after a loose spell to wrap up a 6-3 4-6 6-3 victory in six minutes shy of two hours.
For every flash of brilliance from Federer, there was a point tossed away on an odd night for the second seed. Fortunately, most of his mediocre moments came in the second set – 21 unforced errors undid the good work and gave Ferrer an opportunity he was only to happy to take. The pair traded breaks early in the third before Federer finally put the match to bed, serving out in style with the clock not yet near midnight.
Once again Federer's game plan revolved around getting himself to the net, where he claimed 22 points from his 30 forays forward. The world No.3 admitted he surprised himself with his ability to turn defence into attack in order to get to the net.
"I remember early on when I came onto the tour, it's something I realised I could do very well, actually, the transition from defence to offense," Federer said. "Then the faster I got, the stronger I got, the better my shots became, the more easy it seemed to me. At the end it became natural, but for that you need to be agile.
"It became a strength of mine and I still use it today. Usually when you're in defence it takes you a few shots to come back into the point, but I think I am able to turn it around rather quickly."
At one point the crowd broke into an impromptu chorus of Happy Birthday to You as Federer left his seat – a moment the 33-year-old appreciated.
"I'm really having a great time here again this week with my family," Federer said. "Everybody is super nice. I do feel the love, no doubt."