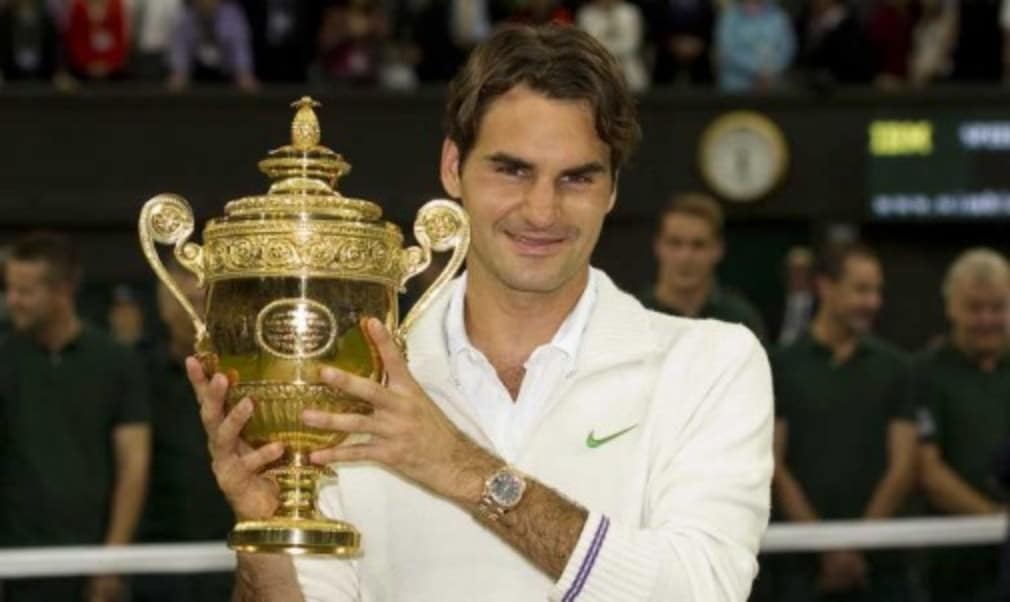 Federer's best Wimbledon wins
Originally published on 06/07/16 00:00
beat Andy Murray, 2015 semi-final 7-5 7-5 6-4

Federer's most recent victory at SW19 ranks as one of his best because of the pure quality of the serving. The Swiss' timing was so devastating that he went 45 minutes without dropping a point behind his first delivery, eventually causing Murray to scream 'what do you want me to do?!' at his box. Having been broken only once en route to the last four, Federer faced only one break point all match – in the first game – which he saved. From there on in, one break in each set was enough to set up a second successive final against Djokovic.

beat Irakli Labadze, 1998 boys final 6-4 6-4
Federer's first taste of success at SW19 came 18 years ago, when, at the age of 16, he defeated Irakli Labadze in straight sets to claim the boys' singles title. Whilst not being the biggest tennis-related story of the fortnight that year, the result undoubtedly endeared the lawns of the All England Club to Federer's heart. He would beat Pete Sampras three years later and lift the title on Centre Court two years after that. For good measure, Federer also won the boys' doubles in 1998 with partner Oliver Rochus.

beat Pete Sampras, 2001 fourth round 7-6(7) 5-7 6-4 6-7(2) 7-5
Almost certainly Federer's most famous win on Centre Court prior to his first final appearance. On a cloudy second Monday the 21-year-old unheralded Swiss walked on to the most famous tennis arena in the world and knocked out the seven-time champion, beating him at his own serve and volley game in the process. The pair would never meet professionally on Tour again, and despite Federer's consequent two-year wait for the title, many look back on this as the moment the guard began to change in men's tennis.
beat Andy Roddick, 2003 semi-final 7-6(6) 6-3 6-3
Tennis journalist Chris Bowers describes in his book Fantastic Federer how he was asked by his editor to preview this match, weighing up both sides before concluding that Roddick would win the semi-final. His reply was simple: "But I don't think he will." He was right. Roddick had been the storyline, and would go on to win his first major at that year's US Open but he had no answer for Federer on Centre Court, as the Swiss moved into his first major final with a straight sets victory which nullified the American's first serve in the same way that Sampras had been cut down to size two years earlier.
beat Mark Philippoussis, 2003 final 7-6(5) 6-2 7-6(3)

The moment the boy from Basel realised his dream, Federer's first Grand Slam title was sealed following a masterful performance belittling the notion that it was his first appearance in a major final. The same precise serving and masterful touch that had underlined his win against Roddick two days earlier was this time too much for Australian Philippoussis, who could only manage two games in a one-sided second set sandwiched by two tie breaks. The win started Federer's run of five straight titles at the All England Club.
beat Andy Murray, 2012 final 4-6 7-5 6-3 6-4

Rarely does Federer walk out on to court the second favourite with the crowd, but it was definitely the case in 2012. With a nation behind him Murray came out inspired, breaking in the opening game before taking the first set nine games later. The second looked headed for a tiebreak until Federer reeled off four straight points and when the Swiss broke after a 15-minute game in the third Murray's resistance was broken. Federer collapsed to near silence on match point after securing his 17th, and to date most recent, major title.
beat Andy Roddick, 2004 final 4-6 7-5 7-6(3) 6-4
After being taken apart in the semis a year earlier Roddick earned a chance to avenge that defeat and the fact Federer had replaced him as world No.1 in 2004. The American threw everything at the Swiss for a set and a half, only for the defending champion to soak up the serving onslaught and turn the direction of the match around. Roddick summed up the day perfectly in his on court interview immediately afterwards. "I threw the kitchen sink at Roger today, but he went to the bathroom and got his tub."

beat Andy Roddick, 2009 final 5-7 7-6(6) 7-6(3) 3-6 16-14
The win that elevated Federer above everyone in the statistics of the men's game, as he clinched a record 15thGrand Slam title. Roddick, who was expected to play the supporting act on Federer's stage, stole the first set before wasting four set points in the second set tie break from 6-2 ahead. Federer took the third comfortably in a breaker before Roddick forced a decider, which Federer claimed when he broke the American for the only time that afternoon in the thirtieth game of a mammoth final set.