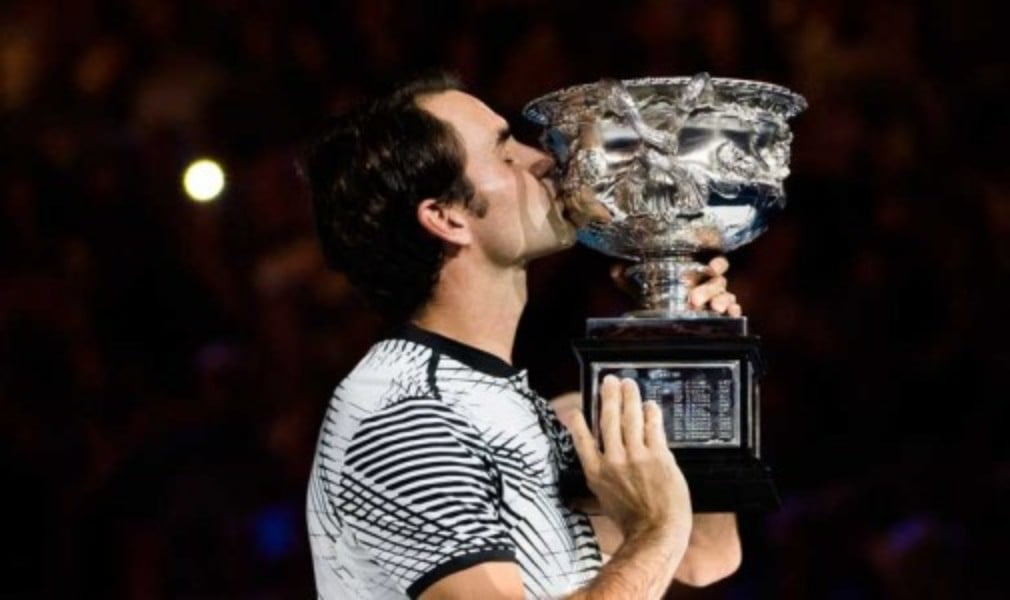 Federer wins Grand Slam No.18
Originally published on 29/01/17 00:00
The 35-year-old beat his long-time rival in a Grand Slam final for the first time in nearly a decade to lift the Norman Brookes Challenge Cup for the first time since 2010.
In a memorable match on Rod Laver Arena, the No.17 seed recovered from a break down in the final set to win 6-4 3-6 6-1 3-6 6-3 in three hours and 37 minutes to become the lowest ranked winner of the Australian Open since Thomas Johansson in 2002.
Federer, who returned to action in Australia after a six-month layoff, beat Nadal in Melbourne for the first time in four attempts to snap a six-match losing streak in major finals against the Spaniard, stretching back to Wimbledon 2007.
"I don't think either one of us believed we'd be in the finals in Australia when we saw each other at [Nadal's] academy four, five months ago," said Federer, who will return to the Top 10 following his victory in Melbourne. "And here we stand. I am happy for you. I would have been happy to lose to you. The comeback was perfect.
"Tennis is a tough sport. There are no draws. If there were I would have been happy to accept one tonight and share it with Rafa."
It was a match that had been hyped as one of the biggest in history – two of the greatest players of all time going head-to-head for major glory, but it was a subdued start to the match as both players took time to settle into their rhythm.
In a 35th meeting between the pair, who first met in Miami 13 years ago, it was Federer who struck first, breaking in the seventh game when Nadal sprayed a backhand wide. As it had done for most of the fortnight, Federer's serve was firing, and having dropped just four points on serve, the Swiss sealed the opening set with his fourth ace of the match.
In 11 previous meetings at a major, Federer had only beaten Nadal twice, but significantly on both occasions he had won the first set. But any hopes of first straight-sets win at a Grand Slam was swiftly erased as Nadal came out firing in the second set. Hitting his forehand with even more bite, he began pummelling Federer's backhand to great effect, forcing an error to score an early break.
As Federer's error count began to creep up and the rallies got longer, Nadal took control, grabbing a double break after three forehand errors from Federer. The Swiss did get one break back after a loose service game from Nadal, but two love service games from the Spaniard helped him level the match.
Federer had not beaten Nadal in three previous meetings in Melbourne, including a five-set defeat in the 2009 final. He needed four aces to dig himself out of a hole in the opening game of the third, but having saved three break points it seemed to bolster the Swiss, who hit a blistering forehand on the rise to break in the next game, and another break four games later helped him rattle through the third set.
Nadal pounced after two loose shots from Federer early in the fourth set, breaking for a 2-1 lead after Federer failed to steer a volley over the net at full stretch. Two games later, he had the Rod Laver Arena crowd on their feet after a squash-like forehand crosscourt winner at full stretch to clinch a 4-1 lead, and with a double break cushion, and a fifth set was inevitable.
It was the third five-set match for both players this tournament. Federer had beaten Kei Nishikori in the fourth round and Stan Wawrinka in the last four, while Nadal needed five sets to see off Alexander Zverev in the third round before his five-set epic win against Grigor Dimitrov in the semi-finals. It is the first Grand Slam tournament since the 2009 French Open that both men's semi-finals went to five sets.
Despite having the advantage of an extra day's rest before the final, Federer was the first to show signs of weariness, as he took a medical timeout at the start of the fifth set. As the match entered a fourth hour, Nadal made his opponent pay for a sluggish return, breaking in the first game of the decider.
But in his 100th Australian Open match, Federer kept plugging away, putting Nadal under pressure on his serve and after two nervy service holds, the No.9 seed finally cracked, succumbing to a sixth break point. With Federer in the ascendancy, the Swiss broke once again before serving out a nervy service game to clinch his first major title since 2012.
"I've been coming here for almost 20 years now," said Federer after receiving the silverware from the great Rod Laver. "I've always enjoyed it and now my family does too. I hope to see you next year. If not, this was a wonderful run here and I can't be more happy to win tonight."
"Congratulations to Roger and all his team," said Nadal, who was bidding to become the first man in the Open Era to win each major at least twice. "It's just amazing the way that he is playing after such a long time without being on the tour. It's very difficult to make that happen. I feel very happy for you.
"For me, personally, it has been a great month," added the 2009 champion, who has now finished runner-up in Melbourne on three occasions. "Melbourne is always going to be in my heart. I had some hard time without being able to compete at full competition. I worked very hard to get where I am today.
"I fought a lot, probably Roger deserved it a little bit more than me today. I'm just going to keep trying. I feel I am back at a very high level. I will keep fighting the whole season to have a great season and to come back here for so many years and keep trying to have that trophy with me."