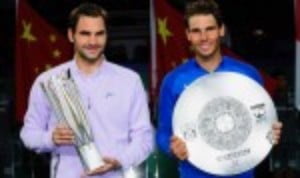 Federer unstoppable in Shanghai
Originally published on 15/10/17 00:00
The world No.2 was a relentless attacking force from the outset as he blitzed his great rival to capture the 94th title of his glorious career. It was a flawless performance from the Swiss and he ended Nadal's 16-match winning streak in style.
Federer unleashed 28 winners and committed just 11 unforced-errors as he overwhelmed his Spanish opponent. The Swiss, as he had done all week, served majestically and his full repertoire of shots were on display all evening.
"I wasn't here last year because of injury, so it's so, so nice to be back here in Shanghai," said the champion. "It's a wonderful moment for me in my career to be back here playing so well against my good friend and rival, Rafa."
Nadal struggled to contain the Swiss maestro and he did not create a single break-point opportunity. His backhand was unusually loose and he never quite settled, however he is unlikely to dwell too much on his first loss since August.
"This has probably been the most successful year of my career here in China," remarked the Spaniard. "I won in Beijing and reached the final in Shanghai so it's been a great few weeks. I'm very happy for all the things that have happened to me after a long year, so to have these results is very important for me."
The world No.1, who had lost his three previous clashes with the Swiss this season, made the worst possible start in China's second biggest city. Federer earned an immediate break with a sizzling backhand passing-shot winner directed down the line.
From that moment onwards, there was little for Nadal and his army of followers to get excited about. The Swiss dropped just four points behind his delivery as he claimed the first set by six games to four.
Nadal adopted a deeper returning position in the second set in an attempt to get more balls back in play, but his change in approach had little impact. Matters got worse for the Spaniard in the fifth game as he nudged a backhand wide to fall a break behind.
Federer was closing in on title number six of a fine season and he continued to play unburdened. He would achieve another break as his opponent attempted to prolong the contest – and the capacity crowd inside Stadium Court had the champion they desired.