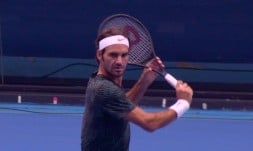 Federer trains in Melbourne
Originally published on 09/01/17 00:00
The four-time champion arrived in Melbourne from Perth after partnering with Belinda Bencic at the Hopman Cup. It was Federer's first appearance in Perth since 2002.
He is making his return to action after cutting his 2016 season short in July to focus on "extensive rehabilitation" following knee surgery last February. It was the first year in 16 years that Federer ended the year without a trophy.
Speaking in Perth last week, Federer declared himself pleased with his return to action.
"I am starting to feel the ball better and better and I am just moving around the court better, so I am really pleased," said Federer, who beat Dan Evans and Richard Gasquet but lost to Alexander Zverev. "You have to be able to handle different opponents and I am happy with where my level is at.
"I was uncertain; I didn't know how it was going to go. I am very pleased that it is already going so well."