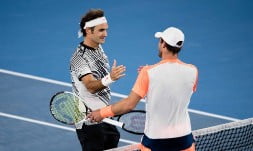 Federer to face Wawrinka in semis
Originally published on 24/01/17 00:00
World No.50 Zverev stunned world No.1 Andy Murray in the fourth round, but could not continue his giantkilling run in Melbourne, falling 6-1 7-5 6-2 as Federer became the oldest man to reach the Australian Open semi-finals since Arthur Ashe in 1978.
It was a match of contrasts. Federer, a 17-time Grand Slam champion, is returning to action after a six-month absence from the tour, taking on a player who dropped outside the world's top 1000 in 2015 but is back in the top 50 after one of the best years of his career in 2016.
"I thought Mischa played an incredible tournament," Federer said. "I was so happy for him – he has gone through tough times and it's nice to see guys like that back on the court for a second chance or even a fifth chance."
In their last meeting back in 2013, Federer routed Zverev 6-0 6-0 on the grass at Halle and it looked like the Swiss was on course for a third straight bagel set as he raced to a 5-0 lead on Rod Laver Arena. The German avoided the whitewash as he held his third service game, but it did not stop Federer powering through the opening set in just 19 minutes.
Zverev has enjoyed a sensational fortnight in Melbourne. The lefthander, who had only previously reached the third round of a major once in his career, came from two sets to love down and saved match point against John Isner in the second round before pulling off the biggest win of his career against Murray on Sunday.
After being totally outplayed in the opening set, Zverev appeared to have shaken off any early nerves and began to settle into his game, winning 10 points on the bounce to break Federer to love for a 3-1 lead.
Although he surrendered the break immediately, Zverev had found a way to stay in the rallies and put Federer under pressure, and suddenly the Swiss found himself just two points away from losing the set, but Federer stood firm, snatching a late break to win a much more competitive second set.
Zverev weathered some early pressure in the opening game of the third set, and it took some of Federer's best tennis to finally find a way through – combining a sensational lob with winners off both wings to break for a 3-2 lead. With victory in sight, Federer broke once again to wrap up victory and reach a 13th Australian Open semi-final.
"Not to play Stan in the semis," Federer admitted of his expectations coming into the tournament – his first since Wimbledon last year. "Maybe win a few rounds depending on the draw."
"A semi with Stan couldn't be cooler for the both of us," added Federer. "He's a clutch player now. He's won a Slam the last three years, he was right there for us in the Davis Cup. For me to play against Stan I have to play aggressive, the more time I give him the better he is. I'm happy he's got this far but he doesn't need to go a step further – Stan knows I'm joking."
Awaiting Federer in the last four is 2014 champion Wawrinka, who, as usual, has flown under the radar in the opening rounds. The world No.4 was too strong for Jo-Wilfried Tsonga, winning 7-6(2) 6-4 6-3 in two hours and 14 minutes. The world No.4 converted all three of his break point opportunities and hit 41 winners as he reached an eighth Grand Slam semi-final of his career.
"It's going to be a great match, for sure," said the three-time major winner. "Last time I think I got killed in US Open. He was playing way better than me, moving really well, really aggressive from the court.
"It's going to be interesting match. He's playing so well since the beginning of the tournament. He had a little bit some hesitation in the two first rounds, but since that he's really flying on the court. It's great to see him back at that level. Hopefully I can manage to play a great match."
Federer has won 18 of their 21 previous meetings and Wawrinka has never beaten the former world No.1 on a hard court, but a three-time Grand Slam champion himself, Wawrinka has greater belief against the best players.
"For sure now I'm more confident with myself," he said. "When I step on the court, it doesn't matter who I play, I know what I have to do if I want to win.
"Against Roger it's always special because he's so good. He's the best player of all time. He has an answer for everything. But I managed to beat him in a Grand Slam, so we'll see. Most important is that I step on the court and I play my best tennis."