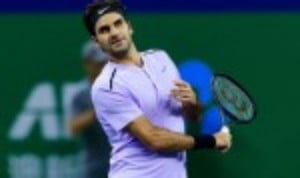 Federer starts well in London
Originally published on 12/11/17 00:00
It's the 50th time the Swiss maestro has tasted victory this season and his opponent, making his debut at the season-finale, struggled to make an impact on his rival's imperious delivery.
A break of serve achieved in the first game of the opener – due to a pair of blistering backhand winners – gave Federer the perfect start and he never relinquished control.
The second set was more competitive as Sock displayed the type of form that took him to a first Masters title in Paris earlier this month. He contributed to his own downfall in the second set tiebreak though, and an untimely double-fault at 4-4 was his last contribution.
The first match of a tournament can often be tricky, and Federer was relieved to have come through unscathed. "I think we're all going to start playing better every round that goes by," explained the world No.2
"It's just still early days in the tournament and you can't expect to play your best against the best players in the world in that first match.
I think, like I explained in the on court interview, it was more about managing the match rather than actually having a certain way how you play and what you were really thinking about.
"Sure, I had a tactical plan with my team – but very often in a first match like this, it gets thrown overboard because at the end you're just happy to be serving well. Focus on that first, and then in the return games sort of try your best, try to keep the ball in play, and go from there.
"I think that's the difficulty in a first round usually at any tournament. Here it's amplified because it's against a fellow Top 10 player. It just makes things really, really difficult sometimes."
Sock, the first American since Mardy Fish in 2011 to qualify for the prestigious event in London, did not looked overawed as he sampled the electrifying atmosphere inside the 02 Arena for the first time.
The 25-year-old was, perhaps surprisingly, put into bat first by his opponent. It proved to be a shrewd move by the wily Swiss as he made his early pressure tell.
Sock had made the worst possible start, but he did little wrong in his opening service game. With a break in his pocket, Federer was untroubled on serve as he took it by six games to four.
The debutant had lost his three previous encounters with his illustrious opponent, however he was more competitive in the second set. Despite coming under sustained pressure, Sock showed his mettle and kept clinging on to his serve.
Reaching the sanctuary of a tiebreak was a relief for the American No.1, but he was unable to force a decider. A sixth double-fault of the contest cost him dearly and the match was done and dusted after just 90 minutes.
It was a tough afternoon at the office for Sock, but he was content with his performance. "There is not a whole lot to hang my head about," he remarked afterwards.
"Obviously, you know, I would like to have started out with a win but it was just a couple of points. I had some looks to get back on serve in the first and he came up with some good passing-shots in the tiebreak. Other than that, it was a close match."