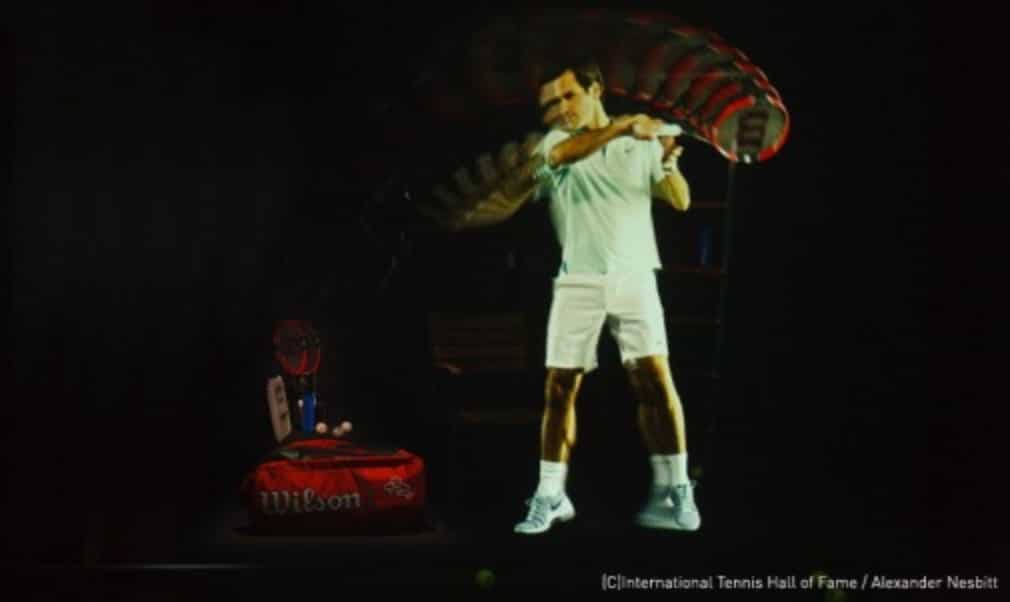 Federer spectre arrives in Newport
Originally published on 22/05/15
Roger Federer fans will be booking their tickets to Newport, Rhode Island this summer to see the 17-time Grand Slam champion's hologram at the newly renovated International Tennis Hall of Fame Museum.
After three years of planning and a $3 million renovation, the museum reopened to the public on May 20, with new exhibits and redesigned galleries to offer visitors an engaging and interactive view through tennis history.
From 16th Century artwork to Rod Laver's first Wimbledon trophy, the museum boasts more than 1,900 artefacts from a sport steeped in history. But arguably the biggest draw will be the Roger Federer Experience, a new holographic theatre in which the lifelike hologram explains why he loves tennis before showcasing some of his signature shots.
"It was an honour to be asked to be the hologram at the International Tennis Hall of Fame and I was quite happy to take on the project," said Federer. "I've always had an interest in the history of our sport and I believe we've been fortunate to be able to learn from and build on that history.
"The Hall of Fame does a tremendous job of preserving our sport's history and celebrating it with the world. I'm glad to be able to support those efforts by helping to create a fun experience in their museum."
Multimedia is integral to the new museum experience and the mix of historic memorabilia and modern technology will appeal to all ages.
"Our goal is for visitors to leave the museum feeling educated about and inspired by the rich history of tennis," said museum director Douglas Stark. "We designed the exhibits in a way that people could participate in the learning process together.
"The new museum will provide visitors with a memorable experience in which they will learn about the history of tennis, and its impact on and off the courts.
Interactive technology
Tennis aficionados can test their knowledge of the sport on an interactive touch table, where they can stand at each end and 'serve' questions at each other. The 'Call the Match' exhibit offers visitors the chance to try their hand at commentary and listen back to their attempts via a recording
A global sport
Encompassing the interactive experience, a large, rotating globe shows the universal impact of tennis. Select a nation to find out more about tennis tournaments held there and players from that country.
In vogue
From Victorian tennis dresses to some of the iconic outfits by English tennis player-turned-designer Ted Tinling, tennis and fashion have always been close allies. See the red gingham dress, made by a family friend, that 15-year-old Tracy Austin wore at her first US Open in 1977, as well as the golden Puma shoes Serena Williams wore when she won the French Open in 2002.
Something old, something new
The museum may boast cutting-edge interactive technology, but the International Tennis Hall of Fame has not forgotten its roots in the multi-million dollar refurbishment. During the renovation three fireplaces were uncovered, while original furnishings from the Newport Casino, built in 1880, are also on display.
The Art of Tennis
From a 1538 Renaissance painting that is believed to be the earliest known tennis artwork, to a bronze resin sculpture of Steffi Graf, a series of artwork reflects tennis' impact on wider culture through the ages. Other highlights include stained glass, an original Andy Warhol portrait of Chris Evert, and a display of more than 100 vintage tennis ball cans.
Learn more at tennisfame.com