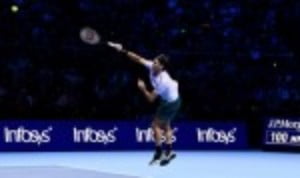 Federer secures semi-final berth
Originally published on 14/11/17 00:00
The 36-year-old edged a tumultuous first set in a tiebreak but witnessed a second set lead be overturned. He regrouped in the decider, and sauntered over the winning line as his weary opponent tired.
For the first time in the tournament so far, there was a sense of anticipation prior to the match. This was a blockbuster clash between the master and the apprentice and it lived up to expectations.
Federer looked impenetrable on serve in his first match against Jack Sock, however his opponent created three break-point chances in the opening game. There was to be no perfect start for the German – and he also faced adversity when stepping up to the line for the first time.
Zverev held on to his delivery and pulled level at one apiece. It had been a breathless beginning but the match soon settled down and followed a more familiar pattern.
For the majority of the first set, both players were miserly on serve and opportunities to establish control were limited. Zverev, the first German in thirteen years to qualify for the season-finale, did encounter trouble in the 12th game though.
The 20-year-old remained composed under pressure, and successfully saved two set points. Federer mistimed a backhand to squander his first opportunity and a fortuitous net-cord helped the youngster out on the second occasion.
Zverev escaped Federer's clutches and managed to force a tiebreak. It appeared to be going the German's way when he raced into a 4-0 lead, however carelessness cost him dearly.
The German faltered when the set was within touching distance. He lost eight of the last 10 points to allow the Swiss to snare the opening gambit.
Zverev looked deflated after conceding the opener, and he suffered a hangover at the start of the next. A pair of unwelcome double-faults and a forehand mistake enabled Federer to take a firm grip of the match.
A set and a break is normally sufficient for the Swiss juggernaut, but it was not enough on this occasion. His opponent awoke from his slumber and battled back to maintain a meaningful interest.
Zverev retrieved the break but was still in the hunt for more. The rallies became extended and the crowd became more involved, but not even Federer's full repertoire of shots was enough to prevent the pertinacious youngster from taking the match the distance.
The German had thrown his best punches, but he had little left to give in the third set shootout. He looked exhaustated, his first serve percentage plummeted and his spirit had been broken.
Federer dropped just one more game in the decider as he guaranteed his participation in the knockout stages.