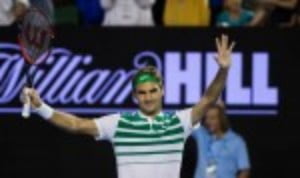 Federer notches up milestone in Dimitrov win
Originally published on 22/01/16 00:00
Having fallen to Andreas Seppi at the same stage in 2015, there was no upset this year as Federer moved into the last 16 with a 6-4 3-6 6-1 6-4 victory against the No.27 seed.
On a stormy day in Melbourne, the match started outdoors, but organisers were forced to close the roof on Rod Laver Arena once more as the rain reappeared.
Dimitrov had never beaten Federer in four previous meetings, but took a set off the 17-time Grand Slam champion for the first time in Brisbane two weeks ago.
After a single break of serve was the difference between the pair in the opening set, Dimitrov got back on level terms, only for Federer to streak away to victory in two hours and 47 minutes.
"It was my goal to react quickly after the second set because I struggled a little bit, but then found my way back and then was able to take charge of the match," said Federer. "I'm pleased. It wasn't easy. I didn't expect it to be against Grigor."
Federer is no stranger to records and milestones, having reached 1000 match wins in January 2015. He is the first man to win 300 Grand Slam matches, and is just six shy of Martina Navratilova's all-time record of 306.
"It's very exciting," said Federer, who will face David Goffin in the fourth round. "Like when I reached 1,000 last year, it was a big deal for me. Not something I ever aimed for or looked for, but when it happens, it's very special. You look deeper into it, I guess, where it's all happened and how. So it's very nice; I'm very happy."
For Dimitrov, it was a fifth defeat to Federer in as many meetings, but a promising start to the season for the Bulgarian, who broke into the top 10 in 2014 but slipped down the rankings after a disappointing season last year.
"I think last year was a learning curve for him," Federer said of the 24-year-old, whose game has been likened to his own. "So I think this year's got to be better for him. He's playing positive tennis, and that's what he's got to keep doing moving forward. I think we'll only see a strong Grigor as the year progresses."
"I think slowly the pieces are coming together," said Dimitrov, who reached the final in Sydney last week as well as the quarter-finals in Brisbane. "But obviously when you lose matches against the top guys there's a lot you can see that you can still work on. That I think is just a positive I think for our team.
"It's not like I'm losing every match or anything like that. I thought I played [some] good tennis at the beginning of the year, and that's important. There are still a lot of tournaments to come ahead. So I'm really going to try to come out there and use all my confidence that I've built so far and keep trying."