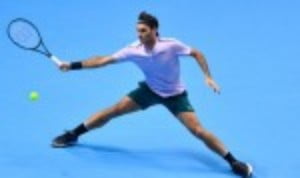 Federer: no regrets on schedule
Originally published on 16/11/17 00:00
The world No.2 – who skipped the entire clay-court season – will finish the campaign just 140 ranking points behind Rafael Nadal if he lands an unprecedented 7th Tour Finals title on Sunday.
If the 36-year-old had been involved in more than 16 tournaments this season, then he would likely have secured year-end No.1 for a sixth time and equalled Pete Sampras' total.
"Regrets? I don't have any," admitted Federer when reflecting on his fine season.
"Maybe losing to Tommy Haas and Evgeny Donskoy ended up haunting me. I had match-points in both matches. It's not like I didn't try.
"If I miss out on world No.1 because of that, then maybe I was unlucky – but I also did win matches in Miami, saving match-points against Tomas Berdych and there were other matches throughout the season that could have been gone either way.
"I'm just happy I'm playing a great season. I'm so happy that I was able to reach this level of play and also still being able to play at the end of the year. I have no regrets because I totally over-exceeded my expectations. I'm injury-free and healthy right now and still enjoying myself."
Federer will finish the year close to Nadal in the rankings, but he has a sizeable chunk of points to defend at the start of the year, so another stint at No.1 is far from certain.
"I have 2,000 points to defend in Australia, he (Nadal) doesn't," remarked the Swiss. "There's the problem already. I know he also has a lot of points to defend (1,245) in Australia, but not as many as me.
"That's why I always said, look, it's not a realistic goal in some ways, you know, world No.1. It's the ultimate achievement in tennis in some ways, it always has been for me, but at this age, it just can't be because I think I'll make mistakes if I start chasing it.
"I'm not sure how much the body allows me to chase goals like this. I think I'm maybe also not playing the way I'm supposed to be playing, maybe I tense up, maybe I'm nervous, maybe that's not good for my back. Who knows what it is.
"I'm still far away from being close in the points with Rafa. I still need to win this tournament before it's actually really close. I'm only in the semis. The big points are really coming now, so that's why my focus is on the semis. If I would win that, of course it's just on the final."
The Swiss, who will attempt to add to his 302 weeks at No.1 in 2018, believes Nadal, who he has defeated four times this year, deserves to finish the campaign on top of the pile.
"The year played out the way it did, and Rafa was better," added the 19-time major champion. "He deserves to be there. I'm really happy for him because he had a rough season as well in 2016. It's great for him.
"In Australia, I just hope to be fit again, to walk out on Rod Laver Arena and hopefully defend my title, but that's still very far away at this point."