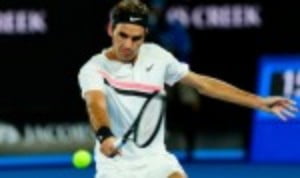 Federer into 30th major final
Originally published on 26/01/18 00:00
The 19-time major champion was leading Hyeon Chung 6-1 5-2 when the Korean retired due to blisters on the base of his left foot.
The 21-year-old did receive a medical timeout, but he felt unable to complete the biggest match of his blossoming career.
Federer will now attempt to win a record-equalling sixth Australian Open crown against Marin Cilic on Sunday. The pair have met nine times before – including in the Wimbledon final last summer – and the Swiss maestro has only tasted defeat once.
Chung's dynamic movement had been a key aspect behind his success against Alexander Zverev and Novak Djokovic, but he looked off the pace tonight – especially in the second set.
The Korean also had blister trouble in Auckland earlier this month, and it was physical issues that partly contributed to his first defeat of the season to David Ferrer.
It was an unsatisfactory ending to a breakthrough fortnight for Chung, however his mood should brighten when he glances at the rankings on Monday morning.
The 21-year-old is set to climb inside the Top 30 for the first time, and he is only going to make further inroads in the months ahead.
With a day less to prepare for the final than Cilic, Federer will be pleased his last four workout was not too strenuous. The 36-year-old, who was on court for barely an hour, first noticed Chung was struggling at the start of the second set.
"I thought the first set was kind of normal," remarked the overwhelming title favourite. "I couldn't tell what was going on with my opponent but I suppose I was just too focused on protecting my lead.
"In the second set I started to feel he was getting a bit slower and fighting with a blister – I know he has had a problem with blisters for sometime.
"I played with blisters in the past a lot and it hurts a lot. At some points it's just too much and you can't take it any more when you realise you can't come back and are only making matters worse.
"It's bittersweet. Clearly I'm incredibly happy to be in the final, but not like this. He played such a wonderful tournament, so credit to him."
12 months ago Federer was on the comeback trail after a lengthy spell on the sidelines with knee trouble, and he admits he can scarcely believe how successful the last 52 weeks have been for him.
"I know how hard it is to win on clay, and I know how hard it is to win any major," he added. "It just doesn't come around so easily and plus for so many years I ran into Rafa, Novak and other great players that blocked it for me a while.
"I don't want to say I gave up, but I would have been happy to win one more major before I retired. I would absolutely have taken that, so here we have two more and a possibly a third, but we will need to see what happens."