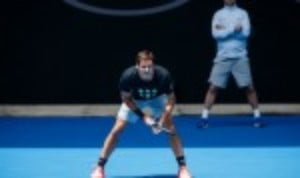 Federer having fun
Originally published on 14/01/18 00:00
Speaking on the eve of the 2018 Australian Open, the World No.2, who will face Aljaz Bedene in his opening match, stated that he was pleased with his training sessions coming into the event.
"I was able to practice as much as I wanted to, which is good, which I didn't do at the US Open," said the defending champion.
"There (New York) it was all about managing the energy and the body, hoping to be able to play. Whereas here, it's been constantly playing and practicing how hopefully I can play during the Australian Open."
Federer teamed up with Belinda Bencic at the Hopman Cup in Perth at the start of the year – and they won the title together.
"It was great preparation last year," remarked the Swiss. "I think it's going to be helpful again for me this year because the court plays exactly the same in Perth as here in Melbourne."
Asked if he was enjoying his tennis more than ever, Federer's response was familiar.
"I've always enjoyed it," he added.
"I love the time when I was coming up and playing my heroes from TV. I mean that was extremely cool. It's like a little boy in the candy store back in the day.
"When I was No.1 in the world, wining all those tournaments, that was a lot of fun too. Now it's different. Now I have a big family. I have a lot of friends that travel the world with me.
"Is it the best ever? I'm not sure. It's definitely a lot of fun right now."