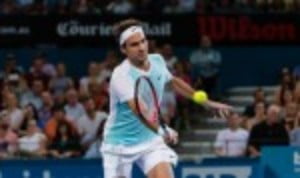 Federer flies through opening test
Originally published on 07/01/16 00:00
Federer had barely trained this week as he recovered from a bout of flu, but the world No.3 showed no signs of ill-health as he sailed to a 6-2 6-1 victory over Tobias Kamke to set up a quarter-final clash with Grigor Dimitrov.
"My whole family had [flu]. I was the last guy to get it, so I knew what I was getting into when I was not feeling well," Federer said."On Wednesday I started to feel a little bit better, so I asked the tournament if they could move [his match] for a Thursday start, which I know they can do very easily, which was helpful.
"So I started to feel a little bit better. That's why I came out [on Wednesday] for a hit, just to see how things are. There was no need to push it at all. I am not somebody that needs to play much before matches. I'm quite surprised that it went so well today."
While Federer breezed through his opening match in less than an hour, Dimitrov was made to work hard for his place in the last eight. The Bulgarian, who needed six match points to see off Gilles Simon in the first round, came within two points of defeat before battling back to beat Viktor Troicki 5-7 7-6(6) 6-2 at the Queensland Tennis Centre on Thursday.
Dimitrov, who climbed as high as world No.8 in 2014 but has slipped to No.28 after a difficult year in 2015, has already beaten two higher-ranked players this week, but faces an even greater test in the shape of defending champion Federer.
In three previous meetings, most recently at last year's Brisbane International semi-finals, when Federer breezed to a 6-2 6-2 victory, Dimitrov has never managed to take a set off Federer.
"He is still one of the best competitors and the greatest player out there,'' Dimitrov said of his quarter-final opponent. "If you love the game and obviously you've achieved a lot, everything becomes pretty natural after that."
Dimitrov insists that he will be ready for Friday's encounter, despite spending nearly five hours on court in his opening two matches.
"My body feels good after playing in that heat and I fought really hard when I was down a set and a break.''
"Dimitrov had a tough grind today, but he's extremely match tough," Federer said. "I expect him to be fresh again. I played him quite aggressively last year and that worked well. We'll see if I'll do the same again this time."