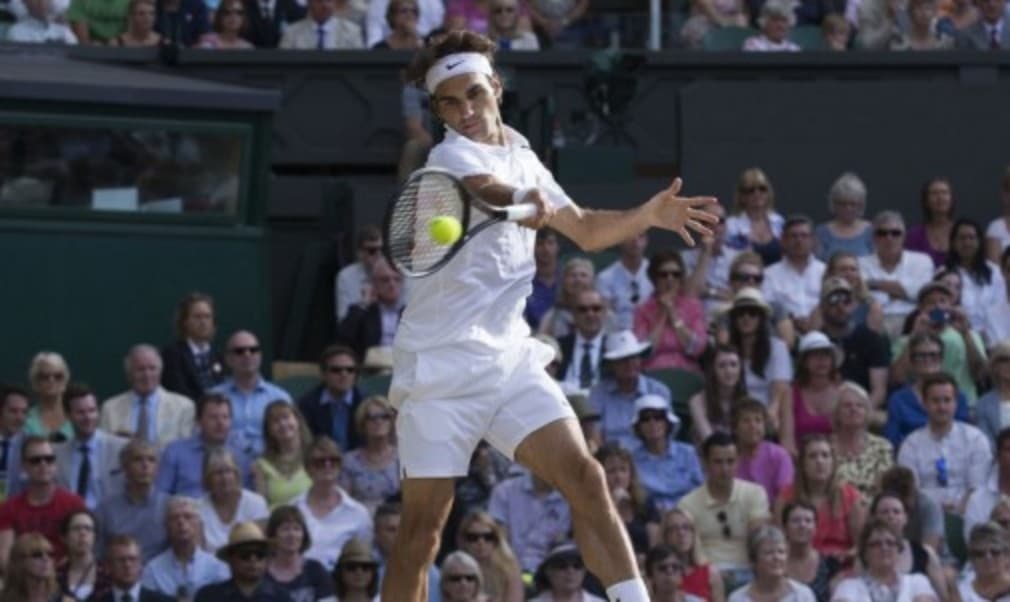 Federer feeling 'totally energised' for final
Originally published on 05/07/14
The seven-time champion has been in sublime form at SW19 so far this year, losing just one set and dropping his serve just on only one occasion. He has also spent almost six hours less on court than his opponent in Sunday's final, Novak Djokovic, and is on a 10-match winning streak on grass. Worryingly for Djokovic, he also says he has "a lot of energy left in the tank" for the final.
"I am clearly very excited for the final because that's how you want to feel before a finals, totally energised and eager to play," he said. "I must say this year has been very solid. Now this tournament as well has been very good. Also with Halle, just backing it up and getting sort of the small rest you get in preparing for Wimbledon. I was able to get through that, as well.
"Clearly my matches have been pretty quick, a semi like that is a perfect result before a big match in the final. Compared to here this time two years ago, I didn't feel as good, for sure, because I was carrying a back problem that I occurred during the [Xavier] Malisse match."
Even with that back problem Federer still went on to win the title, beating Djokovic in the semis before overcoming Andy Murray in the final. He was unable to repeat the feat last year as he was stunned by Sergiy Stakhovsky in the second round, but the Swiss has shown signs that he is back to his best this season.
"It's going really well," he commented. "My game's back where I hoped it would be, from one year ago. Things were difficult all of last year, most of the year, so I'm happy I worked hard off the court to get myself back into shape and back into contention for tournaments.
"This year's been very solid. I've reached a lot of semis and finals. I also got two titles already. So I think that really gave me confidence to believe that I could go a step further. Stefan [Edberg, coach] is clearly a piece of the puzzle, so is my fitness coach, Severin [Luthi], and everybody around me. They make it possible for me to wake up every morning motivated, healthy, fit, and eager to play. It's clearly also a team effort to a degree."
The semi-final clash between Federer and Djokovic in 2012 was the only other time they have met at Wimbledon. But with 34 match-ups in total, and Federer just shading the head-to-head 18-16, the Swiss knows what to expect from the top seed in the final.
"He's really improved now through the years," said Federer. "I've seen him come through the ranking. His forehand, his serve, his movement clearly is what stands out the most at this moment now. He's really been able to improve that and make it rock solid.
"I think for me it's really important to stay aggressive against him. And especially here at Wimbledon it's more simple how we need to play against each other. It's not like on a slow court where you can maybe manoeuvre the other guy around so much. On grass it's a bit more straightforward and I think we're both aware of that."