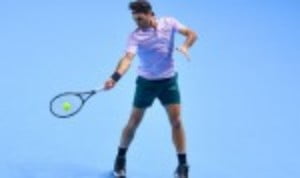 Federer: Age is the issue
Originally published on 15/11/17 00:00
Roger Federer watched the 2016 World Tour Finals from his home in Switzerland while the majority of his long-term adversaries battled it out to win the ATP's blue ribbon event.
Twelve months on, the roles have been reversed. The 19-time major winner is vying for an unprecedented seventh crown at the season-finale while his injury-hit rivals observe proceedings from the sidelines.
Rafael Nadal's decision to pull out the Tour Finals with a knee injury after his defeat to David Goffin was expected, and he joins the likes of Novak Djokovic, Andy Murray, Stan Wawrinka, Milos Raonic and Kei Nishikori on the treatment table.
Last year's Top 5 have all been forced to miss the latter stages of the campaign with various physically issues and, as a result, a familiar topic has once again been raised.
Is the 10-month ATP season too long?
Raonic, who has been plagued with injuries recently, certainly believes so. The Canadian stated his dismay at the length of the campaign after a calf problem forced him to withdraw from the Japan Open in October.
The 26-year-old proposed a shorter and sharper seven-month campaign that would allow competitors an opportunity to enjoy an extended break, however Federer believes the length of season is not an issue – the age of the players is.
"The season has been the same for many, many years, as we know," he said. "I think just when you get older, you maybe have to manage your schedule a little bit differently. Some guys, they just go maybe all out for 15 years, and they do it until they sort of break down, then just reset.
"A lot of the guys are just touching 30 plus and back in the day, at 30, a lot of guys were retiring. (Stefan) Edberg, (Pete) Sampras, it was like normal at 29, 32, to start looking towards the end of your career.
"Now you guys expect everybody to play till 36. When somebody is injured at 31, it's like, 'Oh, my God, how is this possible?'
"Actually, it's a normal thing. You either retire or you take a sufficient break so when you do come back you maybe have another few years left again because you really made sure your rehab is good."