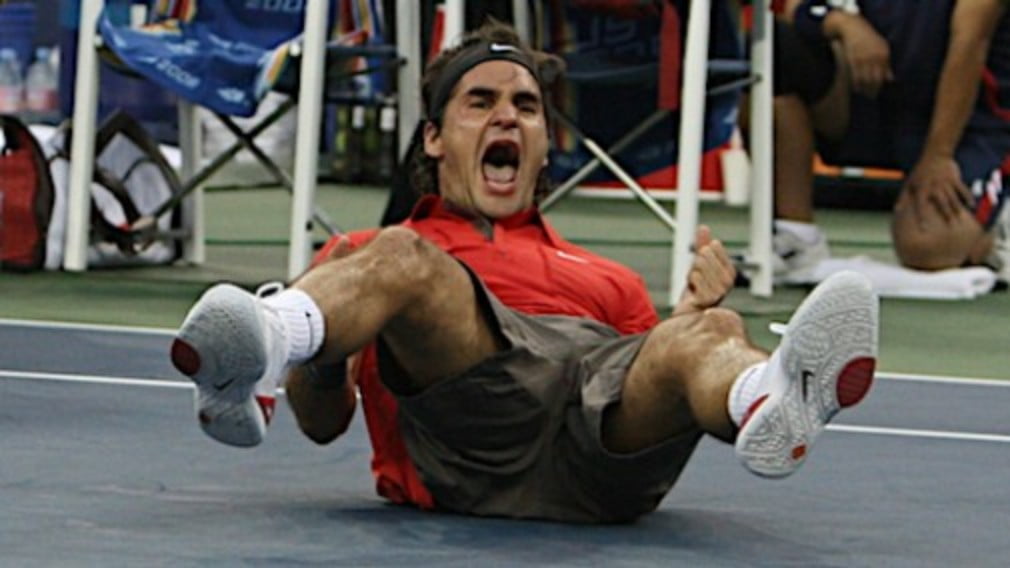 Fantastic Federer claims fifth US Open
Originally published on 26/02/10 11:13
They said he was finished. Well they were wrong.
Roger Federer looked every inch the Roger Federer of old as he completely outplayed Andy Murray in New York to win his fifth successive US Open title and move within one grand slam singles crown of Pete Sampras record tally of 14.
Murray V Federer photos
Tennishead US Open men's final blog
The 27-year-old Swiss hit top form in Mondays final to end Murrays dreams of a first major with a 6-2, 7-5, 6-2 victory.
This is a very special moment in my career
Federer now has five Wimbledons, five US Opens and three Australian Opens to his name. Mondays victory also made him the first man ever to win five successive titles at separate grand slams Wimbledon and New York.
This is a very special moment in my career, Federer told the crowd afterwards. I had couple of tough grand slams this year. It means the world to me. One things for sure Im not going to stop at 13.
In the end, it was a disappointing finale to the event for 21-year-old Murray, who was attempting to become the first British man to win a grand slam singles title since Fred Perry in 1936.
As soon as the first point was under way Federer showed why he is undefeated in 34 matches in New York the last loss he suffered at the Open was against David Nalbandian back in 2003.
Having had a full days rest after his four-set semi-final win over Novak Djokovic on Saturday, and hungry to win at least one grand slam title in 2008, Federer came out firing on all cylinders.
He was moving effortlessly around the Arthur Ashe playing surface and bossed Murray with some big forehands during a near-perfect opening set.
Federer took the initiative to break in game six for a 4-2 lead and took Murrays serve again in the eighth and final game of the set.
For a few minutes early in the second set, it looked as if Federer might run away with the match when he broke for 2-0. The possibility of being humiliated on his big day appeared to shock Murray into life, however.
The Scot held for 1-2, broke to love for 2-all and should have gone ahead 3-2 with another break but for a serious misjudgement on his part.
In the fifth game of the set, Federer slipped to 0-40 on his serve, saved the first break point but on the second hit a slice backhand that TV Hawk-Eye replays later showed landed just long.
Murray failed to challenge the call mid-point, though, and in a blink of an eye his three break point chances were gone.
To his credit, Murray stayed with the world No.2 for the remainder of the set until serving at 5-6 when Federer changed gear.
Sensing blood, the second seed turned up the gas, produced four stunning winners and broke to love for a two-set lead.
The third set was one-sided to the point of being embarrassing for Murray. Federer broke to love in games two and four to open up a 5-0 lead, allowing Murray just three points in the process.
Although the Briton rallied briefly, it was too little too late and at just gone 7pm on the third Monday of the tournament Murrays last netted forehand signalled the return of Roger.
Federers US Open roll of honour
2008 beat Andy Murray 6-2, 7-5, 6-2
2007 beat Novak Djokovic 7-6, 7-6, 6-4
2006 beat Andy Roddick 6-2, 4-6, 7-5, 6-1
2005 beat Andre Agassi 6-3, 2-6, 7-6, 6-1
2004 beat Lleyton Hewitt 6-0, 7-6, 6-0