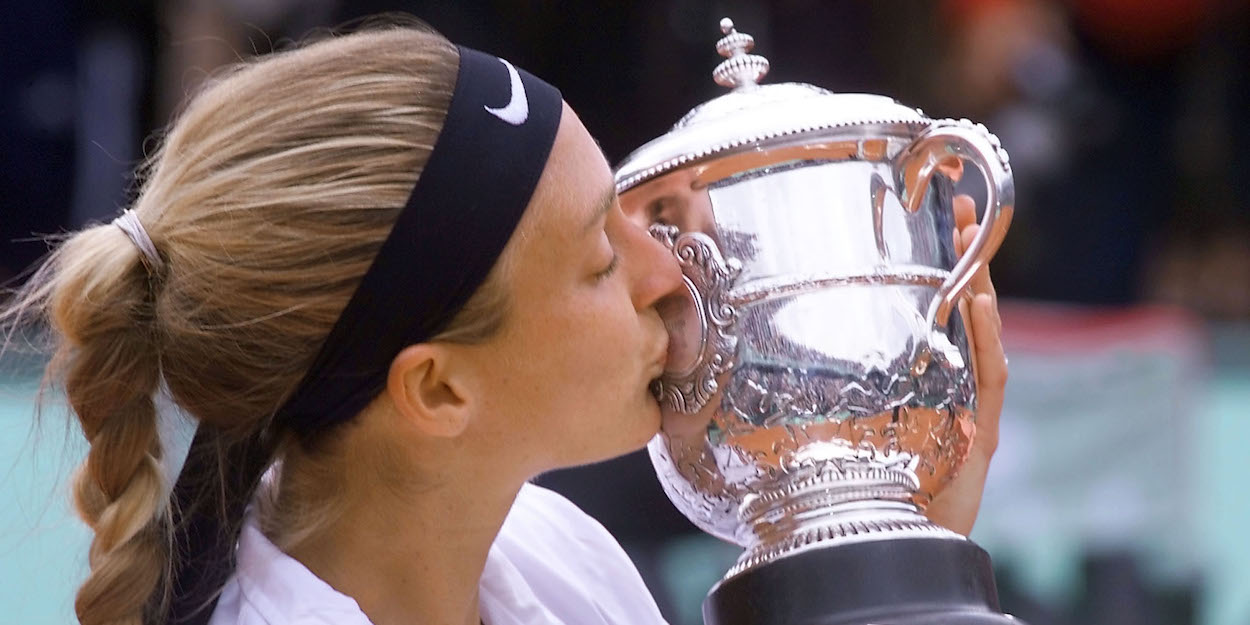 EXCLUSIVE: "It totally changed me as a person, restored me and healed me in my heart" Mary Pierce remembers her French Open title
Twenty years after her triumph at the French Open, Mary Pierce tells Tennishead how she ended France's 33-year wait for a home champion in the women's singles
If Mary Pierce could have chosen the tournament to play the shot of her life, this was it. Winning the French Open had been a lifelong dream for Pierce, who had lost in her only appearance in the final of her home Grand Slam event six years earlier.Now, facing Monica Seles, a three-times former champion, in the Roland Garros quarter-finals of 2000, she produced a moment of genius. With Seles pulling her from one side of the court to the other, Pierce chased a ball out wide to her forehand, jumped high into the air and hit an extraordinary between-the-legs shot which flew over Seles' head into the corner for an outrageous winner. Pierce went on to win in three sets.
Twenty years on, the Frenchwoman can recall the moment in vivid detail. "It was a shot that I used to play in practice, just for fun, every once in a while," she told tennishead. "If the ball came straight to me I'd hit it between my legs just facing the net. But that shot was totally spontaneous. I was running side to side. I knew Monica had me on the run and the next shot was going to be to my forehand.
"I was trying to run as fast as I could and I actually overran the ball. All of a sudden it was right on top of me. It was complete reflex. I didn't think at all. I just jumped and hit it between my legs. I was just so surprised that I actually made contact with the ball – and then it went in for a winner. When I saw the replay later I was like: 'Man, I didn't know I could jump that high'!"
Four days later Pierce realised her greatest ambition by winning the title to become the first female French singles champion at Roland Garros since Francoise Durr in 1967. To this day she remains the last Frenchman or woman to have won the singles title in Paris.
Pierce, who was born in Montreal to a French mother and American father, grew up in Florida. She did not speak any French until she was 13, when her family moved to Paris. As a teenager she spent summers in France and winters in Florida. She has always been proud of her French heritage and chose to play under the French flag, but admits that she used to struggle with the language.
At the age of 19 Pierce enjoyed the biggest win of her career so far when she beat Steffi Graf, the world No 1 and defending champion, in the semi-finals at Roland Garros, only to lose to Arantxa Sanchez-Vicario in the final as nerves got the better of her.
"It was my first Grand Slam final, at the French Open – and I knew I would have to do a speech in French afterwards," Pierce said. "I wasn't really 100 per cent comfortable with my French at that time. I knew it wasn't great, so I was stressing out about that. I didn't sleep for two nights because of the final. I was just super-stressed. I was super-tight and wasn't able to play my game."
Within eight months Pierce had won her maiden Grand Slam title at the Australian Open, which saw her climb to what would be a career-high position at No 3 in the world rankings. However, winning the French Open remained her main ambition. In her next five appearances at Roland Garros she failed to progress beyond the fourth round, but her world changed in the spring of 2000 when she became a born-again Christian.
"I knew then that my life was in God's hands," Pierce said. "I can only control things like whether I give 100 per cent and have a good attitude and have fun on the court. That took a lot of pressure off me playing tennis and understanding why I was playing tennis. I didn't worry about my results any more. I just thought: 'OK, God's in control of this, so I'm just going to do my best. Whatever happens is the best for me anyway. If I win, great, I keep going. If I lose, I learn from it and I keep going.' It totally changed me as a person, restored me and healed me in my heart."
Becoming a born-again Christian also helped Pierce reconnect with her controversial father, Jim, who had put her through a brutal and uncompromising training regime when he coached her through her teenage years. They became estranged after he was banned from all tournaments on the women's tour in 1993 because of his foul-mouthed tirades from the sidelines.
Although Pierce had not felt particularly confident when she arrived at Roland Garros in 2000, everything changed after she beat Tara Snyder in the first round. "After that match, standing on the court before I walked off, I felt something special inside," she recalled. "I thought: 'Could this be the year?' I didn't say anything to anybody about that. I just kept it to myself. I thought: 'Let's just see how this goes'."
Following four straight-sets victories Pierce beat Seles in three sets to set up a semi-final showdown with her doubles partner, Martina Hingis, the world No 1. "It was a very tight, close match," Pierce said. "In the third set at the end we were both cramping. I was trying my best not to show too much physically, but it was hard when you start to cramp."
After beating Hingis in three sets Pierce knew she had the game to beat Conchita Martinez in the final. "I usually liked playing against players with a one-handed backhand," Pierce said. "She had top-spin shots that gave me time to get to the ball. They bounced high and I liked that. I could hit the ball hard because it set up my shots. I was feeling confident. I knew how to play her and I had beaten her before, though I also knew that she had fought through to the final and that she was a tough Spanish clay-court player."
Pierce won the first set with something to spare, but Martinez fought hard. "In the second set I started to get a bit nervous about closing it out, but that was normal," Pierce said.
What can she recall now of the moment she completed her 6-2 7-5 victory? "I felt a whole bunch of emotions," Pierce said. "I thought: 'I can't believe it. I finally did it. Happy, relieved, my dream has come true, all the hard work over the years has paid off now.' It was amazing. And my speech was OK!"
Pierce's tournament was not over as she had to play the doubles final with Hingis the following day against Virginia Ruano Pascual and Paola Suarez. "I woke up with my knee in a lot of pain and I couldn't really walk," Pierce said. "I didn't know why because I had been fine when I went to bed. So before that doubles final I had treatment for three hours. I had the knee taped up before I went out on court. I said to Martina: 'This is the French Open final, so of course I'm going to play, but I can't warm up. You're just going to have to run for everything. I'm going to get my serve in the box and I'll hit everything as hard as I can when the ball comes to me, but the rest is up to you.' She was like: 'No problem'."
Pierce and Hingis won 6-2 6-4 to complete a perfect weekend in front of another passionate crowd. "The crowd at Roland Garros was always a huge factor for me," Pierce said. "They helped me so much when it was difficult or when I was tired. When I needed help they cheered for me. It's one of the greatest feelings ever when you're playing in a full stadium and they're cheering for you and you hear your name being chanted. It gives you so much strength and power."
Pierce, who reached one more French Open final in 2005, losing to Justine Henin in what was her last appearance at Roland Garros, has lived in Mauritius since 2008. She also spends time in Florida and in the south of France, where she works with young players at Patrick Mouratoglou's academy.
She also loves returning to the scene of her greatest triumph. "Roland Garros feels like home to me," Pierce said. "It's my favourite tournament. I had some of the most special moments and memories in my tennis career there."