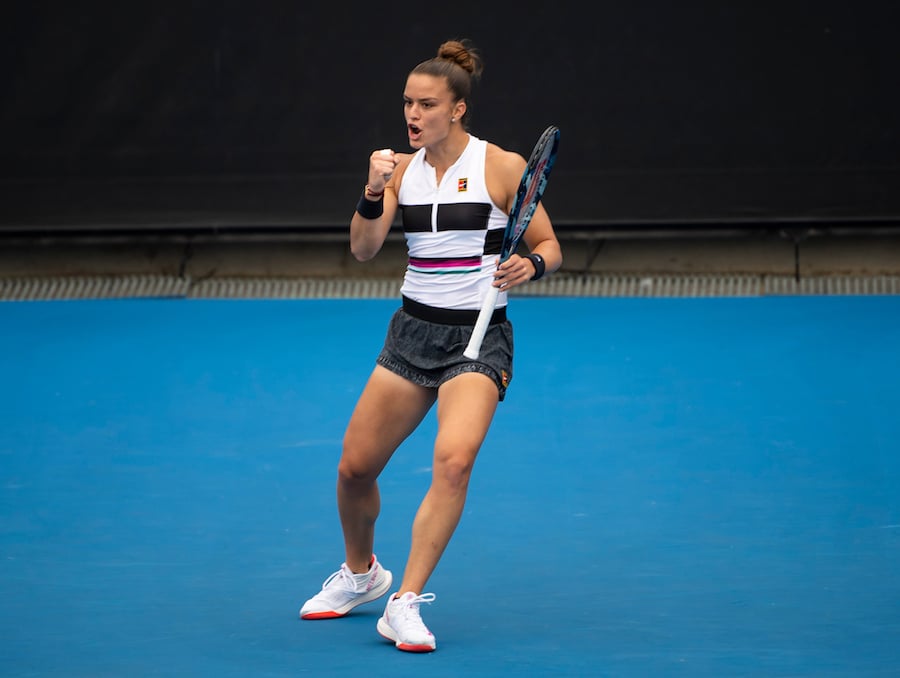 Exclusive interview with Greek star Maria Sakkari: "Some opponents don't like it"
Having a mother who was ranked in the world's top 50 might seem like the perfect starting point for a career in tennis, but that was not the experience for Maria Sakkari. Tennishead met up with her to discuss what it was like growing up in Greece
"My mother didn't want any of her children to play tennis," Sakkari recalls. "She knew that you have to sacrifice a lot to play tennis. She didn't want us to suffer."
Greece itself might not have much of a tennis tradition, but the same cannot be said of Sakkari's family. Her grandfather played in the Davis Cup and her mother, Angeliki Kanellopoulou, reached a career-high position of No 43 in the world. Kanellopoulou twice made the last 32 at the French Open and pushed Chris Evert hard in the third round during the American's run to the Roland Garros title in 1985.
Sakkari first picked up a racket at the Athens Lawn Tennis Club. "I actually started playing tennis because my brother was playing," Sakkari said. "I really liked it and then I asked my mum if I could play more. I started playing with my grandfather and I was like: 'I want to play every day.' I think I only really found out that my mum had been a tennis player when I was 11."
The Athens Lawn Tennis Club was the only tennis club in the heart of the Greek capital when Sakkari was growing up. "Today there are quite a few clubs in and around Athens," she said. "They have mostly clay courts. There aren't many hard courts."
Eleni Daniilidou, who reached a career-high position at No 14 in the world, was one of Sakkari's childhood idols. "She was the one Greek player you could watch on TV," Sakkari said. "I always wanted to do what she did."
When Sakkari was growing up, finding good coaches and practice partners was a problem. Between the ages of 13 and 17 she worked with an Italian coach from the Sanchez-Casal Academy in Barcelona. "He came to Athens and I sometimes went to Sanchez-Casal, but I wasn't in Barcelona permanently because I still had to go to school," she said.
Sakkari did not play in many junior tournaments, but started competing in ITF events from the age of 15. She moved to the Portas Academy in Barcelona at 18. "I needed better everyday practice," she said. "I needed my everyday life to be surrounded by tennis. It was a good option and it worked out really well."
Having broken into the world's top 100 in 2016, Sakkari made the top 50 in 2017 and the top 30 last summer. She played in her first tour-level final in San Jose last August, by which time she was being coached by Thomas Johansson, who has since been replaced by Mark Petchey.
Sakkari, who will be 24 in July, now lives in Monte Carlo and sometimes trains at Patrick Mouratoglou's nearby academy, which is where her fellow countryman, Stefanos Tsitsipas, is based. "I've known Stefanos since he was a kid," Sakkari said. "I know his whole family. Our mums used to play together. He's a great kid. He's the nicest guy. Some players change when they have success, but he's the same guy as he was five years ago."
What does Sakkari miss most about Greece when she is on the road? "I miss spending time at home with my friends and family – and the nice weather," she said. "I also miss the food a lot. I like pretty much all Greek food."
Sakkari is often at the same tournaments as Tsitsipas, but does not see much of the Greek women's No 2, 22-year-old Valentini Grammatikopoulou, who broke into the world's top 200 two years ago. "I would really like to see her play the same tournaments as me because we get on really well," Sakkari said. "She's doing very well and I think she can do even better. She's young. She has plenty of time."
Grammatikopoulou and Sakkari are Fed Cup team mates. When they played together in Athens last year it was Sakkari's first competitive appearance in her home city for seven years. "We had very good results and we really enjoyed it," she said. "Playing at home, there was a great atmosphere."
Not that Sakkari is short of support on her travels. "There are Greeks everywhere," she said. "Whether I'm playing in Melbourne, New York, Cincinnati, Montreal or wherever, I get a lot of support. You often see Greek flags and the fans make a lot of noise. I really like it. Some opponents don't like it, but there are plenty of fans from other countries who are just the same."
What do Greek fans expect from their sporting heroes? "Because we've been through a lot of things in the past as a country, I think Greek people like it when our athletes are very passionate and fiery," she said.
Sakkari hopes that she and Tsitsipas are helping to "put tennis back on the map" in their homeland. "Obviously it's not football or basketball, which are both very big in Greece, but I think tennis can be the country's third sport," she said. "Tennis never used to be on the TV much, but my WTA matches are now shown regularly in Greece."
When she walks down the street in Athens she is often recognised. "In some ways it's a nice feeling because it makes you feel like you have done something big," she said. "It's very nice when people stop and congratulate you and say they are very proud of you."
GREECE FACTS
Population:

11.5 million

Land mass: 131,957 sq km (50,949 sq miles)
Capital: Athens (population 3.75 million)
Davis Cup record: Greece have played in the Davis Cup since 1927 but have never reached the World Group. They reached the European Zone quarter-finals under the competition's old format in 1933, 1967 and 1970. Under the current format they have never gone beyond the Europe/Africa Zone Group One second round. Konstantinos Economidis holds most of Greece's Davis Cup records, having played in 37 ties between 1996 and 2011.
Fed Cup record: Greece played in Bath in February in Europe/Africa Zone Group One after winning promotion from Group Two last year. Their last appearance in the World Group qualifying round was in Nottingham in 1991, when Angeliki Kanellopoulou, Maria Sakkari's mother, was in the team. Christina Papadaki, who played between 1988 and 1999, holds the record for the most wins (30) and ties played (35).
Look ahead to the rest of 2019 with our guides to every tournament on the ATP Tour and the WTA Tour. If you can't visit the tournaments you love then do the next best thing and read our guide on how to watch all the ATP Tour matches on television in 2019. To read more amazing articles like this you can explore Tennishead magazine here or you can subscribe for free to our email newsletter here