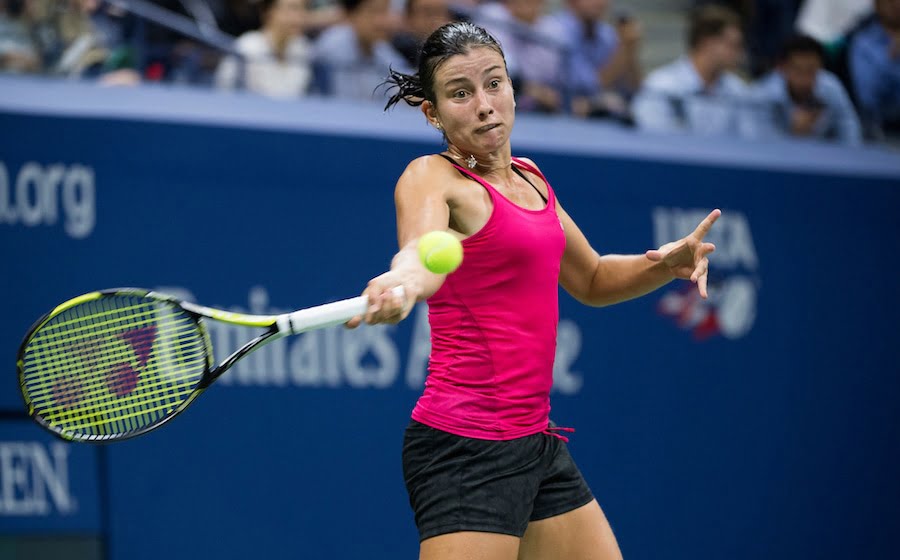 Exclusive interview with 2018 US Open semi-finalist Anastasija Sevastova: "At that time I was done with tennis"
In 2018 Anastasija Sevastova put together an incredible run to reach the semi-finals of the US Open, but her path to the top hasn't always been so smooth. We caught up with her for an exclusive  five minute interview
When did you decide that you wanted to be a professional tennis player?
"Maybe when I was 14 and I started having some good results at under-14 level. I was playing pretty well. I won the Latvian under-18 championships when I was 14. So then I started thinking: 'OK, let's finish school and then we'll see where we go from there'."
You have a great record at the Mallorca Open grass-court tournament. You've reached three finals there and you've won the title once. At Wimbledon, however, you have only ever won one match in your six appearances. Why is there that difference?
"I think Mallorca and Wimbledon are very different. OK they're both played on grass, but in Mallorca it's much hotter and the grass is a little bit different. The grass obviously isn't as good as it is at Wimbledon. I'm not sure why. Maybe I don't feel so comfortable on the grass at Wimbledon. Maybe it's slower, maybe it's faster. It changes a lot. But there's always next time! I still hope I can do well at Wimbledon."
What's the best match you have ever played?
"I think my win over Elina Svitolina at the 2018 US Open [6-3, 1-6, 6-0] was one of the best – if you take out the second set and you only count the first and the third! I think that was one of my best matches in terms of the level of my play. My win over Sharapova at the US Open in 2017 was also one of my best."
What are your favourite tournaments?
"US Open, Mallorca and Bucharest."
In May 2013 you stopped playing for more than 18 months because of a succession of injury problems. During your time away from tennis you studied leisure management in Austria. Was that because you were thinking of going into the tourism business?
"In the end you just get a degree in business. It was just a course. You get a business degree at the end of it, which was what was important to me. I also liked staying in hotels, so why not?"
But were you thinking that doing that course might lead to a new career after tennis?
"Yes, I think so. There are different careers you can go into with that degree, or you can go on to do more studies. I just felt it would be good for me. The course was also in English, which is one of the reasons why it appealed to me."
You speak very good English. Where did you learn it?
"I learned it at school. My mum was an English teacher. I like the English accent in particular."
When you were away from tennis what did you miss the most?
"I didn't miss much. Of course you miss the competition. You miss getting on the court, playing matches, feeling the adrenaline when you play big points. But I think I needed time off. At that time I was done with tennis. I also felt like I wanted to study and to lead more of a normal life."
What is your favourite holiday destination?
"I like the Maldives. It's very nice to relax there. I've been there twice. But I think there are so many nice countries that I haven't visited which I would like to go to – Peru, Finland, the North Pole, Australia."
When you're travelling by airplane, do you prefer to read, watch movies or sleep?
"I like watching movies or TV shows. I like to watch movies that I've watched before in the cinema and that I've liked."
Which country that you have visited has the best food?
"I think Austria has the best food, but I also like Italian food."
Do you like Liepajas mencins (a stew of smoked cod, potatoes, onions and cream), which is a speciality in your home city of Liepaja in Latvia?
"Not really. I think you eat it in a bowl, like a soup. No I don't like it."
Do you think most people in Liepaja like it?
"I don't think so! Not really."
What car do you drive?
"A Mercedes."
Do you drive fast?
"When I'm alone I like to drive fast. When I'm with someone I drive normally."
If you could invite four or five people to dinner – living or dead, but not tennis people – who would they be?
"That's a tough one. I would invite my grandfather, who is not alive any more, my grandmother, my mum, my boyfriend and my boyfriend's mother."
Anastasija Sevastova fact file
Age: 28

Born: Liepaja, Latvia

Lives: Liepaja, Latvia

Height: 5ft 7in

Turned professional: 2006

Grand Slam debut: French Open 2009

First title: Oeiras 2010

Best Grand Slam performance: US Open semi-finals 2018

World rankings progress: top 200 in 2008, top 100 in 2009, top 50 in 2010, top 20 in 2017

Languages: speaks Latvian, English, Russian and German 
Look ahead to the rest of 2019 with our guides to every tournament on the ATP Tour and the WTA Tour. If you can't visit the tournaments you love then do the next best thing and read our guide on how to watch all the ATP Tour matches on television in 2019. To read more amazing articles like this you can explore Tennishead magazine here or you can subscribe for free to our email newsletter here