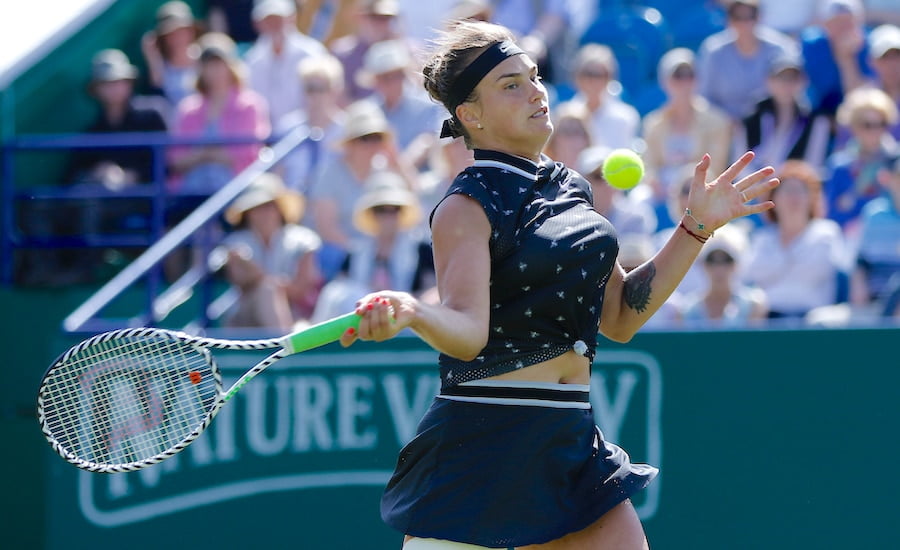 EXCLUSIVE INTERVIEW: Aryna Sabalenka admits "I totally lost my mind"
Aryna Sabalenka is one of the fastest-rising talents in the women's game, but as the 20-year-old Belarusian admits to tennishead, she still has plenty of room for improvement
For a player who admits that she can sometimes "get crazy on the court", you might have thought that for Aryna Sabalenka to have appointed of Dmitry Tursunov as her coach was not the wisest move.
Tursunov, a former top 20 player, had a reputation as a formidable ball-striker but also as a volatile racket-smasher who could clash with authority. At Wimbledon in 2006, for example, the Russian was disciplined after an umpire ruled that he had tried to hit him with a ball, after which Tursunov said the official was an "idiot" and compared him to Saddam Hussein.
Now enjoy tennishead, the World's best tennis magazine, in a new digital format. Download in seconds to read the latest 164 page issue
Perhaps it is because Tursunov understands Sabalenka better than most that he has done such a good job turning the 20-year-old Belarusian into one of the world's best players. Aryna Sabalenka, whose own ability to hit thunderous ground strokes used to be counterbalanced by poor tactical awareness, was ranked No 46 in the world at the start of last summer's grass-court season, when she began working with Tursunov. By the end of this year's Australian Open she had broken into the world's top 10, having won three titles in six months as Tursunov helped her to exploit her undoubted talent.
Sabalenka's ability was apparent at Eastbourne last June when Karolina Pliskova, Agnieszka Radwanska, Elise Mertens and Julia Goerges were among her victims en route to the final, in which she was beaten in two tight sets by Caroline Wozniacki.
In the last six months of 2018 Sabalenka won eight of her 10 matches against top 10 opponents and claimed the biggest title of her career at the Wuhan Open. She opened her 2019 campaign by winning the Shenzhen Open and was singled out by Chris Evert as a potential winner of the Australian Open before falling in the third round in Melbourne to the precocious Amanda Anisimova.
Strongly built and standing 5ft 11in tall, Sabalenka probably intimidates some opponents simply with her physical presence. Off the court she is engaging company and has a good sense of humour. When she lets slip a swear word in our conversation – "Sometimes I can do that but I need to stop that kind of s—," she says when talking about racket-smashing – she apologises immediately and puts her hand to her mouth in mock embarrassment.
On the court, nevertheless, Sabalenka is aware that her intensity can give the wrong impression. At the end of last year she came in for criticism on social media when she was shown repeatedly asking a ball boy for more water during a change of ends in a match in Beijing and then throwing a plastic bottle towards him in frustration.
"I totally lost my mind," she admits, insisting that afterwards she had felt very sorry for the ball boy. "On Twitter I saw a lot of haters. They wrote a lot of really not nice things, especially into my account. I was so disappointed because they don't really understand that you can lose your mind on the court, and you're not really that bad kind of person. It's like you lose it and then you're really sorry to the guy, but there's no time to be sorry, you're just focused on your game.
"After the game you can say sorry, but sometimes you don't even remember. Or it's like when you throw your racket or when you look at your coach like you want to kill him. It's a big part of the game which you can improve. We did some work in the pre-season on my mind game and hopefully I will do better this year."
While full of praise for Tursunov, Sabalenka is scathing about the quality of the coaching she received in her early years growing up in Minsk. "The coaches would tell me that I didn't need to think on the court," she said. "I just had to hit the ball. If you see the ball, hit it. That's what I was doing.
"In Belarus, to be honest, there were only a few people who believed in me. Other people didn't really believe in me. They thought I was stupid, that I had no chance to play at this level. And now they're all nice to me! I don't really want to speak to them because I know what they were saying about me."
When she was in her early teens her fellow Belarusian, Victoria Azarenka, was world No 1, but Sabalenka brushes aside any suggestion that the two-times Australian Open champion had been an inspiration for her. She says instead that she enjoyed watching Serena Williams and Maria Sharapova, but adds: "It wasn't like I was a big fan of theirs."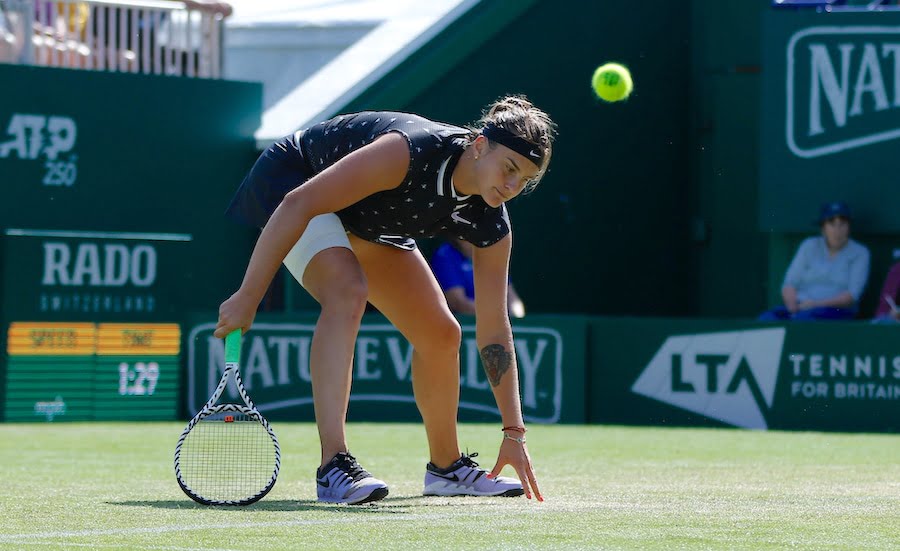 In her early teens Sabalenka rarely played in tournaments, but the support of a wealthy sponsor, Alexander Shakutin, helped her to spread her wings. It was not until her mid-teens that she decided she wanted to be a professional tennis player. She never played in the junior Grand Slam tournaments and instead focused from the age of 17 on competing in senior events.
A spell working with the Swedish coaches Magnus Norman and Magnus Tideman saw Sabalenka start to appreciate that there was more to tennis than hitting the ball hard, but it was her recruitment of Tursunov last summer that proved the crucial turning point.
"Dmitry is trying to explain to me what I have to do – it's more about tactics," Sabalenka said. "When he played he was the same as me. He had the same style of game and the same mind, so I think he understands me 100 per cent, what I'm thinking about on the court, what's going on around me. He has helped me 100 per cent. I think it's all because I started working with him. The results started to come then."
Sabalenka said her whole entourage had been helping with her mental approach. "Sometimes they see that I get crazy on the court and I need to improve this part of my game," she said. "There's actually a lot to learn. You always need to learn and I'm still just at the beginning. There are a lot of things I can improve, especially my movement, my thinking on the court, the mental side of matches. I'm just starting to learn about tennis."
Sabalenka said that beating Goerges in the second round at Eastbourne last summer had been a watershed moment. "After that I was like: 'Wow!' I got more freedom on the court and believed in myself. I made the final there and after that I thought: 'Let's do it again.'
"Each tournament and each match against a top player felt like a trial, a challenge for me, to play on a higher level. When you beat the top players you think: "OK, so I can be a top player too.' It inspires you to work and focus on your practice."
There is every chance that Sabalenka will make further progress up the world rankings in the coming weeks as she has comparatively few points to defend until the grass-court season.
She insisted that her goal this year was to win "a lot of titles" rather than to improve her ranking but added: "Until the US Open last year I lost in the first rounds at each of the Grand Slams, so that's a big chance for me this year. I'm really looking forward to the French Open and especially to Wimbledon because I really like playing on grass."
Whatever Sabalenka achieves, you can be sure that she will be doing things her own way. "When I was maybe 12 a friend of my dad's came to me and said: 'Oh, you're a future Sharapova'," she recalled. "I was so angry. I said: 'I'm a future Sabalenka, not a future Sharapova'."
Look ahead to the rest of 2019 with our guides to every tournament on the ATP Tour and the WTA Tour. If you can't visit the tournaments you love then do the next best thing and read our guide on how to watch all the ATP Tour matches on television in 2019. To read more amazing articles like this you can explore Tennishead digital magazine here or you can subscribe for free to our email newsletter here