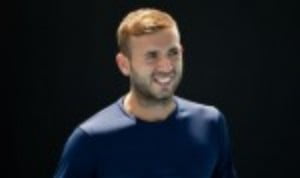 Evans set for return
Originally published on 16/04/18 00:00
The LTA have provided the Birmingham native with a wildcard into the qualifying draw of the inaugural Glasgow Trophy event, which begins on 28 April.
Evans was suspended for 12 months after testing positive for cocaine at the Barcelona Open last year, but he is now just two weeks away from resuming his colourful career.
"I have learned a lot about myself in my time away from the game, a sport that I love very dearly," said Evans. "I am now committed to training hard, resuming my career and getting back to where I was, although appreciate this will take time.
"If there is a lesson to be learned here it's that it is every athlete's responsibility for what they put into their bodies."
LTA performance director Simon Timson admitted Evans will be closely monitored as he makes his competitive return.
"The LTA condemns any form of doping, which has no place in our sport," said Timson. "We have been having regular contact with Dan and he has shown genuine commitment to getting his tennis career back on track.
"He has passed our agreed checks over the last six weeks and it is on this basis we have agreed to provide him with a place in the qualifying tournament for the upcoming ATP Challenger event in Scotstoun from 28 April."
It promises to be a long road back to the top for the former British No.2. Evans, who was ranked inside the Top 60 when he was banned, is now positioned at a lowly No.994.