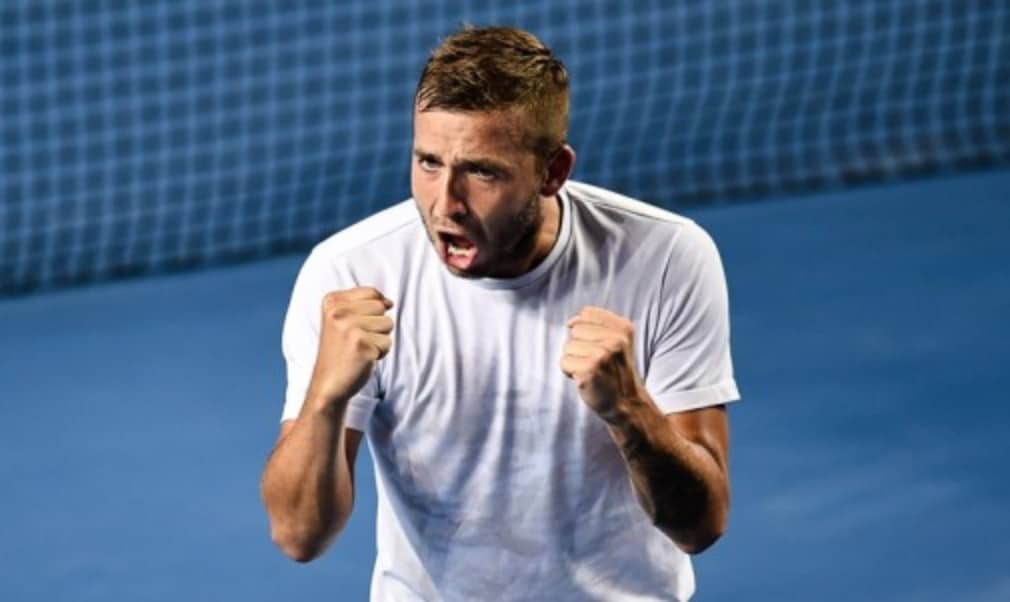 Evans beats Tomic to reach last 16
Originally published on 20/01/17 00:00
The world No.51 backed up his shock win over No.7 seed Marin Cilic in the second round with an impressive 7-5 7-6(2) 7-6(3) victory on Hisense Arena.
Back in 2013, Evans upset Tomic at the US Open to reach the third round of a Grand Slam for the first time and this time the British No.3 is into the last 16 of a major for the first time in his career. Joining Andy Murray in the fourth round, it is the first time since 2002 that two British men have reached the last 16 at a major.
"It was a goal to make the fourth round of a Slam this year," said Evans. "It's satisfying. But I'm not looking back yet. We've got another match on Sunday. We'll see what happens then. After the tournament, [then] look back. Whatever happens, it's been a great tournament. But there's still some tennis to be played."
Tomic was the last remaining Australian player in the men's draw, but on the same court that saw Nick Kyrgios bow out in five sets to Andreas Seppi two nights earlier, the home fans watched Tomic suffer the same fate against a lower-ranked opponent.
In an entertaining twilight match on Hisense Arena, the third largest stadium at Melbourne Park, which is free to ground pass holders, Evans produced an assured performance, combining intelligent match play with lightning quick reactions and great hands at the net to produce another memorable win.
A topsy-turvy opening set saw five breaks of serve, but Evans broke for a third time for a 6-5 lead before serving out the opening set in 44 minutes. As he did in the opening set, the Brit broke in the first game of the second set, but despite maintaining his lead for most of the set, he was unable to make his advantage count, squandering two set points as he served for a two-set lead.
However, after then saving two set points on his own serve two games later, Evans outplayed the Australian to comfortably win the second-set tiebreak.
"I've played a lot of tennis the last few weeks," said Evans. "Those breakers can go either way. If I lose that second set, the momentum's completely switched. The crowd were getting into it. I come out on the good side of that. But I just kept focused."
Evans had never lost a match from two sets to love up, and although he needed to save three break points in the third set, he maintained his focus after a brief delay to close the roof when it started raining, winning another tiebreak to pull off another upset in Melbourne.
"He was playing a high level," conceded Tomic. "I have to give full credit to him because he deserved to win this match.
"If a guy beats me like this, then too good. You can't be upset with yourself. I was playing solid. I was competing. I was happy with myself at times on the court. I was really satisfied with what I was doing. He just seemed to do the big points better. He went for them. If you're beating me like that, then too good. I hope he can keep going for himself in this tournament."
Evans will now face No.12 seed and 2008 runner-up Jo-Wilfried Tsonga in the fourth round. The Frenchman beat Jack Sock 7-6(4) 7-5 6-7(8) 6-3 on Margaret Court Arena on Friday.
"Obviously it's going to be another step up," said Evans. "He's someone I watched growing up. I watched so many of his matches in the semis and quarters of Grand Slams. It's going to be a little different to be playing against him."