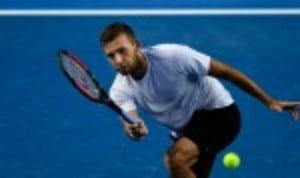 Evans banned for a year
Originally published on 03/10/17 00:00
The 27-year-old could have been handed a career-ending four-year ban but the International Tennis Federation have shown leniency due to the Brit's remorse – and because cocaine is not deemed to be a performing enhancing substance.
The Birmingham native argued that he had ingested a small amount of cocaine outside of competition on the 20th of April. He then put the leftover cocaine first in his pocket and then in a pocket of his washbag, before discarding it the following day.
In the same pocket of the washbag, he stored tablets of permitted medication. He took those daily from 20th April to the 24th April, the date he provided a positive sample for cocaine and its metabolite.
It was successfully proven by Evans' expert, Dr Pascal Kintz, that the small amount of cocaine ingested by the Brit was no more than 1Š—3 mg – a quantity "inconsistent with knowing ingestion and consistent instead with inadvertent contamination."
Evans is free to return to action from 24 April 2018.