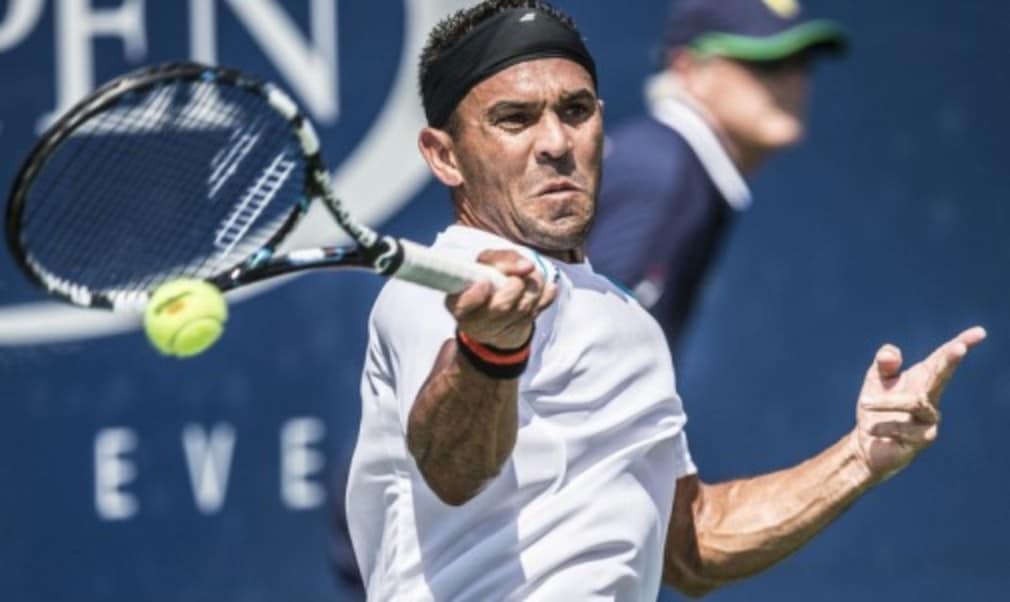 Estrella Burgos proves a late bloomer at the US Open
Originally published on 30/08/14
When we talked in the player garden at Flushing Meadows after his first-round victory against Igor Sijsling, Victor Estrella Burgos talked about his feelings after the biggest victory of his tennis life. We "high-fived" at the end and said in parting that perhaps we would meet back in the garden in a couple of days after his second-round match. However, the garden it was not to be. After another colourful victory on Court 6, the from the Dominican Republic was seated on the stage of the main interview room in the Billie Jean Tennis Center.
Burgos asked for slow questions in English on both occasions and in his broken English he shared one of those heart-warming tennis stories that make a refreshing change from the multi million pound superstars at the top of the sport. "It is a dream come true", he said of his advancement to the second round.
The 34-year-old Dominican does not come from a tennis-playing family. "My mum does not know how to hold a racket, nor my father," he joked. He does however have two tennis-playing brothers. The younger one, aged 26, is just graduating from Santiago University. "He played Davis Cup for Dominican Republic several times," Victor said. "He was a Top 100 junior. He was a good player, but he went to university and started working. He still plays tennis but not competition".
Victor started playing tennis in Santiago at the age of eight. He taught his brother to play and coached him for a couple of years. He did not play a professional tournament until he was 26. Before that he played only in the occasional Futures tournament. He moved to Miami to pursue his tennis career at a time and started out at a time when many players on the Tour would be looking to hit their peak form.
"I work hard physically," he said. "I am very focussed on my physical training. I am a small one but I am very fast on the court." In New York he is travelling with his fitness trainer. "My girlfriend, my friend, my physical trainer, everybody helps and supports me in a different way," he said. His girlfriend is Barbora Bokova, a player from the Czech Republic. "She is on the ATP website as my coach. She plays good tennis. She has helped me a lot."
After his victory in the first round he talked about his self-belief. "I believe in my game," he said. "About what I do, everything I do because I believe"
In 2012, ranked 164 in the world, he sustained an injury to the cartilage in his right elbow and was out of the game for eight months. "I came back with more motivation after this injury and got into the top 100 in six months," he said. He is currently ranked No 80 and with the points he has earned so far in New York he is set to rise around 10 places.
After the euphoria of his first-round victory he had the vision to talk about the effect his moment in the spotlight might have. "I open the door for the next generation," he said. "They want to follow me.This is good motivation for them to make more tennis players in Dominica."
He is not the only sporting star from the Dominican Republic, a country of 10 million people that boasts Felix Sanchez, the current and double Olympic champion hurdler, as well as many baseball and basketball players.
On Thursday when he defeated the Croatian Borna Coric in the second round, there was much talk about the age gap. At 17, Coric is half Estrella Burgos' age. But for the Dominican, it was another match where his belief, not to mention his noisy supporters, helped lift him through.
Looking ahead to Saturday's third-round match against the No 5 seed, Milos Raonic, he said: "I am feeling very good. I think I'm going to be ready for Saturday. I'm going to be so hungry to get on to the court to play again."
However the fairytale run ends, Burgos has given us a lot of pleasure. He has also banked at least $105 090 to help fund the next stage of his unique tennis journey. "I think I can play for three or four more years. I am going to be here at this level for a couple more years."
We watch with interest as he takes the next step, this time under one of the biggest spotlights in the tennis world: the small man from the Dominican Republic against the 6ft 5in big-serving young gun from Canada.
I hope I get another chance to high-five Burgos whatever the result.