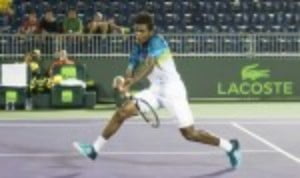 Elias Ymer: Sweden's new hope
Originally published on 30/03/16 00:00
A mere 15 years after his father first introduced him to tennis, 'Eli' is beginning to make his mark on the world stage – most recently reaching the main draw in Miami, before falling to Andy Murray's Indian Wells conqueror Federico Delbonis in the first round.
His ATP main draw debut came on home soil at the Swedish Open in 2013, and after becoming professional the following year Ymer wasted no time in making his mark on the Futures Tour, claiming five titles.
Blessed with the natural endurance passed down from his father, Wondwosen, a former professional distance runner, the world No.142 has naturally adapted to the tour's physical demands – claiming his first ATP win upon his wildcard return to Bastad in 2014, defeating Russian Mikhail Kukushkin.
A rival to that achievement is made up of four separate events, culminating in an impressive feat for the teenager. In New York last August, the Swede qualified for the main draw of the US Open, completing a clean sweep of qualifying successes in 2015. Each major venture ended in the first round, his best effort coming at the Australian Open, where he edged out by Go Soeda in five sets.
Ymer's finest run last season came in Barcelona, where he lost to David Ferrer in the third round having previously claimed the scalps of Thiemo de Bakker and Nick Kyrgios.
Alongside Kyrgios and the likes of Alexander Zverev and Britain's Kyle Edmund, Ymer finds himself amongst those dubbed as the 'Next Generation', a group of young, talented players who have recently come into the spotlight.
He reached a career high ranking of No.127 in September last year, helped by his solitary Challenger title in Caltanissetta, Italy in June. A clay court specialist, Ymer is now targeting a coveted place within the world's Top 100.
Growing up he idolised Mike Tyson who was known for his right hook-right uppercut combination, a method Ymer's forehand can perhaps be likened to and a weapon the youngster continues to develop and utilise effectively.
A game based around the long rallies typical to that found on his native clay, the consistent style of Ymer, who will turn 20 in April has seen him propel himself to within touching distance of automatic Slam qualification. A Top 100 berth looks likely to come in 2016, and a wildcard entry into Miami only confirms the faith those in and around tour have in the young Scandinavian.
The most recent Swedish success came in the form of former world No.4 Robin Soderling who announced his retirement in December last year. A once prominent tennis nation suffering a barren spell. As Bjorn Borg watches on, fellow former favourites Stefan Edberg and Magnus Norman have experienced their own coaching triumphs, meanwhile Mats Wilander is a Eurosport regular, as Johanna Larsson flies the flag on the WTA Tour.
Ymer finds himself as the Swedish No.1 and he has already experienced the elation of the Davis Cup – clinching a final rubber win to secure a 3-2 victory over Latvia in March last year. At such a young age a responsibility has been forced upon the teenager, one in which he seems to be completely unfazed by for the time being.
The Monte Carlo Masters commences on Ymer's 20th birthday – possibly his next date with the elite of the sport; and after the disappointment of faltering in the first qualifying round at this year's Australian Open, who is to say he won't claim his first Grand Slam main draw win on his favoured red dirt at Roland Garros?