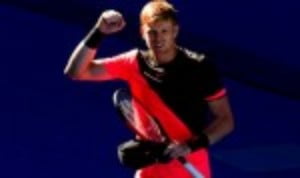 Edmund stuns Dimitrov
Originally published on 23/01/18 00:00
Kyle Edmund's unwavering dedication to his profession has paid off as he reached the semi-finals of the Australian Open with a dramatic 6-4 3-6 6-3 6-4 win over Grigor Dimitrov.
He becomes just the sixth British male in the Open era to reach the last four of a Grand Slam and will challenge either Rafael Nadal or Marin Cilic for a place in the championship match on Thursday.
Edmund battered his distinguished opponent into submission with his sledgehammer of a forehand. Dimitrov was forced to endure significant punishment from the unrelenting Brit, and he wilted physically in the closing stages.
It's been an unforgettable fortnight for the 23-year-old, and based on his latest performance, anything is possible over the coming days.
'I'm so happy," remarked a weary-looking Edmund. "It was a hard match, and I've had a lot of hard matches, so I just wanted to enjoy the moment.
'Obviously he [Dimitrov] played a high level match against Kyrgios so I knew it was going to be tough, but I had a bit of a dip in the second set. It was quite poor tennis at some points, but in the third set I managed to break him right at the end.
"I had a little bit of a blip in the fourth set, but really just held my nerve in that last game and prayed that lost ball was out."
Dimitrov was widely tipped to get the better of Edmund and reach the semi-finals for a second consecutive year. He had been inconsistent throughout the tournament though, and his second serve was once again a glaring weakness.
At 4-4 in the first set, Edmund carved open a break-point – and he took his chance in style. He treated his rival's tentative second delivery with disdain and scudded an unstoppable 166km forehand return down the line.
The Brit held a 5-4 lead, and he battled through a tension-filled service game to deservedly pocket a competitive first set.
Dimitrov needed to respond to the challenge laid down by his opponent, and his fighting spirit came to the fore. The No.3 seed raced into a 3-0 lead and managed to maintain his advantage until parity had been restored.
Edmund's level had slipped in the second set, but he showed no signs of fatigue in the next. He regrouped, continued to lash forehands and dominated the centre of the court.
The third set was always going to be of huge importance in terms of deciding the eventual outcome of the match, and it was Edmund who got it. An untimely double-fault from the Bulgarian cost him dearly as he fell 5-3 behind.
Dimitrov was unable to prevent his opponent from moving within a set of victory – and he looked dejected as he traipsed to his chair to contemplate his service woes.
The Bulgarian tried to stay with his heavy-hitting opponent in the fourth set, but he looked physically – and mentally – drained. He played a dreadful service game to fall 3-2 behind, and his demeanour suggested he had little more to give.
Perhaps the Dimitrov of a few years ago would have meekly accepted his fate, however times have changed. The 26-year-old has insatiable desire to succeed and he bounced back immediately.
Edmund had lost his precious advantage, but he was unmoved by the setback. He showed great strength of character to bag another break after Dimitrov netted a backhand – and he would not be denied this time.
Another errant backhand from the Bulgarian proved to be the last action of the match, and not even a Hawk-Eye challenge could save him.