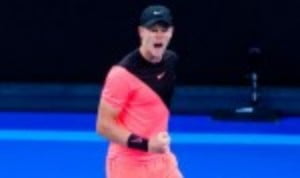 Edmund striving for more
Originally published on 21/01/18 00:00
The 23-year-old is just the second British man to reach the last eight at the Australian Open since 1985 – but he is still striving for more. He will challenge Grigor Dimitrov for a place in the semi-finals, and believes it's possible to go the distance.
"You have to believe it," responded Edmund, when asked if he can win the tournament. "That's why I'm in the quarter-finals, because every time I step on the court and I'm playing, I believe I'm going to win, so it's no different now.
"The next opponent, I take it one step at a time. I have to believe I'm going to win and believe in my game. That's the way I have approached it, one match at a time, and I will continue to do that."
It's been a physically demanding tournament for the British No.2, but an emphasis on rest and recuperation has enabled him to bounce back after two gruelling five-setters.
"I just basically look after my body, do the best I can. Just try to sleep lots, eat food, drink well," he added. "I've been doing minimal as possible and just saving my energy for the match."
Edmund underwent an arduous pre-season training program in December, and is now reaping the rewards after an excellent start to the campaign.
"It's great to be in the quarter-finals, it's certainly my best result at a slam," said the Brit. "It's not easy to win four matches at a Grand Slam.
"I'm definitely pleased and it shows I'm improving. It also shows that the hard work is paying-off. That constant working at everything in my game, on and off the court, it's good when you get results and it comes together.
"It's always good to see results come, because that's when it really shows it's paying-off – you can see you're improving, but nothing really beats winning and results. If you improve but you carry on losing, it doesn't help anything.
"It's good to really get a good result here. I'm playing well, feeling good and want to keep pushing on as well as I can."