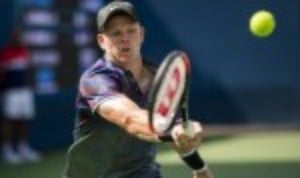 Edmund overcomes Haase
Originally published on 28/08/17 00:00
Managing a playing schedule is just one of the many challenges facing professional players. The 22-year-old Brit, who is ranked No.42 in the world and close to his career-high ranking of No.40, took the decision to play qualifying at the 250 event in Winston-Salem last week after first round defeats at ATP Masters 1000 events in Montreal and Cincinnati.
Following his run to the semi-finals in Winston-Salem, where Damir Dzumhur defeated him, the British No.2 arrived in New York on Saturday. Having taken the first set 6-3 in only 35 minutes, Edmund looked to be in control of the match. At the change of ends he reached for a can of coke, perhaps a sign that the physical endeavours of the last 10 days had caught up with him.
"I wanted to get some sugar in my body," he said. "I probably don't feel as fresh as I do in some matches, but I have hit loads of balls, so I'm feeling good on court in terms of hitting the ball."
Edmund kept to his gameplan, using his big serve and forehand to win the match. He also dominated his rival's attackable second delivery.
"I thought I did well with my game management," Edmund said. "When I served for it in the second, I got broken but I broke straight back. I regrouped pretty quickly. When I needed to be on the big points, I was."
Edmund faces Steve Johnson in the second round and he will be looking to repeat the victory he enjoyed over the American last week. On that occasion, the Brit dropped the first set, but he knows what is required to overcome his next opponent.
"He has got a big serve, and a big forehand," Edmund said. "He doesn't hit his backhand as well as his forehand, he slices it".
Edmund will have a light practice on Tuesday in preparation for his next contest. "I will hit for 30 to 40 minutes to feel the ball and to keep mobile," he said.
He thinks his scheduling strategy was appropriate coming into the US Open, and he will hope to equal or surpass the fourth round result he achieved last year.
"I guess when you are higher up the rankings, you don't play the week before (a slam) because you prioritise playing the Grand Slam rather than the 250 (event)," he said. "Where I'm at, it's a good opportunity for me at a 250, I got some decent points and I also got a shed-load of matches."
"What is the perfect preparation, is it to be really fresh or is it to play matches?" he asked aloud. "A balancing act, I guess."
Putting out the No. 32 seed at a Grand Slam would suggest that playing matches is paying dividends for the 22-year-old.
This story is brought to you by Wilson, the global leader in performance tennis