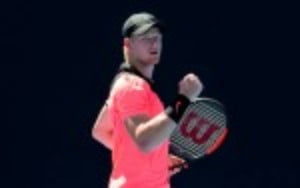 Edmund happy with his game
Originally published on 25/01/18 00:00
Although Marin Cilic defeated him in the semi finals of the Australian Open, Kyle Edmund has achieved his best slam result here in Melbourne.
"This type of tournament just gives you the bug to want more," he said. "You know, once you get a taste, it's like, yeah, I want more of this."
"Obviously I am disappointed I lost, but, it's been a really good couple of weeks for me. I got the experience of going deep in a slam for the first time and all the stuff that comes with it."
By defeating Kevin Anderson in five sets in the first round and Nikoloz Basilashvili in five sets in the third round, Edmund recorded his first two five set victories in the same event for the first time.
"You know, there's nothing better than winning best-of-five set matches in tennis tournaments. You know, best of- five sets should always stay in the men's game. It's a true test of quality and grit and stuff."
Edmund defeated two seeded players; No 11 seed Anderson and No 3 seed Grigor Dimitrov. His win over Dimitrov was his first victory against a top five player.
"I can be very happy with the way I've gone about things. I played a lot of tough matches. I won some tough matches. I beat good players."
Edmund, who achieved a career high ranking of No 40 in October 2016, will be ranked around World No 25 when the rankings are released on Monday 29 January.
"I have known I have had a good game. It's just putting it together more often."
He has had a successful campaign in Australia, reaching the quarterfinals in Brisbane, beating Denis Shapovalov and Hyeon Chung.
Edmund has been named in Great Britain's Davis Cup squad, which will play Spain at the beginning of February.
He expects to be fully fit to play, despite having a medical time out in the semi final for an undisclosed injury.
"I'll do everything I can to play, because I want to play."
He pockets $880 000 for reaching the semi finals (c £498 000). So, will he buying a Ferrari?
"I have a Jaguar deal, so I can't…"he joked.