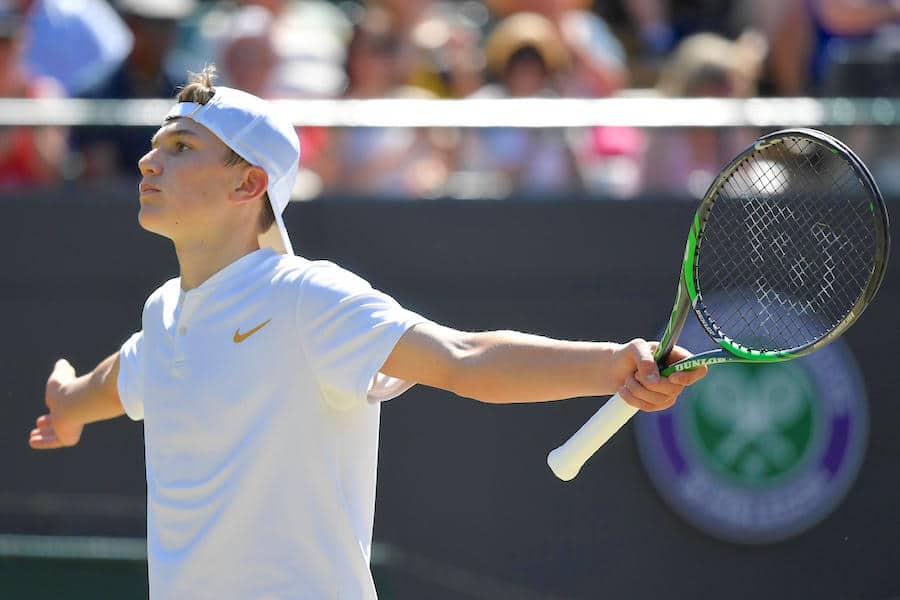 Dunlop tennis – the love of the game
Dunlop is entrenched in the history of tennis with more Grand Slams being won with Dunlop rackets than any other brand in tennis, but their recent new racket launches and sponsorship deals have catapulted them back into the big leagues. 
The list of players that have won major tennis tournaments using Dunlop rackets reads like a 'Who's Who' of tennis greats but fast forward to the 21st Century and the Dunlop brand is now owned by SRI Sports, a subsidiary of Japanese conglomerate Sumitomo, and synonymous with high performance, hight technology and high quality.  Considerable investment form their new owners and an exciting international rosta of professional tennis stars makes Dunlop one of the biggest names in tennis gear.
Brief history of Dunlop
Dunlop was established as a company manufacturing goods from rubber in 1889 & entered the sporting goods market in 1910, when it began to manufacture rubber golf balls at its base in Birmingham then extending into tennis ball manufacture in 1924. In 1925, F A Davis was acquired, which had tennis racket manufacturing expertise.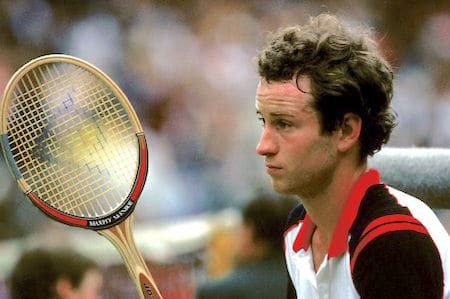 Fast forward to December 2016 and an exciting announcement that Dunlop was to be sold to Sumitomo Rubber Industries for £112 million ($137.5 million). Sumitomo already owned the rights to the sports as well as the rubber industries brand in most of the world.
Immediately the new Japanese owners embarked on an ambitious plan to reinvigorate the products and the brand. Dunlop Sport was announced as the official ball of the ATP Tour in a multi year sponsorship deal in early 2019. Dunlop is also the official supplier for all three clay court ATP World Tour Masters 1000 tournaments, which includes the Monte-Carlo Masters, the Rome Masters and the Madrid Masters. As for ATP World Tour 500 tournaments, it is the official supplier for the Barcelona Open. Additionally, it is the official supplier for ATP World Tour 250 tournaments at the BMW Open in Munich, the Portugal Open and the Open de Nice Côte d'Azur. Dunlop Sport is also the official supplier of the WTA Tour Volvo Cars Open in Charleston, South Carolina.
An image forged in Britain
Dunlop has always been very closely linked with British tennis and this partnership shows no signs of dimming as the brand announces numerous new initiatives that will see British tennis and Dunlop continue to work together for many years to come.
February 2019 saw Dunlop announce a new partnership with Tennis Scotland in a multi year agreement to provide them with high class equipment including tennis rackets, balls, bags, strings, KSWISS footwear and coaching gear.
The future of tennis
In April 2018 Dunlop announced an agreement with IMG Tennis Academy to become the official tennis racquet, ball, and accessory provider of its world-class tennis program. As part of the agreement, all tennis coaches will use Dunlop racquets and balls for lessons and training.
"We always look to align with companies who are as devoted as we are to innovation, performance and to providing our athletes with as many resources as possible," said IMG Academy Director of Tennis Rohan Goetzke. "Dunlop's technical expertise and commitment to providing the highest quality product are world renowned, and we believe our athletes and staff will benefit greatly from their presence on campus."
The IMG Academy will also become one of the primary locations for testing all current and future Dunlop products. The Dunlop Research and Development and Marketing teams will collect feedback from hundreds of IMG Academy junior players.
Dunlop Players and Ambassadors
Dunlop have a growing number of tour players associated with their brand and using their rackets. You can see the fill list of their endorsed players here, but here's just a few: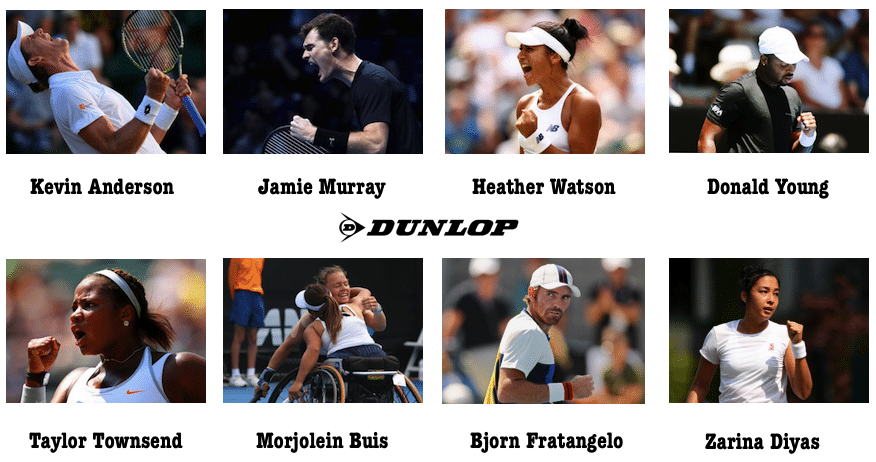 Player ambassadors
Dunlop has recently teamed up with two legendary players from tennis in Michael Chang and James Blake. These two brand ambassadors are continuing their on court journey and finding new ways to inspire the next generation.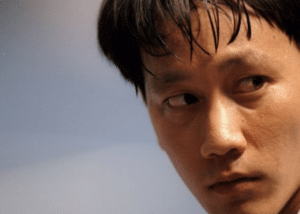 Michael Chang
He says, "Like every pro player, I enjoy playing in front of big crowds on the grandest stages. That atmosphere when the crowd's cheering and going nuts, you hit a great shot and you scream at the top of your lungs and you cannot hear yourself."
Read Michael Chang's incredible tennis story here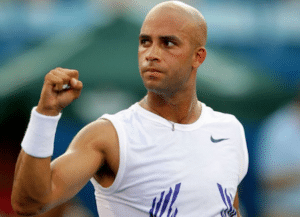 James Blake
He says, "I loved the challenge of trying to reach my potential and always trying to find ways to improve."
Read James Blake's amazing tennis story here
Dunlop Tennis Products
In Dunlop's own words, 'perfection is a journey, not a destination' and that core belief is woven into their huge range of products for today's tennis player. Their range is incredibly diverse catering for all standards of player right from the complete beginner up to Kevin Anderson, the No.5 player in the World.
Dunlop say this about their aspirations when manufacturing tennis equipment, "What does it take to continually improve your game? Commitment. Desire. Obsession. An intrinsic understanding that every game is a step in your journey for perfection. Long hours in the research labs. Early mornings on the training courts. A commitment to enhance every game. A need to chase down every point. We share this pursuit of perfection with every player. It's why we engineer technically superior, obsessively crafted products that help you make every single game, your very best game."
Here we detail the full range of products from Dunlop that are available to purchase:
Dunlop Rackets
Dunlop have developed a number of core technologies that feature throughout their range of tennis rackets. These include:
---

Play harder, cleaner shots. Sonic Core made with Infinergy® dampens impact shock and reduces frame vibrations by up to 37%, giving a more comfortable hitting sensation. Infinergy® foam developed by BASF, the world's first E-TPU, offers much greater rebound properties compared to original Sonic Core material resulting in faster ball speed off the racket.
---

Modern players use more spin, hitting the ball towards the top of the racket. But that takes technique and power, often leading to errors and injuries. PowerGrid StringTech creates a 30% larger sweet spot, evenly distributing power across the string bed. Get better control, more power and more spin.
---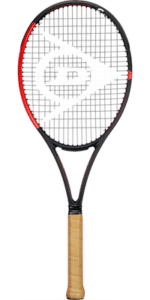 Dunlop CX Tour 18×20
The new CX 200 Tour 18×20 has been perfectly engineered for advanced players with big swings. Ideal for modern day players looking for a larger sweet spot towards the top of the racket, resulting in explosive power, maximum control and more spin, but with reduced vibration and a lower impact shock, helping to reduce injury and letting you focus on your game.
CX SERIES

Length (CM/IN) – 68.6 / 27

Head size (CM² / IN²) – 613 / 95

String pattern – 18 x 20

Construction – Carbon Fibre

Unstrung weight (G/OZ) – 315 / 11.1

Beam width (MM) – 20.5

Stiffness (RA) – 64

Unstrung balance (MM) – 310

Grip size – 2-4
You can see the full range of Dunlop rackets here
---
Dunlop Balls
The simple fact is that you can't play tennis without tennis balls and Dunlop are arguably the most famous name in tennis ball manufacture. They now offer a huge range of 22 different tennis balls starting from red balls that are perfectly designed to help children learn the game right through to their Dunlop ATP ball with it's HD Pro Cloth and HD Pro Core for ultimate consistency and performance.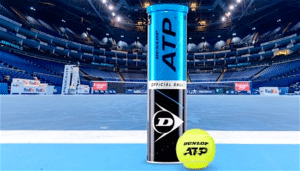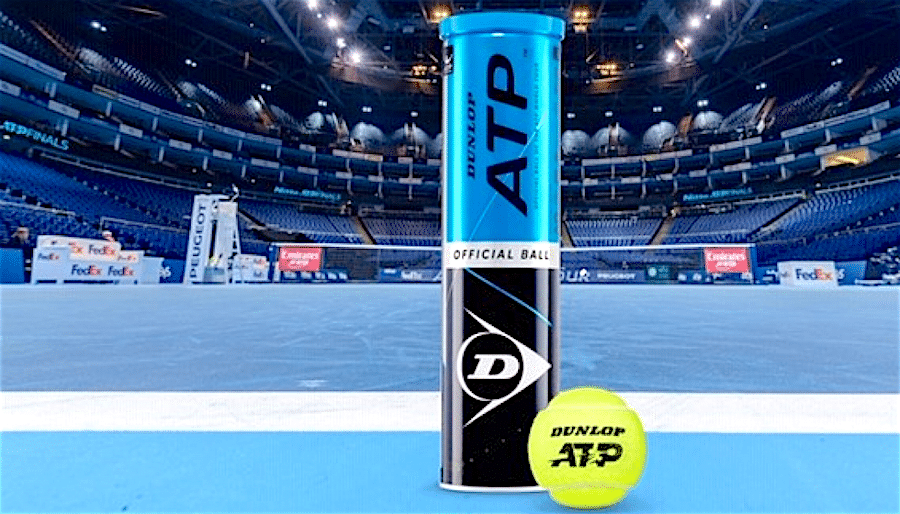 Dunlop ATP – The Official Ball of the ATP Tour
Buy the balls here with Pro Direct
This super-premium ball features HD Pro Cloth and HD Pro Core for ultimate consistency and performance. This is also the official ball used at the season-ending ATP NextGen Finals and Nitto ATP Finals. The no.1 tennis ball on the ATP Tour
You can see the full range of Dunlop balls here
---
Dunlop Bags
There are no fewer than 27 beautifully crafted tennis bags in the current Dunlop range with a full selection of racket thermals, holdalls, wheelies and back packs so you'll never lose your tennis socks ever again!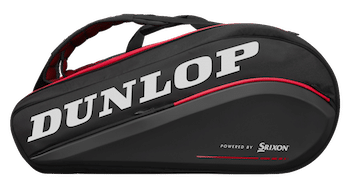 CX SERIES 15 Racket Thermo – Arrive at the court in style
Buy the bag here with TennisNuts.com
Three main compartments for rackets (one with thermo insulation). One compartment for shoes with ventilation and two compartments for clothes with ventilation. There are also four minor compartments outside for accessories and valuables. Plus a new ergonomic shoulder strap to carry it all in comfort.
Size (cm): L:78 x W:45.5 x H:35
Volume (l): 85
You can see the full range of Dunlop bags here
---
Dunlop Strings 
It's a common mistake to not take care of your tennis racket's strings and to replace them regularly. Many players simply don't realise the importance that a string has in the performance of your racket and the quality & consistency of your shots. That's why Dunlop have developed a range of strings to suit all types of racket and player. Our favourite has to be the brilliantly named 'Black Widow'. Who wouldn't want to play with those in your armoury!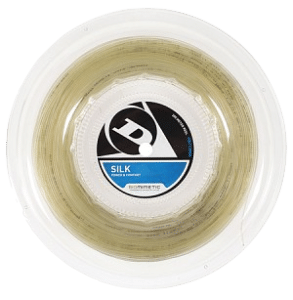 Dunlop Silk Strings
Play smoother shots
Hit shots with maximum power and comfort, thanks to super-premium, multifilament strings. Available in Sets or 200m reels, in 16G (1.32mm) and 17G (1.22mm).
You can see the full range of Dunlop strings here
---
Dunlop Apparel
What you can wear on the tennis court has changed dramatically in recent years as the world's of fashion, performance and tennis have collided. Your clothing is now seen as an important part of what makes you the tennis player you are or want to be. Dunlop now have an incredible 68 items in the tennis apparel range.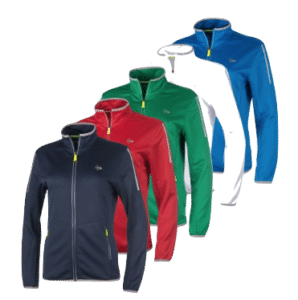 Women's knitted jacket
It's a Team Game
This jacket has been designed with a snug, but comfortable fit. It features a full length zip with a stand up collar to protect you in colder conditions and has two deep side pockets with zips. The ideal jacket to wear before and after exercise, but also during colder activity sessions.
You can see the full Dunlop clothing range here
Look ahead to 2019 with our guide to every tournament on the ATP Tour, the WTA Tour and the ITF Tour
If you can't visit the tournaments you love then do the next best thing and read our guide on how to watch all the ATP Tour matches on television in 2019
To read more amazing articles like this you can explore Tennishead magazine here or you can subscribe for free to our email newsletter here