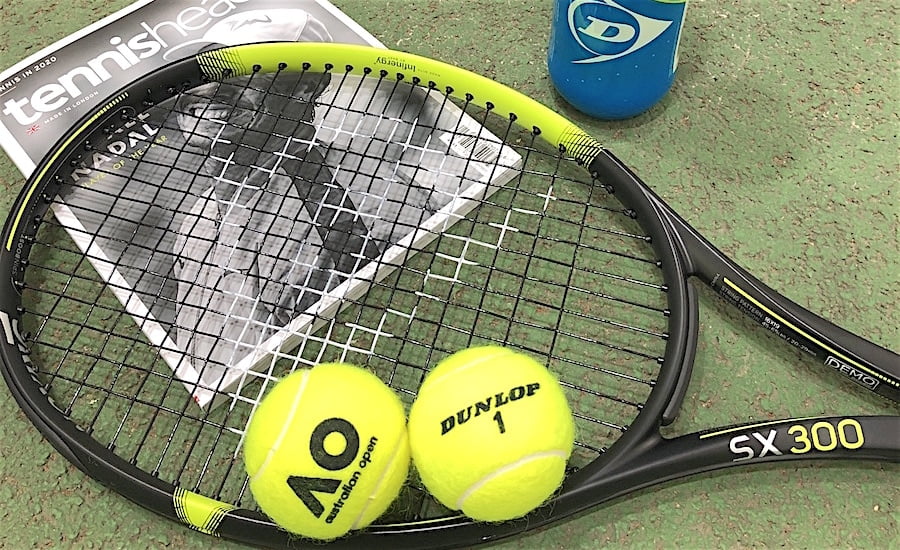 Dunlop SX 300 Tour tennis racket review
Dunlop have launched a complete new range of rackets called the SX Series so tennishead decided to try out the Dunlop SX 300 Tour tennis racket to see what all the noise is about…
Background
Dunlop have reinvented themselves over the past few years as a result of heavy investment from their new Japanese owners.
They are the very proud of their partnerships such as with the ATP Tour and the Australian Open where they are the official ball sponsor and with renowned coaching academies like tennishead columnist Patrick Mouratoglou's facility in the South of France. These all help to bring renewed credibility as the Dunlop range is modernised with new products launched.
Dunlop have told us that the full weight of their sizeable research and development division in Japan plus the input of Dunlop global ambassador Mouratoglou have gone into the development of the new SX range, so we were very excited to try out the tennis racket.
---
WIN THE DUNLOP SX 300 IN OUR EXCLUSIVE COMPETITION
We've teamed up with Dunlop to give you the chance to win one of the brand new Dunlop SX 300 rackets
CLICK HERE FOR YOUR CHANCE TO WIN
---
Dunlop SX series
The SX standards for spin and has been launched to compliment their other range, the CX series, which is more suitable to control players.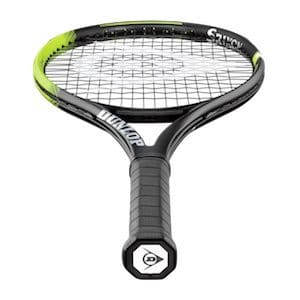 The spin element of the frame is catered for by new spin boost grommets applied to the 10 main strings which allows those strings to slide on impact. The aim is to make the ball trajectory more controlled and provide extra bite on the ball when hitting shots not quite out of the middle, something most amateur players are unfortunately well accustomed to!
The other new technologies in the SX series of rackets are focussed on enlarging the tennis racket sweet spot and reducing the vibration on impact.
The aim of 'PowerGrid StringTech' is to create a larger sweet spot by evenly distributing the power across the strings. A lot of tennis racket brands say they have created a bigger sweet spot so we were intrigued to find out if Dunlop have achieved what they say.
Dunlop have also developed a new foam, alongside BASF, which is in their SX series. The purpose is to use the greater rebound qualities of the new material to reduce vibration on impact.
Play test of the Dunlop SX 300 Tour
The heaviest racket in the new SX range is the 300 Tour with an unstrung weight of 310 grams and 100 square inch head size. We decided this was the right racket for our expert play tester Liam to try out so we arranged an indoor session and set him to work.
Watch the video below for an insiders view of our play testing session…
Liam is a very good tennis player who competes at the top level of competition. He plays nearly every day and has a modern style of play. By that we mean he plays with a lot of topspin on both sides and most of his work is done behind the baseline. Liam had never used a Dunlop racket before so was excited to see how the SX 300 Tour would play.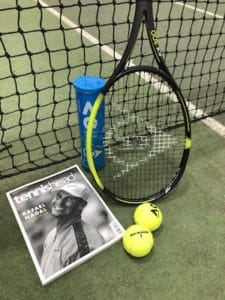 After hitting just a few balls the look on his face was similar to someone who's just received a present that is way better than they had expected! He was very impressed especially with how easy it was to generate spin from anywhere on the court.
Liam gave the SX 300 Tour a thorough working over, rallying from the baseline, hitting volleys, smashes and serves and then playing some points. The ball sounded great coming off the strings even if he had missed the centre of the racket on occasions. He said the racket felt nicely manoeuvrable which is crucial for all players as they need to change their shot and their swing at the last moment. The level of spin Liam could generate with this tennis racket was impressive and the only time he struggled slightly was when trying to hit his second serve with a lot of topspin.
Liam isn't always the most confident when he gets to the net and has to volley but he felt the racket provided much needed help in this department, adding generous spin to his volleys.
Liam thought the colour scheme, which combines black with a vibrant luminous yellow, was modern and appealing. On the day, our racket had a standard synthetic gut string at a normal tension for the string of around 55lbs. If we had used a polyester string at lower tension we felt this racket could produce even more spin.
The numbers
For a detailed explanation of each racket measurement criteria below have a read of our guide.
Dunlop SX series: 300 Tour
Length (cm/in): 68.6 / 27

Head size (cm²/in²): 645 / 100

String pattern: 16×19

Unstrung weight (g/oz): 310 / 10.9

Beam width (mm): 23-26-23

Stiffness (ra): 64

Unstrung balance: 315
The Dunlop SX Series
Dunlop have produced a vast range of apparel to accompany the launch of the SX Series of rackets including no fewer than 15 new bags. View them all here
In conclusion
No-one really makes a bad racket these days, so we expected good performance from the SX Series, but were really surprised at how good the performance of the SX 300 Tour actually is (and it's not often that experienced racket testers like tennishead would be able to say that).
Comparisons with the Babolat Pure Aero seem fair and Dunlop have obviously done their research as to what a modern spin focussed player wants.
Compared to their Dunlop CX series, this spin focussed SX frame really does deliver what it says allowing the player to generate large amounts of easy topspin but still keep decent control over the flight of the ball.
This racket will help you feel good about your game, so why not give it a try.
DON'T MISS THIS! Enter our amazing competition to win yourself one of the all new Dunlop SX 300 rackets
Further reading
Check out our guide to buying a tennis racket.
Also worth reading is our detailed guide to tennis racket strings.
You'll find more racket reviews in our Tennis Gear section.
Keep up to date with all the action at our tennis news section. Win amazing tennis prizes by entering our competitions. Learn more about your favourite players including Roger Federer, Rafa Nadal and Novak Djokovic. Receive regular updates with our legendary newsletter or read in depth features with stunning photography in tennishead magazine. Can't visit the tournaments you love? Check out our guide on how to watch tennis on TV. Don't miss a thing with our Live Scores service. Follow tennishead on social media at Facebook, Twitter, Instagram & YouTube