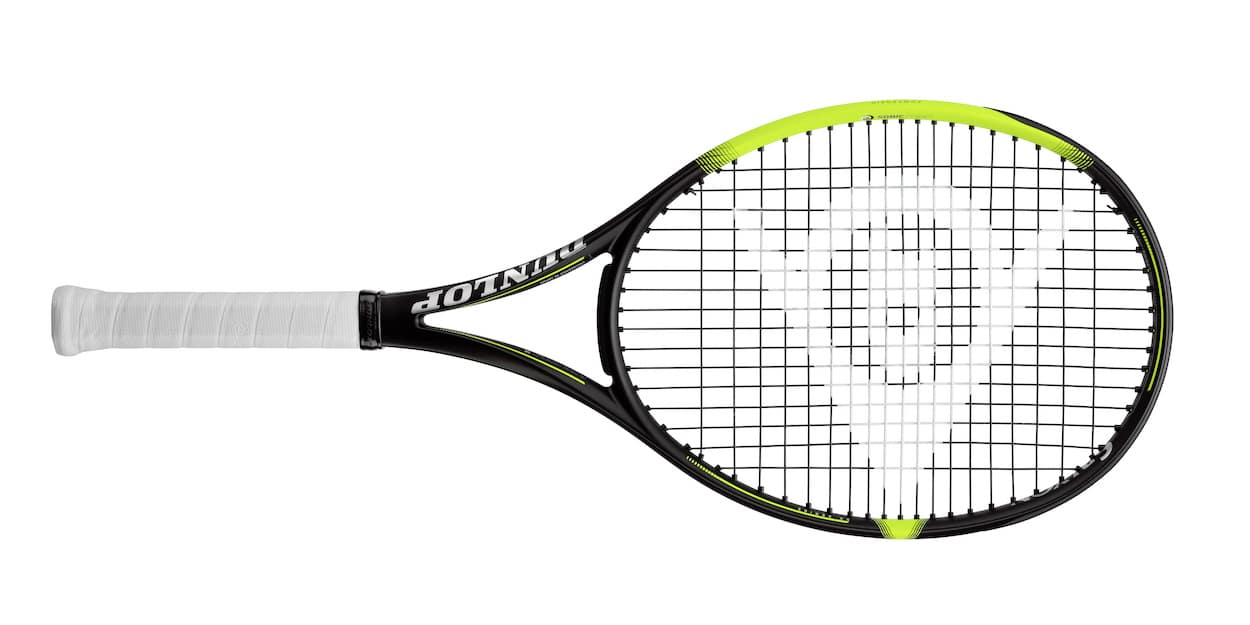 Dunlop SX 300 Lite & LS tennis racket play test and review
The new Dunlop SX 300 tennis racket range was launched in late 2019 with plenty of anticipation, it being the first new racket range from iconic brand Dunlop since the CX. tennishead decided this was a racket we just had to try out with some fascinating results from our play test and review.
Dunlop are market leaders in tennis balls through their exclusive partnership with the ATP and many tournaments, however their range of rackets was relatively limited compared to other well know manufacturers. With the deep pockets and commitment to research and technology from their Japanese owners this new SX 300 range is their first big racket launch for a while but we expect there is more to come from this ambitious outfit.
The background
Our man at Dunlop is quite open in saying that this racket is intended to directly compete with the Babolat Pure Aero. And why not compete with such a popular racket.
Dunlop obviously have the resources needed to invest in research and development and we can tell that they've put the full weight of this into the SX range. It's also a clever move to get someone like Patrick Mouratoglou on board to endorse this racket. Ok we are biased because Patrick's a great friend of tennishead, but no-one can deny that he knows the game of tennis as well as anyone and has an impressive CV.
The technology
The 'SX' in the name stands for spin and has been launched to compliment their other range, the CX series, which is more suitable to control players.
The spin element of the frame is catered for by new spin boost grommets applied to the 10 main strings which Dunlop say allows those strings to slide on impact. The aim is to make the ball trajectory more controlled and provide extra bite on the ball when hitting shots not quite out of the middle, something most amateur players are unfortunately well accustomed to!
The other new technologies in the SX series of rackets are focussed on enlarging the tennis racket sweet spot and reducing the vibration on impact.
The aim of 'PowerGrid StringTech' is to create a larger sweet spot by evenly distributing the power across the strings. A lot of tennis racket brands say they have created a bigger sweet spot so we were intrigued to find out if Dunlop have achieved what they say.
Dunlop have also developed a new foam, alongside BASF, which is in their SX series. The purpose is to use the greater rebound qualities of the new material to reduce vibration on impact.
Watch as our testers try out the Dunlop SX 300 Lite and LS
The play test feedback
tennishead gathered four of our most experienced all-court testers for this session as we really wanted to put the Dunlop SX 300 Lite and LS frames through their paces with hitters whose games closely match the specification provided by the manufacturer.
Finley, Austin, Helena and Liam are all confident grinding it out from the baseline or looking to finish the point quickly in the forecourt so they were excited to try these new rackets.
The testers started out on the baseline looking to groove their groundstrokes and immediately the ability to generate controlled topspin with this racket became apparent. Finley commented, "I really enjoyed this racket. It felt like a really smooth hit with a really solid contact point. I was able to generate nice power without losing control". Austin pointed out that he could "hit an aggressive ball without fear of it going long. I also found it easy to slice the ball". Helena identified the ability to "hit a big ball and still have control" with this Dunlop SX 300.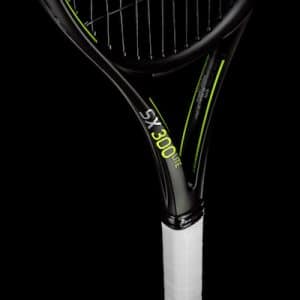 Once our testers moved forward to hit volleys and touch shots Finley enthusiastically said, "I really enjoyed it as I felt I could get a lot of control especially when reaching for a volley. The weight made this racket easy to manoeuvre". Helena said that she "could get the touch I wanted on my volley which was good".
When hitting overhead with serves and smashes our testers were unanimous in their praise for this frame. Helena found she "could get a lot of power on her topspin serve". Austin said he achieved "good pop on the smashes and serves" but did have to "take a little off my serve as it sometimes went long" but he was "definitely getting the power I like on my serve and the racket moved well from topspin to slice with good grip on the ball allowing me to place it in the corners where I wanted it to go".
We then asked the players to think about the new grommit technology in the SX 300 racket and if that had influenced their ability to generate spin?
Austin pointed out that normally he hits quite flat but with the Dunlop he was "getting spin without really having to try and the ball was landing well inside the baseline". Finley noted that his general style is to use heavy topspin so this racket "really suited my game. I felt the whole time I could really control the ball".
The style and design of the Dunlop racket was then analysed with all the testers agreeing it was a "nice, cool look".
Comparing to their current rackets, Helena, who plays with the Babolat Pure Strike, said she found the Dunlop SX 300 to be "a similar weight but gave me more control and much more spin". Finley also found the Dunlop gave him a "lot more control" than his current Wilson Blade V7. He also felt the Dunlop was "not as stiff" as his current racket.
Thinking about the price of £145 for the Lite version, Finley said this racket would "do well for anyone" and Austin said it was "a fair price for a good racket".
The specifications
For a detailed explanation of each racket measurement criteria below have a read of our guide.
Dunlop SX 300 Lite
RRP = £145
Head size = 100 sq in
Weight = 270g
String pattern = 16/19
Dunlop SX 300 LS
RRP = £170
Head size = 100 sq in
Weight = 285g
String pattern = 16/19
In conclusion
The feedback from our experienced testers suggests that Dunlop have done a strong job with this new racket launch. Spin with control is a very ambitious attribute for most modern players and so for this racket to perform strongly in both areas in our play test must be encouraging for the manufacturers Dunlop. Our suggestion is to see for yourself and go book a demo!
Buy the Dunlop SX 300 Lite and LS
tennishead has teamed up with AllThingsTennis.co.uk, our trusted online retail partner, to offer you an incredible price and service if you'd like to purchase the brand new Dunlop SX 300 Lite and LS.
Dunlop's RRP for this racket is £170 but as a tennishead reader you will receive 5% off the already heavily discounted price of £112 if you use promo code: TENNISHEAD5 when purchasing this racket from AllThingsTennis.co.uk. They are also offering everyone a free string upgrade worth up to £30. What's not to like about that!