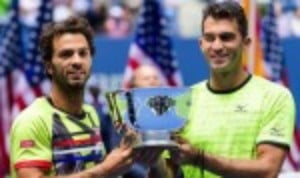 Doubles joy for Rojer & Tecau
Originally published on 08/09/17 00:00
The No.12 seeds extended their winning run to ten matches as they defeated Feliciano Lopez and Marc Lopez 6-4 6-3 to secure a second Grand Slam title together.
The pair, who lifted the Winston-Salem Open trophy in the week preceding the final major of the season, recovered from a break down in the first set before wrestling control and powering over the winning line.
"i was grinding to hold serve and they had a lot of chances in the second set," explained Tecau. "I was fighting hard to hold serve and luckily we got an advantage of 40-0 in the last game, but they still got to 40-30. We were just focusing on getting one more point, not focusing on the title.
"You need to fight together and communicate, otherwise it doesn't work," added Rojer. "It's difficult because we are out here in pressure situations and sometimes I get really angry at myself and stop talking to Horia, so he has to get me out of it and vice-versa. I think that's a strength of ours and we've had a great two weeks. We have played well in all the matches and I think we did so again today."
Feliciano paid tribute to the winners. "We are good friends with Horia and Julien and they are great people and great players," said the 35-year-old. "Congratulations to them. It's their second slam together so I hope they win many more, but not in finals against us.
"It's tough to say what the difference was today. The match was close and it's true that the score was four and three so it doesn't reflect how difficult it was for them to beat us. I think we had many chances and we didn't take many of them on their serve, and they took all the chances they had."